I've been taking photos for 50 years and counting but there's always something new to learn. And something new to have. Until now, I've never owned a camera that was made in England, let alone an original Kodak Brownie 127, not least because it was discontinued the year I was born. And yet in its seven-year lifespan up to 1959, no less than 263,000 of these hugely popular plastic cameras were exported to the USA. I do remember seeing later models being sold in a shop in Cornwall, on childhood holidays, with a warning to 'Beware of cheap imitations, this one melted in the sun', a blob of an ex-camera taking pride of place on a storefront shelf.

The Brownie itself is a wonderful bit or retro kitsch, but the thing that's almost priceless is the original pamphlet that came with it – all you need to know about photography on a double-sided sheet of folded paper. It's entitled 'How to get the best out of your Brownie 127 Camera with DAKON lens', and is packed with top tips.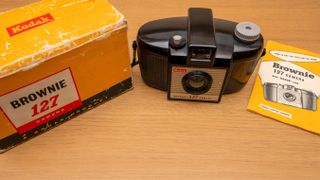 Did you know, for example, that some subjects like sausage dogs naturally fit a horizontal frame, whereas a sausage dog standing tall on its hind legs is an 'obviously vertical' composition? And when facing the sun, you should 'ask someone to throw a shadow over the lens by holding a hat'. Amazingly, you can also take pictures in color, 'but in bright sunlight only'.
There's also a priceless tip on 'stopping movement', illustrated with a man being ejected through his car windscreen while completing an emergency stop to avoid running over the aforementioned sausage dog on a pedestrian crossing. It seems that just like everyone else, photographers should always wear a seatbelt.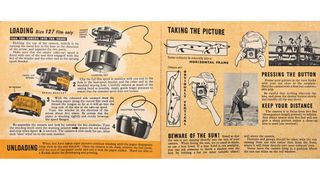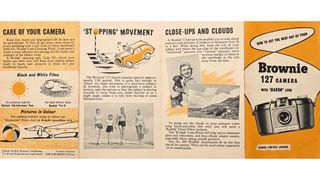 Some of the information is really quite advanced, detailing the use of an add-on close-up lens for, well, taking close-ups, or a yellow filter to emphasize clouds (black & white film only). All in all, the humble Kodak Brownie 127 has transported me back to a different age, when life was simple and cameras were just cameras, not a hybrid mix of optical gadget, computer and digital darkroom. Oh, and one more top tip: When you want to take a picture, 'press the shutter button slowly and steadily all the way down'. So that's where I've been going wrong all these years.
Check out the best Kodak cameras today