We all love photography, but sometimes it's also nice to sit down. Well, thanks to Japanese manufacturer Velbon, these two pursuits need no longer be enjoyed separately.
Here, we present the Chairpod HY127, reported in Japanese publication DC Watch (translated version here). Able to extend to a maximum height of 1.28m with the addition of an extension rod, the Chairpod integrates a tripod and a folding chair, which allows the photographer – well, at least, a photographer that weighs less than 80kg, which is the maximum weight it'll support – to shoot while sitting.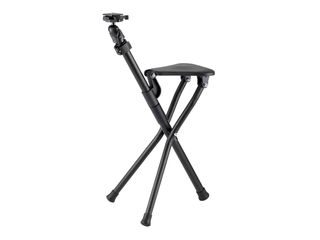 Altogether, the kit weighs a little over 1.4kg, with its pan-head accepting cameras with the standard 1/4in bush and its 2kg payload making its suitable for most camera and lens combinations. Furthermore, when the chair is folded up, the whole thing doubles as a large monopod.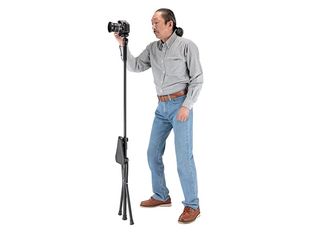 Though it was first exhibited at CP+ last year, the Chairpod is now nearing its scheduled late-January release. Unfortunately it's only available in Japan for now, but hopefully we'll see a rollout around the world before long. Its recommended price is 19,850 yen, equivalent to about $179/£129.
Is it genius? Is it foolishness? Only time will tell.