UPDATE: The Ricoh Theta SC2 has been officially announced, adding extra capability to the manufacturer's enthusiast-level 360 camera.
As had been rumored the Ricoh Theta SC2 offers 4K spherical video shooting, though it captures images at 14MP – higher than the 12MP of its predecessor. It also boasts a variety of additional shooting modes such as Night View, for shooting low-noise footage in low light, and Face mode that detects and applies skin smoothing to faces.
Again as expected, a new button on the side of the camera operates self-timer mode to afford the device greater autonomy. The device also offers a live blogging feature, making it very enticing for social media and those wishing to livestream events.
The official specs are as follows:
• Lens: f/2 Ricoh tri-fold structure one-level aperture
• Sensor: 2x 1/2.3-inch back-illuminated CMOS image sensors
• Stills resolution: 14MP
• Max ISO: 3200
• Max shutter speed: 1/25000 sec
• Video resolution: 4K (3840×1920 px / 29.97fps / 54Mbps)
• Recording time: Up to 60 min
The camera will be available in mid-December with an RRP of £269.99 / US$299.95 ($AUD511) and comes in pink, blue, beige and white. It is currently available for preorder in the UK and preorder in the USA.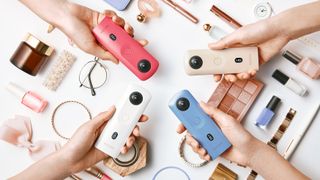 ORIGINAL STORY: Specifications and images have been leaked for the Ricoh Theta SC2, revealing that 4K video is coming to the manufacturer's entry level 360 camera.
The Ricoh Theta SC2 replaces the original SC – the junior member of the product line, released in October 2016. While the new camera's specs are broadly the same, it does add all-important 4K video at 30 frames per second.
Leaked by the ever-reliable Japanese rumor meister Nokishita (by way of Digital Camera Info), we can see that the SC2 comes in four colors (two of which are different to the four offered by its predecessor) and that it also includes 14GB of built-in storage – something that was previously only featured on the higher end Theta models:
• Sensor pixel:12MP x 2
• Still image resolution:5376 x 2688
• Video Resolution:4K x 2K
• Video Frame rate:30fps
• Video Recording time:3min
• Audio:1 ch built (in)
• Live Streaming:None
• External I/F:USB
• Memory:Built-in (14GB)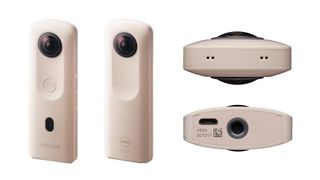 Other than video resolution and memory, though, the Ricoh Theta SC2's specs seem otherwise the same as the previous model, from the megapixel count to the mono microphone – though we expect that the processing and software may have been improved, as might the lens.
Externally, the body features a single redesigned lamp that incorporates the old model's individual camera, Wi-Fi and mode lamps. There is also an additional button on the side, which appears to be for a self-timer function. Oh, and the microphone and speaker each feature two perforations instead of three, should that matter.
Ricoh has a diverse family of Theta cameras, including the recently released Ricoh Theta Z1 and the Ricoh Theta V – the latter of which we rank as one of the best 360 cameras on the market.
No pricing or release info is yet available, but we can't think it will be long before those details are leaked as well.
Read more:
Hands on: Ricoh Theta Z1 review
The best 360 cameras: cameras for shooting panoramas, 360 video and even 3D
The best Black Friday camera