NASA's Perseverance rover will be launched today from Cape Canaveral Air Force Station to complete the Mars 2020 mission. Perseverance, officially named by a seventh-grader from Virginia in NASA's 'Name the Rover' essay contest, is the most sophisticated rover NASA has ever sent to Mars, featuring a record-breaking 19 cameras.
The Perseverance rover will be searching for ancient life, collecting terrain samples and collecting important data about Mars' geology and climate. The river will be landing in a place with high potential for finding signs of past microbial life – the Jezero Crater, a 28-mile-wide crater that was a possible oasis in its distant past.
• Read more: Best camera for astrophotography
According to NASA, between 3-4 billion years ago a river there flowed into a body of water the size of Lake Tahoe. This deposited sediments packed with carbonite minerals and clay. The Perseverance science team believes this ancient river delta could have collected and preserved organic molecules and other signs of microbial life.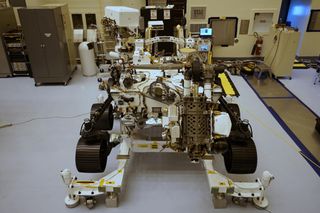 The Perseverance rover is the largest, heaviest robotic Mars rover NASA has built, but the mission also comes with more cameras than any interplanetary mission in history. The rover itself has 19 cameras that are designed to deliver images of the Mars landscapes in breathtaking detail. Meanwhile, the other parts of the spacecraft involved in entry, descent and landing carry four additional cameras, potentially allowing engineers to put together a high-definition view of the landing process after the rover touches down on Mars.
One of the most exciting aspects of the Mars 2020 mission is that the Perseverance rover will have an anodized plate with the words 'Explore as one' in Morse code and three silicon chips with the names of approximately 10.9 million people who signed up to ride along on the rover's journey to Mars.
The Perseverance rover will land on Mars on 18 February 2021 and will carry out its mission for at least one Mars year (about 687 Earth days). You can find out more information about the Mars 2020 mission on the NASA website and watch the launch live here.
Read more
Best lenses for astrophotography: fast ultra-wide lenses for the night sky
Best wide-angle lenses for Nikon cameras in 2020: for DSLRS and Nikon Z
Best wide-angle lenses for Canon: lenses that give you the big picture!