We can all appreciate a good landscape image when we see one, but actually creating that image in the first place is another matter entirely. Travel and landscape pro – and regular N-Photo columnist – Tom Mackie tells you how to 'read the scene', and convert the stunning vista that you see with your eyes into a compelling photograph.

And that's not all. Also in this month's N-Photo:
This issue's Apprentice goes on the trip of a lifetime – on an African safari in the shadow of Mount Kenya, where she captures so much more that the Big Five, under the expert tuition of Ian Aitken.
Norwegian nature photographer Roy Mangersnes sits in the interview hotseat, and tells of shooting wildlife the world over, from the frozen Svalbard to the steamy jungles of South America.
We round up 35mm and 50mm primes ideal for street photography, put a selection of ND grads through their paces, and take our first look at Nikon's brand-new mirrorless for the masses, the Z 50.
In our Skills section we explain the fundamentals of focal length, how to focus-stack scenes, photograph food flat lays, and shoot a fun 'block portrait'.
And as well as projects in Adobe CC, Affinity Photo and Capture NX-D, we're giving away Photolemur 3, worth £28!
Plus we have a bonus Creative Photography ebook, packed full of arty and inspiring photo projects to try your hand at!
Where to find N-Photo magazine
So rush down to your newsagent today. Or ever better, why not subscribe to a print edition, and have the magazine delivered to your door every month?
Alternatively, we have a number of different digital options available, including:
• Apple app (for iPad or iPhone)
• Zinio app (multi-platform app for desktop or smartphone)
• Google Play (for Android devices)
• Readly (all-you-can-eat digital magazine subscription service)
If you wanted a printed version of any of our most recent issues we have a selection of back issues to choose from in our online store.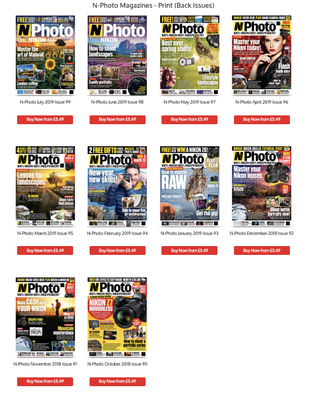 Subscription deals: Our guide to the best photo magazines