Celebrating the beauty of the natural world and the growing movement of rewilding, the European Wildlife Photographer of the Year (EWPY) competition has just announced the winner of the second Rewilding Europe Award. This year's top honor was awarded to Tobias Richter for his mesmerizing, misty photo Wolves on the Hunt.
Rewilding is the process of allowing nature to reclaim and restore itself in areas that have been impacted by human activity. With so much land being built on for housing, new road networks, or commercial spaces, photographers capturing successful efforts to bring wildlife back has never been more important or inspiring. Tobias' image was taken on a later summer evening at one of the many ponds in the Lausitz region in Germany, about 15 miles south of Berlin. On capturing the image Tobias explains:
"In the twilight, a small family of wild boars approached the pond. Shortly thereafter, two wolves pounced on three unsuspecting juvenile boars. While the juveniles fled into the reeds, the sow put up a defence....",
• These are the best lenses for bird photography and wildlife so you can capture nature's beauty without disturbing it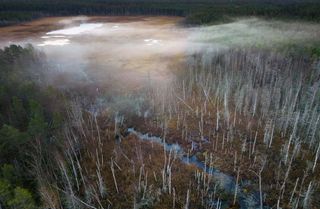 Second prize was awarded to the Finnish photographer Jyri Juuti for his photograph Realm of the Beaver depicting a plot of land in Finland that was previously used for commercial forestry but has now been reassigned as a Nature 2000 protected area. Remarkably, biodiversity has significantly increased in the region over the past 25 years, thanks to numerous programs and measures aimed at revitalizing these habitats.
Organized by GDT, the Rewilding Europe Award is a showcase of the finest nature photography not only from Europe but around the world. It serves as a powerful tool in promoting nature conservation to a diverse, global audience. Rewilding can take the shape of restoring natural river dynamics, encouraging forest succession, nurturing complex food chains with diverse predator-prey relationships, and maintaining open landscapes through the presence of large grazing herbivores, to name a few.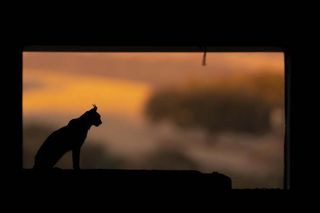 This year's judging panel included composed of Laurien Holtjer from Rewilding Europe, renowned British photographer Neil Aldridge, plus European Nature Photographer members Britta Jaschinski, Anders Geidemark, Marijn Heuts, Karsten Mosebach, and Mark Littlejohn who were deeply impressed with Tobias' capture.
Several other photographers received "Highly Commended" recognition for their compelling images. Italian photographer Emanuele Biggi captured the moment captive-bred spadefoot toad tadpoles were released into the wild while Swedish photographer Staffan Widstrand's work showcased biodiversity both above and below the waterline in a Hungarian national park. Ricardo Lourenco from Portugal was also highly commended for his portrait of an Iberian lynx visiting a sheepfold.
First and second-prize winners of the Rewilding Europe Award will receive a cash prize of €1,000 and €500, respectively, courtesy of Rewilding Europe. Their work will also be featured in the exhibition catalog and the European Wildlife Photographer of the Year exhibition, which will tour Germany and Europe for the next three years.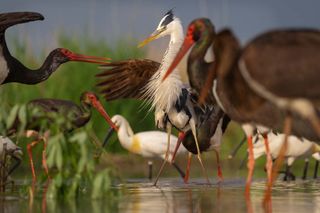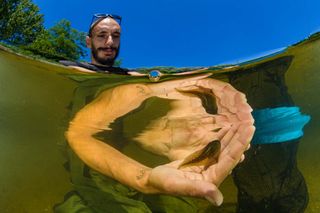 The best tripods for photography enable you to take beautiful photos with telephoto lenses without carrying the weight.