Follow Sigma announcement LIVE!
Sigma is just about to take to the stage with a 'New Products Presentation' – watch and follow along with us LIVE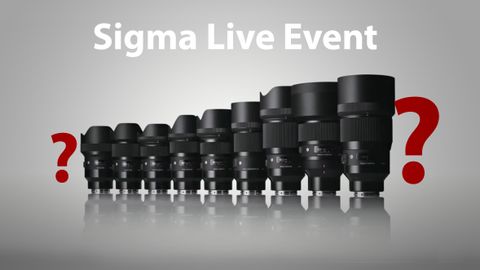 (Image: © Future)
Japanese camera and lens company Sigma has already told us one thing – that we're getting a new product. It's right there in the name of the presentation. But what? Follow along with us to find out.
The video will be right here on the YouTube link below - with the presentation taking place at live 08:00 ET or 13:00 BST.
Previous Sigma launches have provided a lot of detail on the new lenses, so they're well worth a watch - and always hosted by Sigma Corporation's charismatic CEO Kazuto Yamaki.
Not only that, but they're more than likely to cover your platform: Sigma offers lenses for Sony E-mount, L mount, Fujifilm X Mount, Nikon Z mount, Micro Four Thirds mount, and Canon EF-M mount – and in recent years has been concentrating on expanding its mirrorless lens offerings.
Of course, Sigma has also been known to announce the odd camera, and even a unique imaging sensor (the company is still working on its latest Foveon sensor), so you never know what to expect. The blog will start below, or check our recent Sigma Rumors.
Refresh
Less than 10 minutes to go, and I've been looking at the comments on the YouTube page for the presentation, and everyone is pitching in with what they hope Mr Yamaki will launch this time…
• Someone is asking for a Sigma 70-200mm f/4. That's certainly been a popular, portable telephoto lens in Canon's line-up (and also done by Nikon and Panasonic).
• Simon Koch is asking for a mirrorless version of the 18-35mm f/1.8. Now that would be great to see!
• Dylan Digby says "The people want a pancake lens and Foveon full frame". Not sure which people, but both would be popular with some.
Okay, the beautiful Sigma corporate video that we have seen before is playing... so we must be getting close to the show starting.
We are off.
Sigma 14mm F1.4 DG DN is the big news - and will be available for Sony E and Panasonic/Leica/Sigma L-mount.
Yamaki talks about Sigma's heritage in wide-angle lens innovation - including the Art 20mm f/1.4 and 14mm f/1.8 Art lenses.
But the 14mm f/1.4 will be the widest aperture wide-angle of this focal length yet
So this will be the sixth f/1.4 DG DN Art lens for mirrorless full-frame cameras
The new lens is the same size and weight as the existing 14mm f/1.8 DG HSM lens
Here are the dimensions and weight of the lens, compared with the f/1.8 version…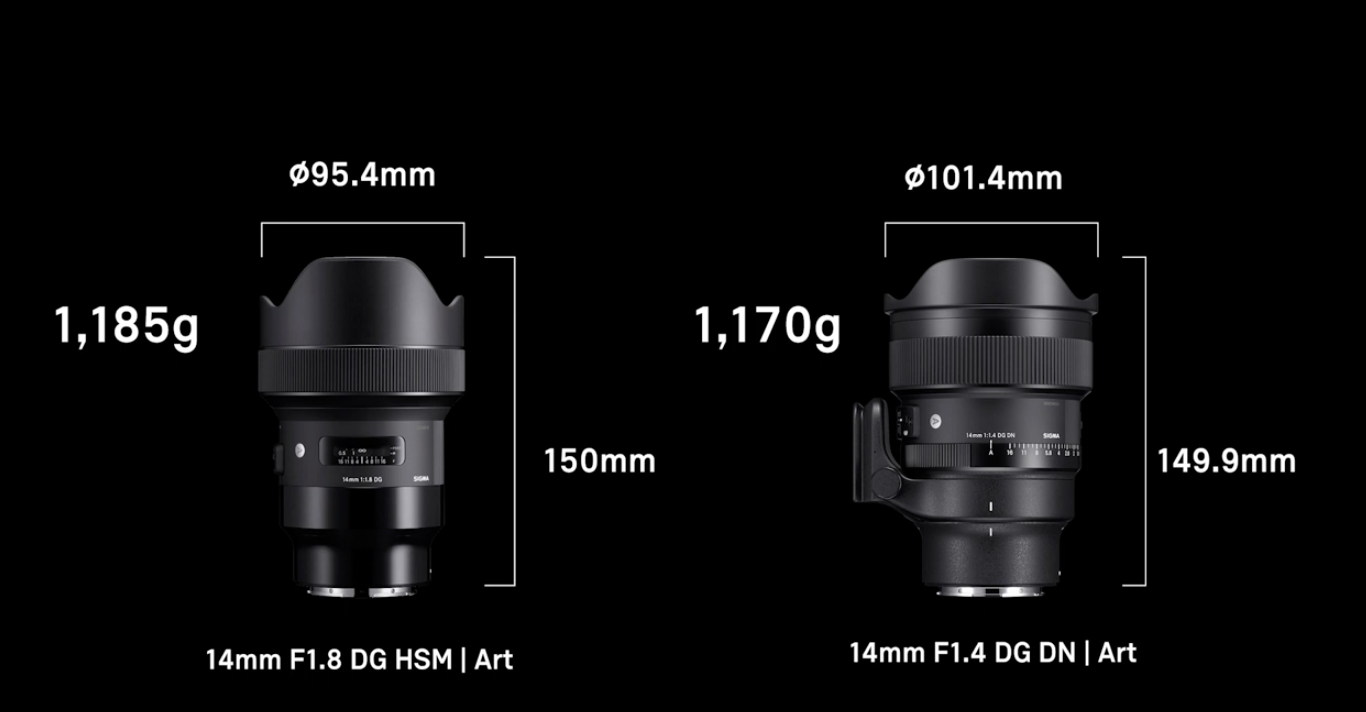 The optical construction (see in diagram below) includes one SLD (special low-dispersion), three FLD (fluorite low-dispersion), and four aspherical elements…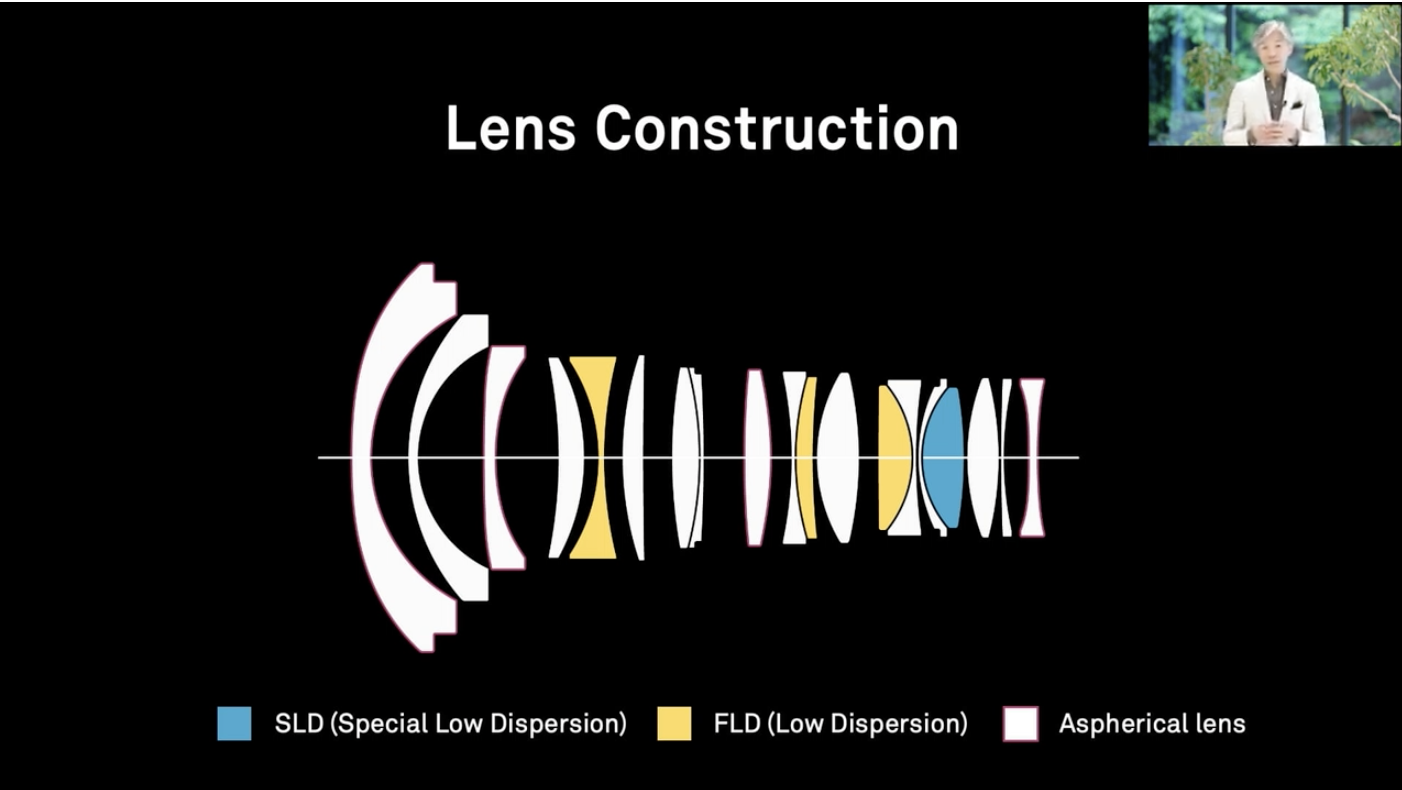 The 14mm f/1.4 will be really popular for astrophotographers (and landscape photographers). The wide maximum aperture gives you much better scope for shooting the Milky Way in your panoramic shots, for instance - allowing you to use a slower ISO than with the f/1.8 lens.
Ghosting can be a particular problem with extreme wide lenses, we are told, as the sun is more likely to be in shot. So the designers paid particularly attention to this issue.
There is a rear filter compartment, and and MFL switch. And there is a new actuator to ensure that focus breathing is not an issue. And there is a detachable tripod collar bundled with the lens - which will be very welcome.
There is a newly designed lens cap too!
This includes slots for spare gel filters - which sounds like a great idea, as these acetate sheets are hard to keep to hand when shooting in the field.
Anson & Co comments on the YouTube chat:
"The lens cap is easily my favorite part of the new design lol"
The new Sigma 14mm F1.4 DG DN will cost $1599 or £1399 and will be on sale June 23 - so not long to wait!
That's a wrap - so just the one lens today. But a groundbreaking one - and particularly so for Sony full-frame mirrorless and L-mount camera users.
Thank you for reading 5 articles this month* Join now for unlimited access
Enjoy your first month for just £1 / $1 / €1
*Read 5 free articles per month without a subscription
Join now for unlimited access
Try first month for just £1 / $1 / €1
Get the Digital Camera World Newsletter
The best camera deals, reviews, product advice, and unmissable photography news, direct to your inbox!
Thank you for signing up to Digital Camera World. You will receive a verification email shortly.
There was a problem. Please refresh the page and try again.