New details have emerged about the iPhone 11 camera that seem to suggest that Apple won't be going for an eccentric rear lens setup after all, but one that's much more in keeping with Apple's design ethos.
Just last week, some leaked renders showed off an iPhone 11 with a rather ugly rear design - a design very unlike Apple.
It revealed a three camera setup on the back in a square format. But instead of being aligned like the Huawei Mate 20 Pro it was, well, odd.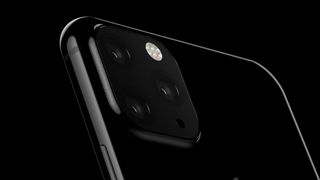 A new render has emerged, from Compareraja and OnLeaks, however, showing off a prototype with a much nicer, er, rear.
Its lens setup is said to include 14MP and 10MP cameras, with an unknown third sensor. The thought is that it could actually include dual 14MP sensors. This all sounds like best camera phone territory to us.
More importantly, for many an Apple fan at least, the lens array is in the top centre of the back and looks a whole lot nicer.
Another piece of information is that Apple is going big on selfies. There's said to be a 10MP selfie camera on the iPhone 11, which will feature a brand-new sensor that will almost certainly have better depth-sensing capabilities than the iPhone XS.
There's not much else to go on, but previous rumours have suggested that Apple will be using a new ToF (time-of-flight camera) sensor which would make the handset's AR capabilities even more impressive than they currently are.
Via 9to5 Mac