Marvel's Guardians of the Galaxy Volume 3 has hit theaters and ended its epic trilogy with a bang. Don't worry – this article is totally spoiler free for those of you yet to watch it, but there's one thing in particular that we do want to talk about: why on Earth was the film released in 600 different aspect ratios?
Movie theater configurations sometimes do require an altered format in which to present a blockbuster to its audiences, such as in IMAX formats or other special wide screenings, but surely Guardians 3 is breaking some new ground and records here with director James Gunn's choice to offer multiple variations of the movie format.
• These are the best streaming services for the latest movies and shows
The industry may be befuddled at why Guardians 3 has 600 unique versions being shown worldwide, but don't stress too much you have a tendency for FOMO (fear of missing out). In an interview with The Hollywood Reporter, Marvel Studios executive Evan Jacobs confirmed that, "wherever you go to see it, you're gonna see the best version."
It has been revealed that Gunn wanted to take full advantage of today's modern cinema, and the multiple aspect ratios available. By doing so, he hoped to offer audiences a more custom experience for each type of theater configuration, and as Jacobs puts it, "give every exhibitor in the United States and in most international territories [the ability to] maximize their screen size for the audience", having been curated specially for each theater screen.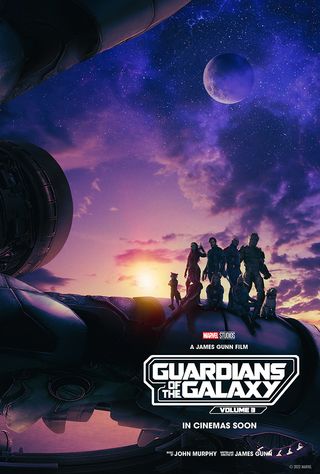 Gunn did, however, have a specific ideal cut and one creative intention in mind. The 2.5-hour movie, in a specific version, had been adjusted so that the screen "opens up" in a flat 1:85 aspect ratio for roughly 45 minutes, while the rest of the production was letterboxed to 2:39. Also shown in 3D, this immersive version of the movie according to Jacobs takes full advantage of variable framing options.
The Hollywood Reporter also notes that this movie isn't the first time Gunn has been let loose to experiment with aspect ratios, and he had previously created IMAX versions with multiple variable aspect ratios for the first two Guardians movies.
So, in which aspect ratio should you be watching Guardians of the Galaxy Volume 3 for maximum quality or experience? There's actually no right or wrong answer. And as Jacobs assured, the movie has been optimized specifically for each type of cinema screen for the ultimate output.
Really, it depends more on which type of screening you choose, as opposed to which cinema is showing which ratio. Plenty of moviegoers swear by the quality of IMAX theaters (offering an expanded 1.90:1 aspect ratio), while others prefer specific theater groups for the creature comforts or presentation they offer.
Have you seen the movie yet? Let us know what you thought of the epic conclusion to the galactic team of misfits and emotional origin story of Rocket Raccoon.
Take a look at the best TV shows about photography, and if you're a Marvel buff check out our theory on why Peter Parker isn't a Photographer in the MCU yet, and discover how Instagram banned a Cosplayer for looking TOO much like Doctor Strange.