Digital Camera launched in 2002 and is the world's leading digital photography magazine. It has been helping photographers of all skill levels to improve their images ever since.
Every issue is packed with technique tips, tutorials, inspiring images and expert buying advice, plus the latest news and equipment reviews, as well as a selection of free gifts (see below).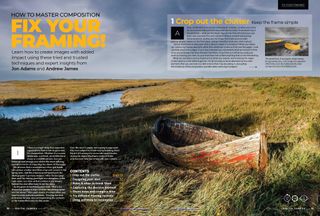 As there's often a fine margin between a good photo and a great one, make sure that your composition skills aren't letting you down.
From decluttering the frame and designing your photos, to adopting some time-honoured rules and shooting 'loose', our cover feature will help fix your framing in no time at all.
Don't forget that you can subscribe to Digital Camera magazine and get the magazine delivered to your door every month. Choose between a print or digital subscription, or a bundle of the two.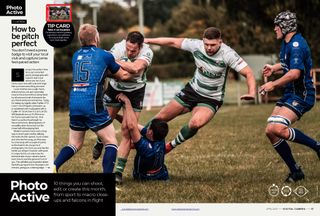 Photo Active offers another fantastic selection of projects to shoot, edit or create at your leisure this month.
We show you how to master sports photography at your local club or recreation ground, shoot sunsets during the golden hour, and create a fun focus stack using a focusing rail and a macro lens.
And, in the first of three parts, we're serialising some projects from the new book Shooting Film – dust off your old SLR, break out some film and try some techniques for creating some on-trend light flaws… without having to go anywhere near a computer!
Other highlights in April's Digital Camera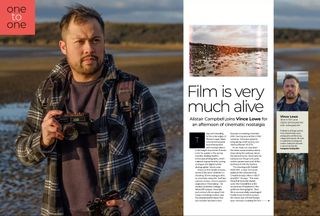 Picking up on the film photography theme, this month's One to One pro masterclass sees us spend an afternoon on the coast with hybrid photographer Vince Lowe.
Discover how Vince produces his cinematic-looking images, inspired by movies which were shot on celluloid, and how he integrates a digital camera into his analog setup for maximum creative flexibility.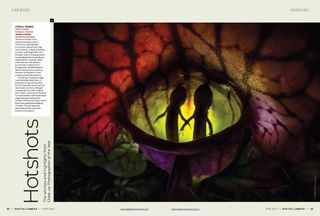 April's Hotshots gallery showcases the winning entries from Close-up Photographer of the Year 2022.
Now in its fourth year, the competition celebrates the world in miniature – and on the evidence gracing our pages, continues to go from strength to strength.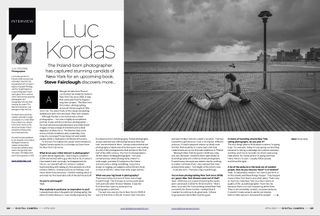 The Polish-born but US-based photographer Luc Kordas fields our questions in this month's interview – some of the distinctive candids of New York City he has gathered in recent years have just been published in a book.
Featuring images that offer a different perspective on the Big Apple, you'll soon see why it has been titled New York Unseen.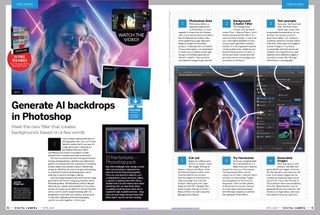 April's Practical Photoshop section offers three new tutorials for Adobe's popular software applications.
Starting with Tool School, we explore a new neural filter in Photoshop that uses artificial intelligence to create backgrounds based on a few words – you'll need to have a copy of Photoshop Beta, which can be downloaded for free with an Adobe Creative Cloud subscription.
Staying with Photoshop, Get the Look shows you how to generate dynamic blur using layers, including zoom-burst, Orton-style and Lensbaby-style effects.
Fundamentals focuses on Adobe Lightroom: this month, our resident expert will teach you how to use panel sliders to enhance your portrait photos.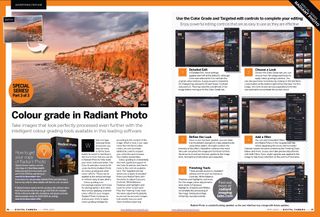 Plus, we conclude our sponsored tutorial series on Radiant Photo editing software for Windows and macOS – it's the last chance for Digital Camera readers to get a free three-month trial worth £30/$30!
Click here to start your three-month Radiant Photo trial.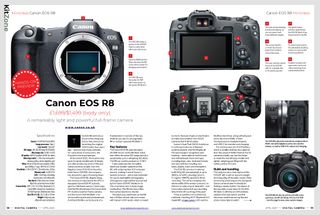 April's camera kit and caboodle includes a hands-on preview of the Canon EOS R8, the brand's latest foray into full-frame mirrorless cameras.
Packing a 24.2-megapixel CMOS sensor and a raft of cutting-edge tech that has already appeared in more expensive EOS R cameras, the R8 looks like a compelling prospect at its £1,699/$1,499 body-only price.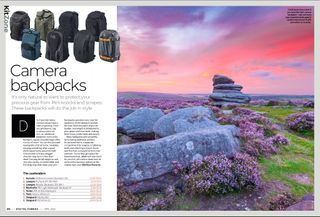 Also this issue, eight best-buy camera backpacks battle it out in our group test. Whichever price point you're happiest buying at, our testers have rigorously curated some excellent recommendations for you.
Plus, we put the Nikkor Z 400mm f/4.5VR S and the Sigma 18-50mm F2.8 DC DN Contemporary, for Leica L-Mount and Sony E-Mount, through rigorous lab testing.
The latest issue of Digital Camera comes with an unrivaled selection of digital gifts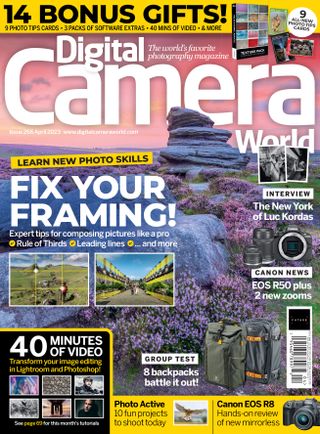 This month's bonus gifts include nine all-new photo tip cards, a selection of 21 software extras for Lightroom and Photoshop, 40 minutes of video tutorials and a 290-page-plus camera buyer's guide ebook.
Here's the full line-up of the bonus gifts with issue 266:
Nine new photo tips cards covering wildlife, landscapes, macro – and more!
40 minutes of video tutorials for Lightroom and Photoshop
Free three-month trial of Radiant Photo software for Windows and macOS
21 software extras for Lightroom and Photoshop
290-page-plus Camera Buyer's Guide eBook packed full of buying advice
Subscribe now
Every issue of Digital Camera magazine is packed with tips, techniques, pro advice, reviews, news and inspiration.
Don't forget that you can subscribe to Digital Camera magazine and get the magazine delivered to your door every month. Choose between a print or digital subscription, or a bundle of the two.
You can buy limited back issues of Digital Camera magazine in print at our Magazines Direct secure store.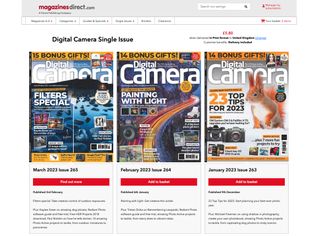 Alternatively, there is a range of different digital options available, including:
• Apple app (for iPad or iPhone)
• Zinio app (multi-platform app for desktop or smartphone)
• PocketMags (multi-platform app for desktop or smartphone)
• Readly (digital magazine subscription service)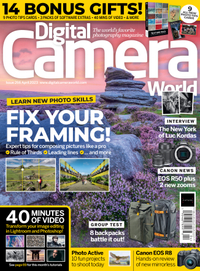 Digital Camera World is the world's favorite photography magazine and is packed with the latest news, reviews, tutorials, expert buying advice, tips and inspiring images. Plus, every issue comes with a selection of bonus gifts of interest to photographers of all abilities.