Canon has a new camera – a world's first, it says – based on the new 1-inch "SPAD" imaging sensor the company has been developing. The camera, the Canon MS-500, will go on sale in 2023, and features a broadcast-friendly B4 interchangeable lens mount.
Many might think of the term SPAD as a politician's special advisor, but there is another use for the acronym. In the imaging world, it stands for Single Photon Avalanche Diode. Rather than measuring the number of photons arriving in a pixel in a given period of time – collecting them, some say – the SPAD counts each individual entry.
The word 'Avalanche' sounds a bit dramatic but refers to the amplification of each photon into an electronic pulse big enough to record and count. The key advantage of this approach is that there are no stray photons so, in theory, no optical noise.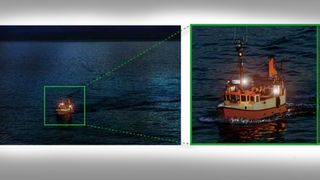 Canon's SPAD sensor has a resolution of 3.2 megapixels, and an effective pixel count of 2.1 megapixels, so it won't be replacing your main camera straight away. It is designed, however, for more specialist purposes where super-telephoto broadcast lenses are used; think national security monitoring (or natural history shows).
It is capable of Full HD and it is no accident that the housing looks so like the existing Canon ME20F-SH, which already boasts 4 million ISO. It also has a LAN (Ethernet) connection for security monitoring.
The MS-500's B4 lens mount uses the BTA S-1005B standard so it will work with Canon's (and other manufacturers') lenses to capture subjects even several km from the camera.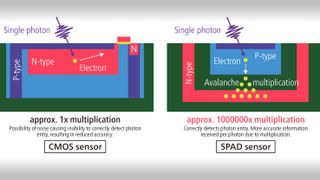 Canon has been trailing the possibilities of SPAD for some time, and has noted the possibilities of achieving similar image quality to that we're used to in a sensor "requiring only 1/10 of the imaging area." That means it seems likely the specialist MS-500 won't be the last we'll see of the tech. As action enthusiasts will no doubt already be pondering, Canon is also looking at the implications for capturing frames of just a few picoseconds.
In the meantime, the main selling point of the tech is the ability to capture color images in ambient light as low as 0.007 lux (ambient starlight is around 0.02 lux).
Canon has made clear it will continue to invest in the technology, but hasn't said anything about pricing yet, but we imagine the Canon ME20F-SH is a good ballpark guide - which retails for $20,000. If you want to find something a little cheaper now check our guide to the best low-light cameras.