Canon has now set up a business website to sell its imaging sensors to external customers. Given the extensive use of Sony and Samsung sensors by phone and camera manufacturers, it's surprising Canon hasn't marketed its own sensors to third parties before now. However, where Sony has succeeded in supplying its sensors to use in some of the best camera phones, Canon's approach is different. The sensors it's offering for sale are aimed squarely at industrial use: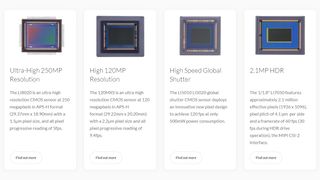 Four sensors are currently listed on the Canon Asia website, available through its Singapore "premier distributors." There are two APS-H CMOS sensors, both with very high resolutions: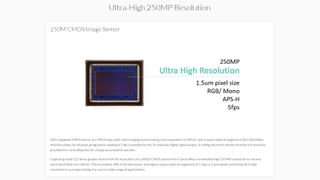 A 250MP sensor capable of 5fps stills shooting headlines the product selection. It can capture incredible 19,568 x 12,588-pixel images and can record 8K video at 24fps. Canon states this sensor could be used for 4K or 8K display inspection, industrial inspection, video production, digital archive, wide-area surveillance or in microscopes.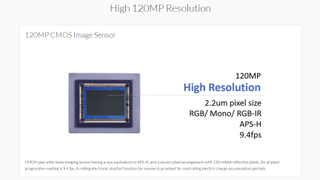 The second high-res sensor made available by Canon is a 120MP design. It can record up to 8K at 19fps, and has been designed for flat panel display inspection, wide area monitoring, food inspection, aerial photography and fluorescence imaging.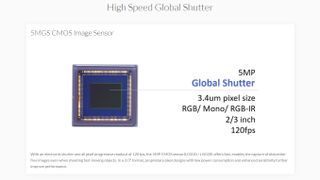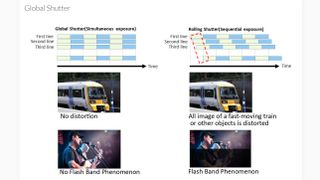 The other two sensors Canon has made available for third-party purchase are targeted at video applications: a 5MP global shutter 2/3-inch sensor capable of full sensor progressive readout at 120fps, enabling the capture of fast-moving subjects without the dreaded rolling shutter phenomenon, where vertical lines skew diagonally.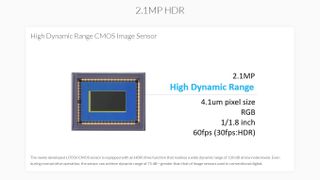 The final sensor on Canon's current supply list is a only a 2.1MP chip, but it's 1/1.8-inch size enables large 4.1µm pixels giving very high dynamic range and enhanced low light performance with reduced image noise. The 1,936 x 1,096-pixel video capture almost exactly fits Full HD requirements, making this sensor ideally suited to video surveillance and security applications.
While all four of these sensors aren't designed for consumer usage, they at least hint at Canon's future endeavors to make inroads into the wholesale supply of imaging sensors. If Canon does chose to enter the consumer camera and camera phone sectors, extra competition to rival Sony and Samsung can only be beneficial for the advancement of sensor technology and image quality.
Read more
Best Canon camera
Canon RF lens roadmap
Best mirrorless camera