We were very impressed with the Blackmagic Pocket Cinema Camera 4K, which is well worth considering if you're looking at the best 4K cameras for filmmaking. The latest firmware release addresses a couple of sticking points, particularly the battery life issue.
A number of users have run into the problem where the camera would suddenly shut down, despite indicating a remaining battery life of 20% or even 30% – obviously a big drawback, if you're in the middle of filming something.
Another commonly reported issue is that of dead pixels, which turn out not to be dead but rather 'stuck' to a single colour and in need of remapping.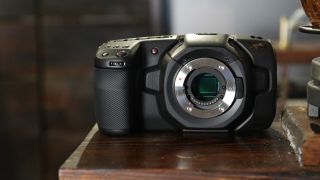 Thankfully the firmware update included in Blackmagic Camera Setup 6.1 address these and a number of other issues, including improved autofocus – particularly with the popular Panasonic Lumix 20mm f/1.7 lens.
The key updates include:
• Added support for pixel remapping in camera
• Improved power efficiency for improved battery life
• Fixed an issue where some batteries might shut off earlier than expected
• Fixed an issue where low battery indicator is not displayed appropriately
• Improved auto focus performance
• Fixed an auto focusing issue with Lumix 20mm f/1.7 lens
Read more:
The 12 best cameras for vlogging in 2019
The Blackmagic URSA Broadcast can be had for "less than the cost of a DSLR"