2020 has been one heck of a year, and not necessarily in a great way. If you've found yourself stuck in the mire, then inspire your photography with latest issue of Australia's top photography magazine.
You'll find plenty of inspiration within the pages of Australian Camera's exciting Janurary/February 2021 issue – whether it's macro photography, landscape panoramas, or finding new gear for the new year.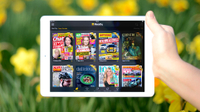 INSIDE THE NEW ISSUE
Top fives: Nikon Z 5 and Panasonic Lumix S5 on trial
They're small, lightweight and feature-packed. But can the Nikon Z 5 and the Panasonic Lumix S5 match the performance of their bigger (and more expensive) siblings? Find out in our in-depth review of two of 2020's most recent camera reveals.
Wide and wonderful: Epson Pano Awards winners
Given the travel restrictions we've faced in 2020, many of us have likely felt uninspired. If that's the case, take a look at the winning entries to the latest edition of the Epson Pano Awards – which, incidentally, was started in Australia back in 2009 – to give your creativity that little nudge it needs.
Bugged: the world's best insect photographs
Landscapes not your thing? Then try your hand at macro photography, getting up close and personal with some of the critters that share our planet. This was the first ever Luminar Bug Photography Awards and, given the variety of Aussie insects, we should be good that this, right? So why not try entering in next year's competition?
Ready for mirrorless? Looking to the future with lenses
The mirrorless revolution is as much about lenses as it is about the camera bodies, so we've taken a deep dive into the latest developments and why lenses should influence your buying decisions.
New gear for 2021: Acer Conceptd CM2 photo monitor and Samyang AF 85mm f/1.4 RF lens
New gear doesn't have to cost the earth. Acer's Conceptd CM2 monitor places colour accuracy over other bells and whistles you likely won't need, while Samyang has always made affordability its prime focus without compromising on quality. Find out how these two perform in the real world in our in-depth reviews.
Plus lots more
Find out what inspired Australian photographer Stuart Spence to tear up the photography rule book to start taking images full of visual intrigue and conundrums. Plus, the latest product news and events – all within the unmissable Australian Camera January/February 2021 issue on sale now!
Subscribe to the print edition
Published since 1979, Australian Camera is the country's premier photography magazine for enthusiasts and hobbyists and, since 2010, has been a member of the prestigious Technical Image Press Association (TIPA) – a global group of photography magazines selected for their high standards of content, production and independence.
The magazine is published six times a year (or bi-monthly), with the subscription also including an annual special issue called the Australian Camera Handbook. This offers a look into the year's most popular reviews and includes exclusive new content as well.
If this sounds like something that will keep your creative juices flowing, then print subscriptions are available from Future Australia's dedicated Techmags website.


Get the digital edition today
Australian Camera's print edition is available at all good newsagents Australia-wide, but for the ultimate in convenience, it's also available for immediate download in digital format from Zinio, providing instant access on your phone, tablet or PC.
You can purchase single issues individually, or subscribe for a full year and automatically receive every issue as it's released. For more details, simply click on the Zinio logo below.