Photographers who shoot on location need lighting that's small enough to keep their kit spry and nimble, but powerful enough to get the job done in all manner of circumstances. And Profoto has stepped up to the plate with its latest cordless lighting unit, the Profoto B10.
Designed with the mantra "the power of small", it's as portable as a speedlight but produces five times the power. It's got enough muscle for the studio, yet only needs as much room in your bag as a medium-sized zoom lens. And it's a formidable flash unit that also delivers quality continuous light that's ideal for stills and video.
For existing users of the Profoto system, the B10 is a welcome addition to the family. Weighing half as much as the heavy duty B1 units, but possessing the same power output as the B2s, it's a perfect complement to an existing setup, giving Profoto users additional freedom of movement and flexibility of shooting.
It's also a perfect standalone unit for roaming photographers, even those new to lighting and flash. Its versatility makes the Profoto B10 feel like a lighting Swiss Army knife; it can be plugged in to use it as a studio light, then disconnected to go wire-free on location. And it can switch from fully controllable flash to customisable continuous light, enabling hybrid shooters to get beautifully balanced blog and video lighting.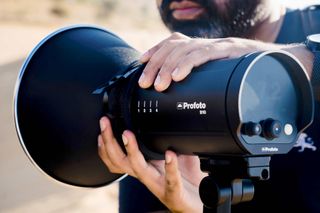 Small but mighty
None of this versatility comes at the expense of performance, however. Despite its discreet form – measuring just 175 x 150 x 110mm and weighting 1.5kg with battery and stand adapter – the Profoto B10 delivers 250 watts of flash power along with 2,500 lumens of continuous lighting.
A single battery charge can produce up to 400 full-power flashes and 75 minutes of maximum continuous light. Recharging the battery only takes an hour and a half, but you don't have to wait until you're out of juice – Profoto has listened to customer feedback and designed a new battery that enables the B10 to charge while you're using it.
The fear with portable flash is always that the light won't meet the same standard as dedicated studio lighting. The B10, however, lives up to the Profoto standard and delivers the quality of light you would expect from the company, with natural fall-off and silky soft delineation.
As a continuous light, a dedicated dial enables you to control brightness as well as colour temperature. Rated at 90-96 CRI and adjustable from 3,000 to 6,500 kelvin, it seamlessly blends with ambient light, making it perfect for photography, cinematography and vlogging no matter the location.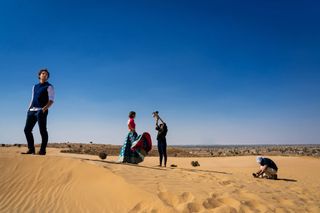 This kind of shooting flexibility is exactly what the Profoto B10 is tailored for. The stand mount, for example, can be quickly removed, enabling the unit to mount on any camera tripod with a standard quarter-inch thread. The B10 is also fully compatible with Profoto's 120-strong range of Light Shaping Tools and softboxes, in addition to a dozen portable OCF shapers designed specifically for on-location photography.
Take control
It's not just shooting and creative freedom; the B10 also offers freedom of control. Fully integrated with the Profoto Air system, the B10 can be triggered wirelessly from the A1 and any of the AirTTL triggers from up to 1,000 feet.
Profoto has gone the extra mile to deliver smart connectivity, too, via its new smartphone app (currently Apple-only, but with an Android version on the way) that's free to download. Paired with up to three B10s at once, every setting can be controlled from your phone via the same simple interface featured on the back of the unit itself.
The new app also gives a glimpse into the future of smartphone shooting, enabling you to take fully illuminated shots with your phone – ideal for perfectly lit Instagram posts and behind-the-scenes shots. Best of all, the Profoto app ushers in an era of wire-free firmware, enabling you to keep your lights up-to-date with the latest updates without having to trail cables across your workspace or connecting to a computer.
The Profoto B10 is available for pre-order at a price of £1,410 for a single unit and £2,820 for a Duo Kit with a Profoto Core Backpack S. For more information, visit Profoto's site. The free Profoto app can be downloaded from the iOS App Store today.
You can also follow Profoto on Facebook, Twitter, Instagram and YouTube for the company's latest news, videos and updates.