Photography accessory manufacturer Nitecore has expanded its range of electronic and rechargeable photography blowers and equipment cleaners with the launch of its latest BBMini (short for BlowerBaby) power tool.
The purpose of the BlowerBaby range from Nitecore (which includes the weirdest camera cleaner I've ever seen) is to clean hard-to-access areas of your camera gear, including your camera's sensor and outer lens barrels, filters, and even your camera bags and cases. Like all the best camera sensor cleaners and the best camera lens cleaners, it has been designed to remove dust and debris without causing damage to sensitive photography tech.
Nitecore has become pretty renowned lately for developing weird and wonderful tools that make the lives of photographers that much easier. For example, I received a Nitecore Stick-It Wrapper lens cloth and it completely changed the way that I pack in preparation for a day shoot, replacing the need for my camera bag entirely on more than one occasion with the ease of wrapping up my gear safely.
Another example of where Nitecore has shined with its inventive products includes the launch of USB type-C charging batteries for Sony Alpha cameras (among other models), which has been allowing me to waste no time in charging up my spare camera batteries, without needing my Sony body, and even while shooting!
Everything creative that Nitecore has put into the photography world so far has truly blown me away, but I have to be honest, I still haven't made up my mind on whether I like its latest BB Mini Photography blower, and here's why...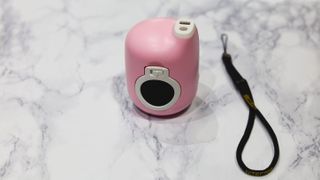 Nitecore BBMini Design
The new BB Mini is available from Nitecore in two colors; Fun Green and Sakura – the pinky color that I received. I think it would look much smarter in the traditional Nitecore black and yellow design. The shape of the blower is round and thick, very different from that of the previous models, and looks a little out of sorts and ugly (sorry Nitecore!).
Nitecore released the first ever BlowerBaby electronic photography cleaner last year in June, followed by an upgraded model that it named the BlowerBaby 2 (BB2), which boasted turbo and silent modes and launched in September 2022.
These two editions of the cleaner looked pretty similar in design, with only a few noticeable differences setting them apart aesthetically. As for the functionality, the BB2 trumped the original blower in both power and velocity, with a built-in torch, plus a neater-looking mode dial to select options for Turbo and silent cleaning.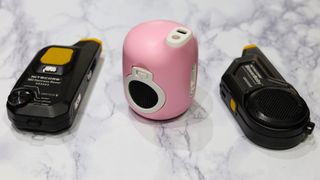 Nitecore BBMini Features
This new BB Mini model of blower keeps the same elements and functionality as the BB2, with Turbo and silent cleaning modes available, yet is housed in a completely different and slightly heavier casing, despite being called the "Mini" version, and feels almost like a chunky grenade to hold in comparison with the sleeker predecessors.
As for key features, the BlowerBaby Mini can reach a wind speed of 65 km/h (40.4 mph)* when on turbo mode, with a high-density filter on the side of the device protected by a hard mesh cover to prevent particles from entering, and offers a unidirectional air intake designed for preventing damage to the object that is being cleaned, as well as filtering out any dust.
The BB Mini also has an integrated impeller air duct that can improve wind power while reducing wind resistance, and a built-in Li-ion battery that can last up to 150 uses without needing to recharge from the USB type-c port.
* It's worth mentioning that the BB2 blower has a wind speed of 80 km/h, and the original BlowerBaby had 70 km/h, meaning that this Mini variant is lacking the fire (or should we say wind) power of the previous models.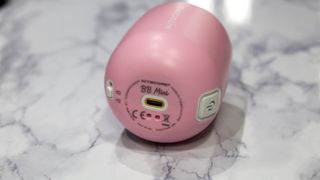 Nitecore BBMini performance
I pride myself on keeping my photography gear clean, so to put this BB Mini to the test, my partner went into the attic of his parent's house and dug out two of his old childhood GameBoy consoles, thankfully in this case they weren't in the best condition at all – providing me with the perfect excuse to test out the Nitecore BB Mini and really see what it can do.
As you can see from the images below, the console screens were dusty with debris around the edges, back casing, and screw holes. I could quickly get into these areas using the retractable magnetic brush for a "brush and blow" cleaning effect using the BB Mini which really worked at cleaning hard-to-access areas.
The back compartment of the blue GameBoy had some badly corroded batteries after years in the loft, so I put on some gloves and removed the batteries using a hair grip (don't try this at home), and then proceeded to blow and brush out as much of the leftover battery acid as I could using the BB Mini.
Years of working at a game store had trained me to be cautious around battery acid that was primarily found in Nintendo Wii remotes which are usually instant rejects, but luckily after cleaning the back compartment, the prongs where the batteries sit at the back of the console hadn't corroded permanently and remained pretty intact.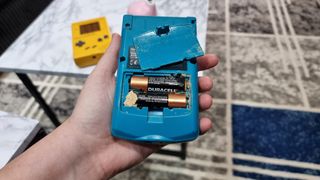 The BB mini did an okay job cleaning up these consoles, but a few times I had to swap it out for the BB2 blower instead to make use of the much stronger wind speeds to blow out the deeply centered dust within the consoles.
I feel like a compressed air can could've done a similar if not better job in all honesty at cleaning up these Game Boys, though compressed air is something that isn't usually recommended for use on photography equipment due to the force.
Take a look at the video below to see the process and final results of cleaning the GameBoy consoles.
The power button on the BB Mini is situated in a bit of an awkward place near the bottom of the device barrel which makes it difficult to hold and use when the air nozzle and quick-release magnetic brush slider are located at the top. The lockout function is great to prevent the device from activating when in a bag or pocket, and can easily be switched on and off for clarity.
There are two different cleaning options available that will allow you to go hands-free essentially and release the power button with the device still blowing air, which does in turn make it much easier to hold and operate, although this method is more likely to drain power, whereas the alternative is to simply press and hold the button..
A lanyard hole sits at the bottom of the base to allow a strap attachment (included) to be tied to the blower, although it was super fiddly and I couldn't figure out how to attach the lanyard so I gave up on this pretty quick. Although, the ABS matte housing around the device was slippery so I may have benefited from attaching the strap.
Switching between Turbo and Silent mode however was super easy, and required double pressing the power button to enter silent (constant) cleaning mode, and then short-pressing the power button to switch between the two modes, long-pressing the power button to then turn this off.
Nitecore BBMini Verdict
Should you buy a BB Mini from Nitecore?
Having had a play around and test of all three of the BlowerBaby series of electronic photography cleaners from Nitecore, I can honestly say that these devices are super helpful, make the process of cleaning your gear fun and worthwhile, and also cut the time it takes to clean your gear in half.
BUT - with all of that said, I do believe that these tools are expensive and pretty premium, and may not be worth the purchase for a photographer who will only clean equipment or sensors once in a blue moon. However, if you happen to work in this sort of area and clean gear as a service on the regular, then it's a no-brainer purchase and you won't regret it.
If you've made your mind up and would like to purchase one of these electronic blowers (great!), then it might be wise to opt for the second edition BB2 as opposed to the first model or the BB Mini, as through my time testing I found that the Mini and BB2 share a lot of the same features, but the design of the BB2 is more practical and comfortable to use and has a boosted wind speed of 80 km/h.
The other models are great in their own ways too if you're looking to save a few dollars, but be mindful that you will need to replace the filter over time and after long periods of use, and purchase a different filter entirely (sold separately by Nitecore) to limit the power and clean your delicate camera sensors.
---
• For tips on how to clean your gear at home, take a look at how to clean a camera sensor, as well as tips for removing camera sensor spots and dust.