The New Big 5 is an international project I started working on in 2019. The 'big five' is an old term used by colonial-era hunters in Africa for the most prized and dangerous animals to shoot and kill: elephant, rhino, leopard, Cape buffalo and lion. I thought there was a better idea: to celebrate the animals that we share the planet with using photography, rather than hunting.
I first had the idea of a new big five of wildlife photography around a decade ago, when I was on assignment in Botswana's Makgadikgadi Pans. Maybe it was hearing the word 'shooting', used for taking pictures, that sparked something, but the genesis was more from thinking about the idea that trophy hunting is an outdated concept, something that belongs to the past, and that wildlife photography is much more meaningful to people these days.
I launched the project in early 2020, not long after the pandemic hit. I created the New Big 5 website with podcasts, photo galleries, interviews and articles, plus a request for people to vote for their five favourite animals to photograph and see in photos. Incredibly, around 50,000 people from around the world voted.
High five
Initially, I just thought it was a cool idea and something that should exist as a counter to the original; a big five of photography, rather than hunting. But as I started working on it, I wanted to focus the project on highlighting the threats that are facing wildlife, such as climate change, poaching, the illegal wildlife trade and the loss of vital habitats.
The New Big 5 was never intended as an anti-trophy hunting campaign; as a journalist and photographer, I've seen many of the issues facing wildlife first-hand, and I wanted to do something to raise awareness and hopefully help, by flagging problems and discussing solutions.
It was always my hope to produce a New Big 5 book – the next step in my mission. With 225 incredible wildlife photos from 146 global photographers, the book has a chapter for each species in the New Big 5 – elephant, lion, polar bear, gorilla, tiger. The aim of the project was not to just focus on big iconic species, but to get people interested in all kinds of creatures and issues around them. There's an extensive chapter on many endangered species, including frogs, penguins, spiders, lemurs, sharks, vultures, manta rays, rhinos, whales, cheetahs and turtles.
I wanted to create something positive and hopeful, even though the situation we're in is dire. The message of the book is that all creatures, from termites to tigers, are essential to the balance of nature, healthy ecosystems, and the future of life on Earth. The book points the way to a wilder, fairer world; a path available to us if we choose to take that route.
The New Big 5 project did a great job at highlighting endangered species and threats facing animals around the world. I want the book to do the same and to make a difference. This book is a powerful reminder of the incredible beauty and diversity of the natural world, and what we stand to lose if we don't take urgent action to protect wildlife and the planet.
About The New Big 5
The New Big 5: A Global Photography Project For Endangered Wildlife is out now (Earth Aware Editions; £62/$75), available at Insight Editions.com and Amazon, with a foreword by Paula Kahumbu and an afterword by Jane Goodall. You can also follow the New Big 5 project on Instagram. Graeme Green is a journalist, photographer, and author.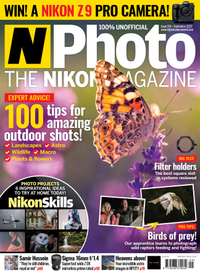 N-Photo: The Nikon Magazine is a monthly magazine that's written by Nikon enthusiasts for Nikon enthusiasts, you can be sure that all the content is 100% relevant to you! So for the best Nikon-focused news, reviews, projects and a whole lot more, subscribe to N-Photo today – with our unmissable sub deal!