One lucky reader recently joined Claire Gillo in the Lake District for a series fun photo challenges. He was loaned a Nikon D850 and a series of lenses by London Camera Exchange, but how did he get on? Let's find out.
The reader: David Goodier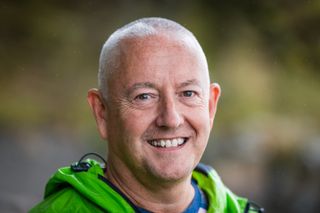 David cut his photographic teeth with a Zenith EM in his early teens, but had no interest in darkroom work. It was the arrival of digital cameras that caused his love of photography to explode, as he could now be in full control over the entire process. David turned professional in 2008, when he became a wedding photographer – a job he loves. He is a camera club judge and lecturer for the Yorkshire Photographic Union (YPU), and teaches off-camera flash and landscape photography on a one-to-one basis. You can see more of his work here.
Challenge 1 - Embrace the gloom at Derwentwater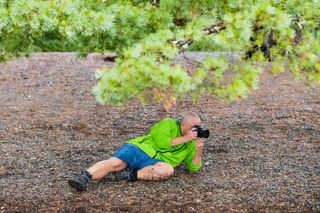 Even though David came armed with a host of lenses, as soon as he was handed the D850 with a 50mm lens, he decided to use only this combination for the entire Shootout. He also chose not to use his tripod. "I was really just challenging myself to shoot in a more simple way while relying on the quality and dynamic range of the D850," he reveals.
Raise the standard
The 'nifty fifty' is the most versatile prime lens there is, and one that lends a natural perspective to landscape photography. The large maximum aperture of the 50mm on our D850s sucks in light, which can unlock the camera's more precise autofocus points too.
"This image is all about the wet foreground rocks, and I shot it with a black-and-white conversion in mind. I wanted the jetty to be acceptably sharp in order to add context to the rocks, but I also wanted the background out of focus to help separate the elements, and I felt that an aperture of f/8 was my best compromise.
"As there was no detail in the sky because of the weather, I opted to exclude this blank canvas by framing the scene from beneath the overhanging tree near the shore. It stops the eye wandering out of shot and adds interesting detail.
"In the end it took 14 shots to get this frame, as I was waiting for the ducks to move into the shot and face towards the left of the scene. I had to wait for five minutes before they did so."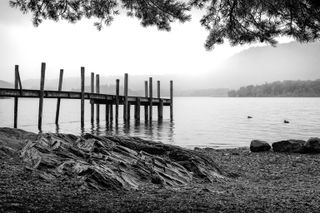 Expert opinion: The way that David's framed the layers of this scene creates a harmonious result, and he's done a cracking job of bringing out the blend of textures – from spiky foliage to glossy, rippled rocks – with the black-and-white finish.
Challenge 2: A different take on Ashness Landing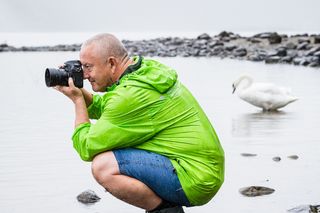 With the changing light offering a brief opportunity to capture a more punchy image of Ashness Landing, everyone had to work quickly. Having shot this location before, David was quick to take advantage of the conditions that the previous long spell of dry weather had created and took his Nikon D850 down to the (lower) water.
Pack a printed map
Google Maps and Google Earth are indispensable tools for today's landscape photographer – until you hit a phone signal blackspot, that is. Packing an OS map is a sensible choice, and can literally get you out of a hole.
"The low water level gave me my first-ever opportunity to shoot from beneath Ashness Landing's jetty without getting soaked, and the sunset added dramatic light," says David. "I wanted to emphasise the end of the jetty and the water there, allowing both the foreground and the far shoreline to fall out of focus: a technique that forces the eye to seek out the sharpest point, which is where I'm wanting you to look."
"I chose an aperture of f/2.8 for its shallow depth of field, and combined this with a fast shutter speed, as I wanted no movement in the water. I needed to increase the ISO to make the most of the low light. Getting the camera only inches above the lake meant using Live View, too."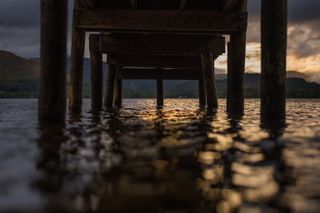 Expert opinion: David's done a terrific job of capturing the moment here, and his shot oozes mood. His choice to combine a low angle, a shallow depth of field and selective focusing really pulls us into the image, and the more unusual view of such a well-documented subject makes this a memorable image.
Challenge 3: Capture a tranquil scene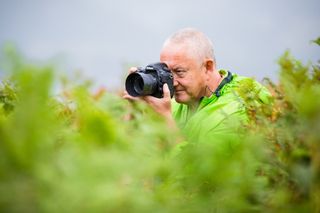 David's background as a wedding photographer certainly came to the fore on this shoot: he was frequently looking to grab detail shots that would help to build up a more interesting picture of the Lakes than scenics alone could provide. He shot everything from close-ups of foliage and water drops on a bench to this tight view of one of the ferries.
Low angles
Shooting from a low angle can offer a fresh perspective of a familiar scene. If you're using a wide-angle lens, it enables you to make a foreground look more expansive than it seems from a higher angle too. A camera with a fold-out screen makes it easier to frame, focus and adjust exposure. It's worth activating the electronic level display to ensure the horizon is straight, too.
"I'm a strong believer that you don't need wide-open vistas for every landscape," he says. "Often small details, especially a series of them, can add far more interest and narrative than a wide-angle f/16 shot ever would."
"This shot is an almost abstract part of one of the Ullswater steamers. I wanted to show the pattern of both the boat and its reflection as a series of horizontal stripes, with the relatively texture-less boat contrasting with the rain-splashed water.
"The boat, being parallel to the camera's sensor, would have been sharp at pretty much any aperture; I chose f/4 as a way to record clear detail in the water nearest the boat, while the closest water to me would be out of focus."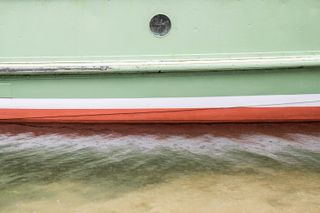 Expert opinion: What's not to like about this shot? There's a lovely rhythm to the lines, and we love the texture on the water's surface. The weathering on the boat's frame adds to the story – and David's done well to find some colour too! As with David's other shots, it is nicely finished too.
About London Camera Exchange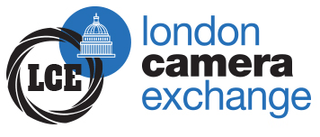 London Camera Exchange has 30 branches across the country, from Plymouth in the South West to Newcastle in the North East, and has been in existence since 1956. Each store is staffed by knowledgeable and enthusiastic people. As well as selling all the latest photographic and optical equipment, LCE specialises in part-exchange; its extensive second-hand stock is available from its website. Services like sensor cleaning video transfers and printing are available in-store, and the branches hold various events and shows throughout the year, with all information available at London Camera Exchange.