While having an Italian twang, Giottos is actually a Chinese company based in Shenzen. The firm produced a raft of brilliant tripods and other camera accessories that would regularly sweep up awards, such as the TIPA Best Design Award for its innovative YTL Silk Road tripod series back in 2013. I was a reviewer of camera kit at the time and it was a common occurrence in the early 2010's to see their products receive full marks.
The peculiar thing is, back in 2014 Giottos pulled out from UK markets seemingly overnight. What was made even more bizarre was it was just as they were riding a wave of critical acclaim and success. Its then UK distributor at the time, Daymen International, also went into liquidation recently in July 2021.
To this date, the Giottos YTL Silk Road series of tripods remains my go-to choice when I'm travelling. I've owned one for the best part of a decade so I've since had to buy a second-hand doner tripod from eBay to replace worn out parts onto it to extend its life and hopefully get another 10 years of use out of it. Judging by the forums I read on this topic online while doing research for this article I found I wasn't alone either - with many Giottos customers stating that they'd bought similar tripods from other brands and then transplanted parts such as new leg locks onto them to extend the life of their beloved Giottos.
• See which of the best travel tripods is right for you
So what was it about Giottos tripods that made them so special? Well for me, it was their innovative Y-shaped centre column. But because Giottos own the patent for it, only they can produce them...
The Y-shaped center column was a game-changing design that allowed a full-size pro tripod to be folded down with a super slim profile, ideal for travelling. When on a long hike I look to keep weight and bulk to a minimum, so the Giottos was fantastic - it also easily fits into a suitcase so has gone in my hold luggage on planes on numerous occasions.
Unlike many travel tripods though, it didn't skimp on specs. It was a true professional tripod with a bounty of features including a decent working height, a centre column weight hook, maintainable leg locks, adjustable leg angles, carbon or aluminium leg choices and the ability to switch tripod heads too.
Sadly I couldn't find any of their tripods on Amazon and I've reached out to their US distributors Omega Brandess who informed me that Giottos stopped manufacturing tripods back in 2016. I also got in touch with the Giottos Facebook page who stated "Giottos now only manufacturers blowers and a few mini ball heads".
I'd love to see Giottos tripods make a comeback, or at the very least do something with their patents - I don't see why they couldn't licence them out to another manufacturer to start up production of this clever design once more.
It looks like all hope isn't lost. Just recently Benro announced its revolutionary Benro Cyanbird travel tripod, which implements its own unique space-saving Arch-profile legs that allow them to folded in tighter to the centre column for a super-slim 6cm folded diameter, so perhaps this will become the next travel tripod I upgrade to in time.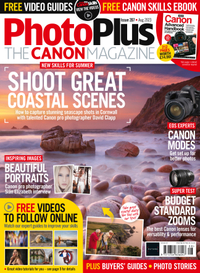 PhotoPlus: The Canon Magazine is the world's only monthly newsstand title that's 100% devoted to Canon, so you can be sure the magazine is completely relevant to your system. Every issue comes with downloadable video tutorials too.
Check out the best travel tripods, along with the best cameras for travel photography, as well as the new new Benro Cyanbird travel tripod.