Richard Lovelock has what many might think of the dream job - working on a cruise ship, traveling the world. His day job is as a cruise ship photographer for Fred Olsen - but his life at sea allows him to enjoy is passion for wildlife photography. He talks about how he approaches shooting the birds and mammals he says from the ships that he sails on…
"Wildlife photography is a test of one's patience," Richard explains. Though it requires commitment and stamina, having wildlife photography as a hobby can also be hugely rewarding. As Richard explains, "Not everyone can place themselves in front of an amazing creature. I am grateful for the opportunity and want to capture that image and immortalize the animal in my memory."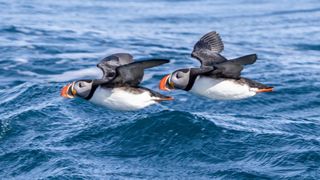 "A good wildlife photo needs to tell a story," says Richard. "It should put the viewer in the moment as if they were taking the shot themselves. It should also show the animal naturally posed."
So, for someone starting out in wildlife photography, having the right advice and equipment is a huge advantage.
As wildlife photography is such a wide-ranging genre, it's one of the easiest for beginners to start out in. All that's required is a passion for the outdoors and some form of camera, whether it's a phone or a more professional setup.
This was all Richard had when an unfortunate but inspiring incident occurred. "When I was in my thirties I took a career break from the police service and decided to travel the world," he explains. "One of my first trips was to Africa. I bought a small point-and-shoot digital camera to take on my travels.
"Unfortunately, near the start of the three-month trip, I was at a campsite charging it up, when a power surge blew all the lights - and my camera. I had to experience the rest of the trip, including seeing the mountain gorillas in Rwanda, without any sort of camera. My interest and passion for photography has grown since then."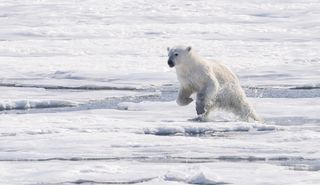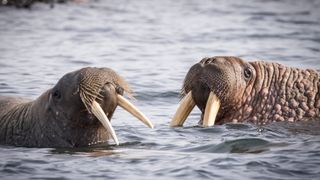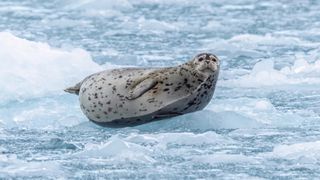 Richard now uses a Canon EOS R5 full-frame mirrorless camera, but recommends that beginners test out different setups before they make any purchases. He explains, "Better equipment will generally enable better results, but nobody ever learnt to drive in a supercar. Borrow, share or start with affordable equipment and see how you get on."
A telephoto lens is a must. This can take images from a distance so you don't disturb the habitats or wildlife you're trying to capture. Richard frequently uses a Canon RF 100-500mm with a 1.4x teleconverter for the images he takes from cruise ships
Choosing the right accessories is equally important for taking good-quality images, says Richard. "Tripods are an essential piece of kit for a wildlife photographer. Not just for stability, but to hold the weight of some of the larger lenses over lengthy periods."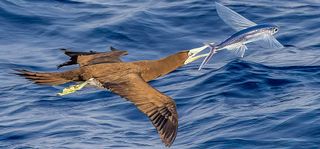 Richard admits that, even as an experienced photographer, taking pictures of sea life is a challenge. Out of all the tips, being ready is the most important when capturing special wildlife moments on a cruise.
"I've lost count of the number of times I've walked onto the deck of a ship to see something unexpected happen immediately," Richard admits. "These are the moments wildlife photographers want to capture. So you need to be set up and ready with whatever equipment you have to hand."
Specifically, Richard recommends setting your camera to a 1/2500 shutter speed at f/8 and then use Auto ISO as a starting point for capturing marine life.
However, having the right setup comes second to spending lots of time outside and on deck. This increases the likelihood of capturing even the most elusive marine life, such as whales and dolphins. As Richard says, "I find the more hours I put in looking, the luckier I get."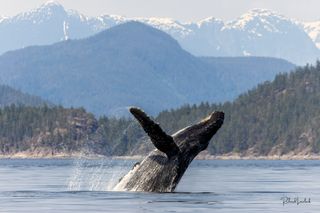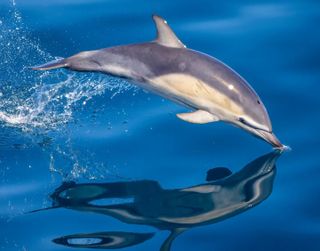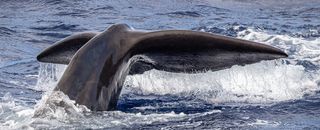 Wildlife can be spotted and photographed on cruises in any part of the world, though Richard has specific recommendations to increase your chances of a sighting. Alongside offering a wide range of whale watching cruises for wildlife photographers to choose from, Fred Olsen has also partnered with conservation experts ORCA to protect the marine life they love.
Fred Olsen has been part of ORCA's Ocean Conservationist program since 2019. This sees experts working onboard ships to monitor marine life and educate guests through Q&As and lectures. Work that's key to maintaining the habitat and health of the whales, dolphins and sea birds photographers want to capture.
As Richard explains, "If we are to enjoy the benefits of cruising, we must also take some ownership in protecting the waters we are sailing through. "It was thanks to ORCA that I changed from a cruise passenger to an Ocean Conservationist. The work that ORCA does on board Fred Olsen cruise ships is so important and essential if we want to see oceans back teaming with wildlife like whales and dolphins."
A version of this story first appeared on the Fred Olsen Blog