The greater the limitations in a project, the better the results. I believe in the transformative power of restrictions, and how they can drive our creativity and lead us to astonishing outcomes.
Some time ago, I challenged myself to explore these limits by locking myself in the dining room of my house for two hours. I carried only a basic pocket camera, leaving behind my phone and any contact with the outside world. I wanted to see what I could achieve in such a confined space with such simple resources.
At first, it seemed like a dull task. I was surrounded by the same objects, walls and furniture I had seen a thousand times before. But then, I decided to focus on the subtle details and the interplay of light within that space. I started observing the textures of the wall coverings and moldings, searching for unusual angles and perspectives.
The limitations of time and the confined space forced me to think ingeniously to compose my photographs and to play with the available lighting. Even the use of flash was restricted. In the dining room, two crystal bottles were resting upon the linen tablecloth. From the window, fleeting rays intermingled with the faceted surfaces, creating a play of lights, a concert of gleams, where the bottles whispered crystalline secrets in the silence of the atmosphere. I immersed myself deeper into my experiment, seeking fleeting moments and hidden details I had overlooked.
It was exhilarating to discover that my creativity was not hindered by the restrictions; in fact, it thrived. The need to find beauty in the seemingly mundane pushed me to explore new techniques and approaches, challenging my own skills and perspectives. I realized that limitations can be an infinite source of inspiration and creativity, as they push us to think innovatively and find unique solutions.
When the time came to review the photographs I had taken during those two hours, to my surprise, I found images that told stories and conveyed a sense of intimacy. Through simplicity and restriction, I managed to capture moments filled with meaning. It was a testament to how limitations can drive us to achieve a deeper level of artistic expression.
Award-winning Argentinian photographer Sergio Castiglione has visited cities all over the world, capturing architectural and urban images. He experiments with photographic approaches to create new perspectives and gives special importance in his work to light and time.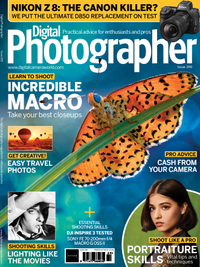 This article originally appeared in Digital Photographer, a monthly magazine, and the kitbag essential for pros, enthusiasts and amateurs alike!
Inside, you'll find practical guides, shooting tips and techniques from working photographers, plus all the latest industry news.
Take a look at the best compact cameras and the best point and shoot cameras to recreate Sergio's experiment!