The best fake security cameras keep intruders and bad elements at bay, while costing little and being super-easy to install.
Yes, people might suspect they're not real. But most of those who are out to commit crimes, stir up trouble and otherwise make a nuisance of themselves go for the easy option. So fake CCTV cameras, aka dummy cameras, really do work in keeping them at bay.
You might think we at Digital Camera World would be against cameras that don't actually work. But in this case, they actually do work, in terms of deterring criminal behaviour and encouraging troublemakers to move on from outside your home. Plus, even if you install a real camera, too (which you might need for insurance purposes), having multiple cameras on your premises – some real, some fake – just adds to the level deterrence.
To help you pick the right one, we've selected the best dummy CCTV cameras available today, and we've also included a couple of alternatives, in the form of super-cheap cameras that actually function.
See also: Ring Indoor Cam review
Best fake security cameras in 2023
Why you can trust Digital Camera World Our expert reviewers spend hours testing and comparing products and services so you can choose the best for you. Find out how we test.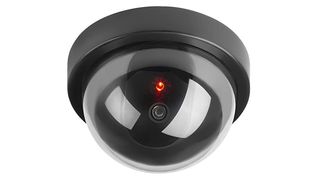 Striking an effective balance between discrete and deferent, this black dome-style fake camera can be placed indoors and out, where it'll stand out just enough from a white ceiling or porch. It's cheap and not designed for those who change their mind frequently: taking the battery in and out is the only way to disable the blinking light. On the other hand, the screw fitting is easy to twist on and off from your chosen location, which balances out pretty well.
From the criminal's perspective, it looks convincing, though sadly you cannot angle the fake camera lens down: it points at 45˚ and that's that. Given that it will be positioned to emulate wide-angled real equivalents, though, that shouldn't be a problem. The only thing which might give away its inauthenticity is the LED which, if seen in the first couple of weeks of its battery cycle, blinks so brightly (every five seconds) the reflection would spoil the video... if there were any!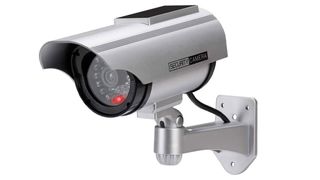 There are many prospective criminals who decide to look elsewhere on seeing a blinking light – why take the risk? – but for many fake cameras this is a powered feature which nudges them one step closer to the effort and cost of maintenance associated with a real CCTV camera. The AlfaView has a better solution, with no apparent compromise: a solar panel which can top up the charge of AA batteries, which keep the red LED blinking every three seconds.
You will need to supply your own Ni-Cad rechargeable, but at least this will be less frequent than with other light-blinking options. In terms of putting off unwelcome visitors, once again the blinking light is behind the main glass – weirder here than with a dome – but the presence of fake infra-red lights and lens shielding looks convincing.
The bracket and adjustable position make it easy to place on the corner of a structure, so it won't be missed and still appear to be monitoring your chosen spot. Even at close examination, the fake cable run and shielding are convincing. Perhaps the only aspect which would make me ponder its reality is the label 'Security Camera', where one might expect a real brand.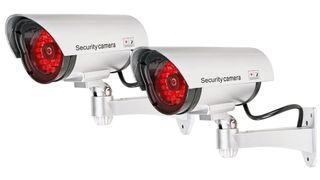 When it comes to visible deterrence, this design – with its array of 30 red LEDs – is very effective. See it at night and it feels like someone is using night vision to monitor you... and not at all discretely!
The top cover slides back to reveal the battery compartment. This in turn is covered by an extra piece of plastic which is flimsy but serves only to prevent any moisture draining the wrong way.
Standard AAs will likely only last a month, though, because of the extra lights. And like so many other cameras in this category, the branding is somewhat suspect. Having said that, who's really going to examine the side close-up, given the light's deterrent effect is visible from some distance?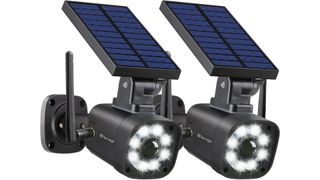 One potential problem with fake security cameras is that people might not spot them, especially at night. That's why this model comes with 800 lumen floodlights, which are motion-triggered and simply can't be ignored. When someone passes the detection range (28-32 feet) at night, the light will automatically turn on and continue to illuminate for 20 seconds. The high conversion efficiency solar panel and 2600mAh large capacity battery ensure that the simulated camera can charge and work normally in any weather and light.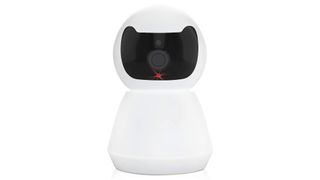 In recent years, the smart-home indoor security camera has become a commonplace sight around many homes, and they have a distinctly different look to the average security camera. They are sold to look at home as baby camera monitors, while still having screw mount options.
That's exactly what is on offer here with the kitty-like ears in the "camera" recess and addition of red LED to give the impression, for example, to your babysitter that you're checking in via a phone app.
This is a very realistic instance of LEDs, similar to that of my Nest Cam Indoor, albeit in red not green. And I can't imagine the lack of cabling being interpreted as anything other than Wi-Fi connectivity. In short, there's nothing obvious here that will tip intruders off that it's not the real deal.
Alternatives to fake security cameras
An alternative to buying a dummy camera is to buy a modestly-priced camera and then simply not connect it to anything. A real camera which isn't powered up is just an effective deterrent to most who see it, and it still leaves you the option of connecting it later. Or go for a camera which isn't recording to a pricey recorder all the time, but gives you the option of doing a little surveillance via a device you already have and a phone app. This, in turn, brings the option of immediately responding to any intruders via two-way audio (or asking your partner to get the milk as you see them going to the garage).
We've covered the best outdoor security cameras and best indoor security cameras elsewhere in Digital Camera World, but below you'll find a couple which fulfil the primary requirement of this list: accessible pricing.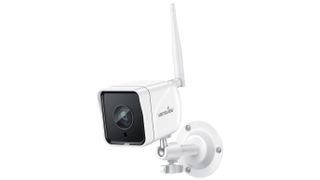 Although it's not the most aggressive looking of designs, there is no mistaking that this is a security camera – with a real wire – so if you just used it as a fake it'd be a good one. The fact it is real is evident in the build quality which can survive -10 to 40˚C (14-104F), and though if you're reading this list you might not be too worried about image quality it's good to know that night vision is provided and – while some pricey cameras offer 4K and more, 1080P (2 megapixels) is more than good enough to check in on occasionally via your phone.
You can also use the camera as a recording point, putting in an SD Card so you do have recorded footage even if you don't have a recorder or paid-for storage service. Setup is also pleasingly easy (point a QR code on your phone screen at the camera). Given this is only a little more expensive than the fakes on this list, it's worthy of consideration.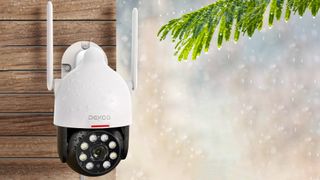 This is one of the best 360-degree outdoor security cameras - and a steal at the price. The motorized camera not only gives you all-round vision, but the movement of the lens acts as a great deterrent. The camera can detect human movement, has LEDs for full-color night vision, and has a higher-than-many 2K resolution. The IP66-grade weatherproofing should reassure, though the casing's design certainly reveals its reliance on 2.4GHz Wi-Fi with the pronounced antennae.
The cost of entry isn't high, and nor is it compulsory to establish high ongoing costs. An SD Card slot means you can record locally – either 24x7 or event-based. You'll need to provide your own 8-128GB card though. The night vision modes – infra-red, color (lights on), and alarm (lights and siren) – are easy to understand and choose between too.
Guides to other security products:

Best indoor security cameras
The best video doorbell cameras
The best body cameras for personal security