Watch video: How to scan the night sky with SkyView
Astrophotography can be one of the most daunting genres for newcomers. If you're wondering how to shoot star trails, one mistake can ruin hours of work – which stings even more if you've invested big bucks in one of the best cameras for astrophotography.
Fortunately, there are plenty of resources out there to help budding astrophotographers, and SkyView is one of our favorites. It helps even astro newcomers familiarize themselves with celestial objects and identify constellations, and although it's not specifically targeted at photographers it's a great companion when out in the field.
• Read more: Best telescopes for astrophotography
It's rated highly on the Apple App Store and Google Play, and it's easy to see why. This ingenious little app uses augmented reality (AR) to display the position of celestial objects in real time on your smart device. Boot it day or night and your surroundings will appear on your device's screen (just like its in-built camera function), but you'll also notice stars, planets and the odd satellite.
On a clear night you can simply point your device at the sky and use SkyView to decipher its most prominent objects. A search function even points you in the right direction so you can find important reference points like Polaris or the Milky Way.
How to use the SkyView app
1. Augmented reality
The app's augmented reality interface charts celestial objects in relation to the position of your smart device. It's automatically calibrated, but on a clear night you can fine-tune the interface using a manual slider (found in the main menu) to literally make the stars align.
2. Night vision
It takes time for human eyes to adjust to dark settings and they reset when exposed to bright light. Using red light to illuminate your surroundings helps retain night vision. Luckily, SkyView has a Night Mode which turns your device's display red.
3. Helpful hindsight
SkyView calculates the position of celestial objects via the date and time. Select the top left-hand menu and touch the calendar icon to change the date and time. This is really useful if you're scouting locations or if you want to set up your shoot while it's still light.
4. A hitchhiker's guide to the galaxy
You can search for specific objects. Tap the spyglass in the top-right corner to choose your preference. The AR interface will now feature an arrow that points to the object and moves in relation to your position. Want to find Polaris in a pinch? Use this!
5. Star trekkin'
You can tap celestial objects to reveal snippets of information at the bottom of the screen. If you click the 'i' icon you'll be taken to a tab with more information, including right ascension and declination (how astronomers calculate an object's position). Back at the main interface you will find the selected object's trajectory, and the time it reached or will arrive at a specific position.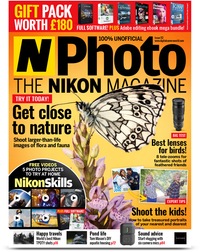 N-Photo: The Nikon Magazine is a monthly publication that's entirely dedicated to Nikon users. For the best news, reviews, projects and more, subscribe to N-Photo today!
Read more:
The best tripod for photographers
The best camera for astrophotography
How to shoot star trails