Very early on, in the learning journey for most photographers, the subject of exposing snow will come up. Snow itself is made up of fine particles (flakes) of ice, which have a reflective surface. When this forms a carpet these properties are magnified and the snow blanket appears significantly brighter than the surrounding 'hard' surfaces, such as rock, wood and metal.
This sets up a unique brightness challenge, which cannot be easily controlled with accessories (such as filters) in the way that a bright sky can be. If we are not careful, highlight detail can be clipped in the snowy areas, converting these to solid masses of overexposed white. These naturally have the potential to detract from the impact of the scene and cannot be fixed in software, due to the loss of digital information.
This can be easily addressed, once you know to look out for it, as we describe in this tutorial. Take a look and get more from your camera when shooting outdoor scenes this festive season…
Mock-up composition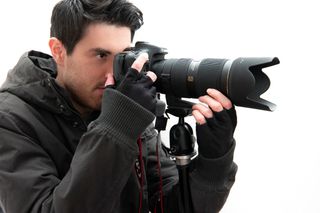 In stormy conditions exposure is challenging. Overall light levels are low but snow is highly reflective, creating an odd contrast. Use Aperture Priority mode to test exposure for your chosen composition as this will quickly identify any issues with autoexposure.
Watch exposure meter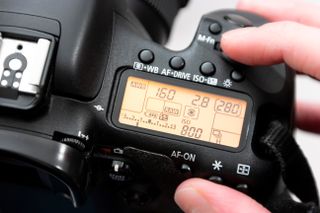 Where you place your AF point will impact the camera's exposure choice. When gauging exposure for test shots keep an eye on the exposure meter for sudden underexposure. If slight recomposition causes a 3EV drop it's an indicator that the scene is a challenge for the AE system.
Use Evaluative Metering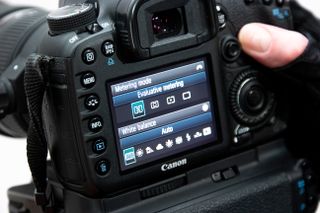 This is one instance where Evaluative or Matrix metering is the preferable option, since most of the scene is uniformly bright. We want to avoid 'muddy' tones in the snow, which Spot Metering might produce as it renders white as 18% grey.
Switch to Manual (or use AE lock)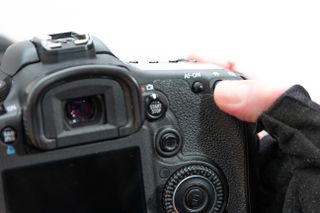 When you can be confident lighting is not going to change much, you can lock in the measures for capturing the correct exposure by switching to M on the Mode Dial or by pressing and holding autoexposure lock (AEL). This ensures exposure is fixed between shots.
Prioritise TV or AV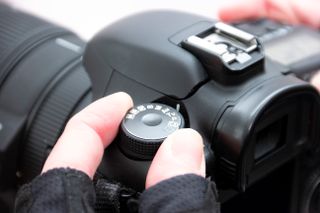 Once you have the correct Exposure Value determined you can bias the settings used to achieve it depending on the subject. For deep focus stop down at the expense of snow movement. If frozen motion is a priority, keep shutter speed constant, adjusting EV via ISO and f/stop.
Check Histogram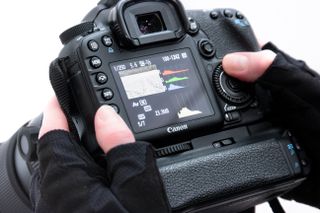 Keep referencing the histogram, both live and for recorded shots, to ensure no highlight clipping (touching the right wall) while maintaining bright white snow. If the graph is bunched up at the left then this could indicate muddy grey snow, so use a little positive exposure compensation.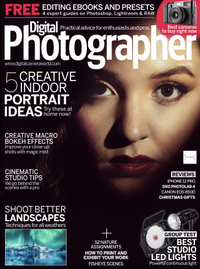 Get the kitbag essential for Enthusiasts and Professional photographers. Packed full of pro advice, tutorials, techniques, interviews and kit reviews, Digital Photographer Magazine will help you take your images to new heights.
£2.77 (Digital) | £3.85 (Print) | £4.24 (Print + Digital)
Read more:
What is exposure
Landscape photography tips
How to shoot amazing winter landscapes – Part 1: Essential kit
Best gloves for photographers