Watch video: Create abstract art with plastic cutlery and a polarizer
There are some things that just can't be replicated in Photoshop, and this is certainly the case when using a circular polarizing filter. A landscape photographer's favorite tool, it's essential for cutting down reflections in water or glass, and also has the power to reduce scattered light – making blues in the sky look more punchy.
These useful and affordable accessories can also be used to change the appearance of polarized light emitted by computer screens. If you have a laptop, tablet or even a smartphone, the chances are that it's throwing out polarized light. You can pick up a polarizer for about ten bucks, but we recommend using the best polarizing filters to achieve superior results.
We're going to take advantage of this special light to help us achieve the vibrant, almost radioactive-looking abstract in the transparent plastic cutlery you see here which will turn the heads of all your friends.
The trick is to use a polarizing filter and twist it to change the amount of polarization delivered. When you twist it to the 'sweet' spot, the screen of your electronic device will appear to be entirely black, leaving the plastic cutlery lit up in all sorts of strange and wonderful abstract colors.
01 Attach your macro lens
While you can use a kit lens at its longest zoom, a macro lens will yield even more impressive results as you can get closer to the cutlery to make them appear larger in the frame. Attach your lens to your camera and set it up on a tripod.
02 Position the cutlery on your tablet
Position a tablet or computer display on a table and set the screen to be bright white, by creating a blank document in an app like Photoshop. Then go into full-screen mode and turn the brightness all the way up, and lay your plastic cutlery across it. Most modern screens are scratch-resistant, but it's still worth taking care when placing the cutlery on your tablet.
• Best tablets for photo editing
03 Compose your shot
Tweak the position of your camera and tripod until you can get a frame-filling shot of the plastic cutlery. Now focus on the piece of cutlery that you want to be sharpest and switch to manual focus to lock it off in place.
04 Dial in the right amount of polarization
Attach your polarizing filter, being careful not to knock the focus, then twist the polarizer ring until it blocks out the polarized light emitted by your electronic device. This will leave the plastic cutlery eerily illuminated with an array of wonderful colors.
05 Dial in the camera settings
Put your camera into its Aperture Priority mode and set the ISO to 100 for the best image quality. Then dial in a wide aperture like f/2.8 value if you want just the one piece of cutlery to be in focus or, a higher value like f/16 for a wider depth of field to get more of the cutlery in focus.
06 Take a test shot
Make sure you're shooting in Raw, and set the self-timer mode to reduce camera shake when you press the shutter button. Then take a shot and inspect it on the rear LCD screen to make sure it's sharp and correctly exposed to your liking, now's the time to change it if it's wrong.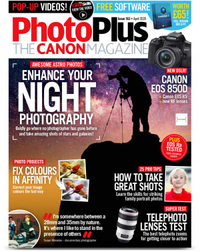 PhotoPlus: The Canon Magazine is the world's only monthly newsstand title that's 100% devoted to Canon, so you can be sure the magazine is completely relevant to your system.
Read more:
The best macro lenses
How to use a polarising filter
The best polarising filters