Trouble streaming the above video? View/download it here
Before colour film, hand-tinting photographs was a specialist job. Painters would painstakingly add splashes of colour to prints, or – in the case of moving images – directly onto the roll of film using tiny brushes. These days, we can add colour to our old photos by using a simple Adobe Photoshop CC technique. The Colorize filter can do much of the work for us. As one of the recently introduced Neural Filters, it uses artificial intelligence to recognize people and objects in a photo, then colour them accordingly.
Like other automated tools in Photoshop, the command works brilliantly on some photos, and less so on others. But even if the results aren't perfect, the filter gives you a solid starting point for more manual edits. As well as fine-tuning the application of colour in the command, we can make use of other tools like the Color Replacement brush.
Of course, before we begin, we need to digitize our old prints with a flatbed scanner or camera. Alternatively, if you want to experiment, you can find lots of old photos online. We used an image from www.pixabay.com (search for 1513018). You can also find free downloadable old photos at Wikimedia Commons.
Please note: This project does not contain any start files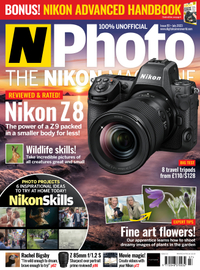 N-Photo: The Nikon Magazine is a monthly magazine that's written by Nikon enthusiasts for Nikon enthusiasts, you can be sure that all the content is 100% relevant to you! So for the best Nikon-focused news, reviews, projects and a whole lot more, subscribe to N-Photo today – with our unmissable sub deal!