The Zeiss Conquest Gavia 85 could be ideal if you're looking for high quality and reliability in spades and have the budget to match your ambitions. Zeiss is a brand instantly recognisable for photography enthusiasts for its optical excellence, so has got to be a top choice. The only negative is that premium options like this inevitably don't come cheap. But on the plus side if you have got the cash to spare, you'll be rewarded with years of highly detailed observation.
So what do we get for the sizeable outlay here? Not only a rapid focus mechanism literally at our fingertips when our eye is pressed up against the eyepiece, but also a relatively close near focus setting of 3.3 metres, so that not only observing skittish wildlife but also the viewing of smaller subjects – wild rabbits in our local park for example – is easier to achieve.
The sharp eyed will have noticed that '85' in the model name, which here makes reference to the whopping 85mm lens diameter that forms the key part of this scope's construction, suggesting, among other things, better than average visibility in low light. Add to this a zoom magnification range up to 60x and a nitrogen-filled fog-proofed build to literally 'weather' the great outdoors, and you've really got something.
Specifications
Magnification: 30-60x
Objective diameter: 85mm
Field of view at 1000m: 33 to 23 metres
Closest focusing distance: 3.3 metres
Eye relief: Not given
Weight: 1.7Kg
Dimensions: 398x101x161mm
Key features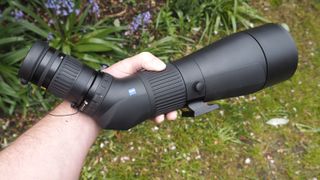 Resembling a super-sized rifle sight to the uninitiated, this angle bodied scope is all about a large and bright objective lens married to zoom power that lets us, even on its basic 30x setting, examine the feather detailing on a Mandarin duck from 20 metres away without ruffling those proverbial feathers.
Thanks to the magnification range on offer here, focal length provided is up to the equivalent of a whopping 493mm, with, as mentioned in our intro, a close focusing distance of 3.3 metres.
The angled eyepiece ensures additional comfort, meaning that you don't have to crane your neck, crouch, or raise your tripod up to eye level to achieve comfortable viewing. The large 85mm lens highlighted in our preamble also provides better detail in a broader range of conditions than smaller alternatives. In short, a detailed view and versatile, flexible performance is what we're expecting of the Zeiss Conquest Gavia 85.
Build and handling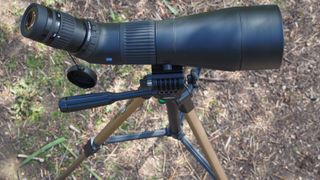 The manageable weight and ergonomics of the Zeiss Conquest Gavia 85 scope mean that it can be held in the palm. However its size, shape and construction necessitates it to be mounted on a tripod for any practical use, so you'll need to budget for a tripod too if you don't already own one. Naturally then the base of this roof prism construction scope has a universal tripod mount with a variety of screw threads for attaching the device to our tripod of choice.
Once you've got an eye up against the eyepiece – a part of the device which can be adjusted with a quick twist for those of us who wear spectacles – you'll need to adjust focus, which is achieve by the thick, ridged rubberised wheel situated conveniently behind the scope's tripod mount. Here the scope responds smoothly and steadily to the user's touch and adjustment, without the focus wheel feeling at all 'loose'. It would be difficult to accidentally nudge the focus in the excitement of tracking your visual quarry, if you didn't actually intend said adjustment.
Performance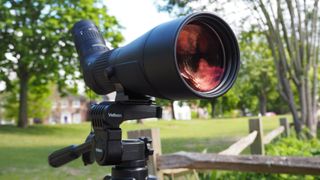 The view through this scope with its HD lens system and class-leading Zeiss T* lens coating, is, at times, so sharp it can sometimes feel a little overwhelming – like the equivalent of flicking from a Full HD channel to one offering 4K resolution.
Images also offer plenty of contrast and clear definition. We were able to observe nesting geese and skittish waterfowl from afar, as well as a swan taking her baby cygnets for a walk without disturbing them.
The more you zoom in – for which a zoom ring is provided an inch lower than the eyecup – or the further away from the subject you are to begin with, the potentially less steady the view however, as any vibration due to hand movement on the device itself – as you reach across to adjust the central focus wheel, for example – is amplified. So once zoomed in to the max, it's best to stay put.
Verdict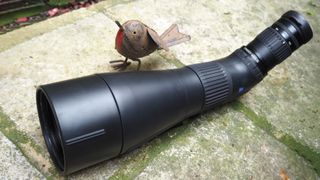 The Zeiss Conquest Gavia 85 scope looks, feels and handles every inch like the premium tool we expected it to be, which, given the price being asked, is reassuring. Considering the price tag and the chunkiness of its construction, it's probably not the tool of choice for the casual nature and wildlife observer however; this is one for the true enthusiast who won't mind the setting up of a tripod required each time it needs to be used. Your patience will however be rewarded with observational views you won't be able to achieve without it.
Read more:
• Best spotting scopes
• Best binoculars
• Best night vision binoculars
• Best monoculars
• Best binocular harnesses