Pixelmator says Pixelmator Photo is "the best way to edit your photos on iPad". It uses a lot of core Apple technologies including Metal, Core ML 2 and Core Image to deliver its speed and features, and boasts Pixelmator's new-found ML (machine learning) technologies for automatic image enhancements and more intelligent application of its film emulation presets.
But does it do enough to join our list of the best photo apps for Android and iOS devices?
Features
The ML Enhance button is a quick and simple way to apply a quick fix to substandard pictures. It will automatically apply lightness, color balance, selective color and other adjustments, and Pixelmator says it's been trained on 20 million professional photos.
You can also apply a whole range of film emulation presets organised into categories like Black & White, Cinematic, Classic Films and more. These are displayed in a strip across the bottom of the screen in a way that's quite reminiscent of the VSCO app (another film emulation tool).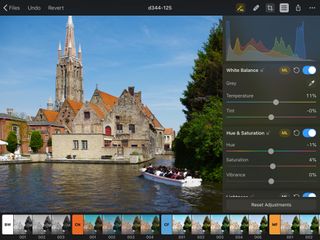 Pixelmator Photo's film emulation presets use the same set of adjustment tools as its ML Enhance feature, but what's interesting is that if you apply a preset after you've used the ML Enhance option, Pixelmator Photo's machine-learning tech will automatically identify and preserve the key adjustments you already made.
The repair tool is pretty cool. There's a slider to adjust the brush size, and that's it. You brush over an object you want to remove with our finger (an Apple Pencil will make it easier to see what you're doing), and Pixelmator Photo does the rest. It doesn't always produce a perfect repair, but you can tap the Undo button and try again.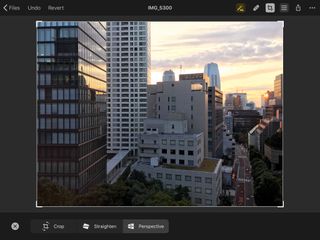 The ML Crop option is a nice idea for those not confident about their own cropping/compositional skills, and the Crop screen also has Straighten and horizontal and vertical Perspective tools – that's really useful for wonky travel shots and landmarks.
If you tap the tools icon, you can start making adjustments manually, with panels for Black & White, Fade, Lightness, Channel Mixer settings and many more – but with no selection or layers tools, all your adjustments will apply to the whole picture. If you want layers and selections, you need the Pixelmator app, sold separately.
Usability
In an ideal world you might want to browse through your pictures in the Apple Photos app, choose one you want to edit and tap the ellipsis (…) button to choose the program to edit it with. But Pixelmator Photo doesn't appear on the list of options.
Instead, you have to open Pixelmator Photo, import the photo you want from Apple Photos, edit it, then save it back out to Apple Photos. This feels like a clumsy workflow (it's the same for Google Snapseed), but Pixelmator Photo uses its own file format to allow its reversible non-destructive editing, so this is presumable how it has to work.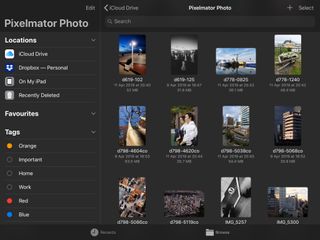 On the upside, Pixelmator Photo is not tied to Apple Photos. You can store Pixelmator Photo files separately on your iPad or in Cloud locations like iCloud Drive or Dropbox (though it wouldn't import a new file with the Dropbox option selected – Pixelmator is aware of this).
What this means is that you can use Pixelmator Photo to edit any image stored in these locations, so it's like having a handy iPad editor for images available everywhere, including your desktop computer or laptop. Pixelmator Photo will also open raw files directly, from over 500 camera models.
It doesn't appear to use the same file format as the regular desktop Pixelmator Pro app, unfortunately, so editing Pixelmator Pro files on your desktop doesn't look like it's possible right now. If you want direct file compatibility between Pixelmator images on your iPad and the desktop software, you need the Pixelmator iOS app, not Pixelmator Photo.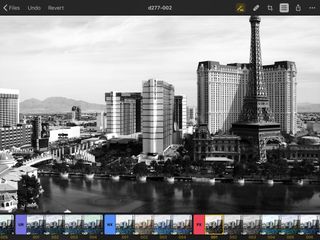 Performance
Pixelmator Photo is certainly fast. The ML Enhance button can take a couple of seconds to do its work, as can the Repair too, but it feels quick compared to desktop software.
The ML Crop tool is a nice idea that you can find yourself using more and more as you learn to trust the app to get your composition right, and the perspective correction sliders are smooth and responsive. Pixelmator Photo automatically crops the image as you make adjustments so you don't get any messy perspective correction 'wedges' at the side of the picture.
The manual adjustments are straightforward and responsive too. You might not use half of them, relying on the film emulation presets and key Lightness and White Balance settings instead, but they're there if you want to experiment with more advanced image effects – and you can save your own custom presets.
Verdict
You can't launch Pixelmator Photo direct from the Apple Photos app, so that means you have to start from the app and import from Photos – it sounds a small thing, but it is annoying. The editing tools are great as far as they go, especially the film presets and perspective corrections, but with no local adjustments or layers tools (you need the 'other' Pixelmator for that), Pixelmator Photo feels quick, cheap and useful, but also a bit limited.
Google Snapseed offers a far wider range of effects and adjustments, including local adjustments, and it's free. And the regular Pixelmator is a more powerful all-in-one photo-editing, drawing, painting and illustration tool at the same price. Pixelmator Photo is a snip at just $4.99/£4.99 but it's best for people who just want quick fixes and all the benefits of machine-learning artificial intelligence rather than in-depth adjustments.
Pixelmator Photo costs $4.99/£4.99 and you can get it from the Apple App Store.
Read more:
• The best photo editing software for desktop/laptop users
• The best free photo editor
• The best photo apps for Android and iOS users