The OnePlus Nord CE 3 Lite 5G may have one of the most longwinded names around, but its styling and price are easier to stomach as the phone hits shelves costing £299 (roughly $370 / AUS $540), despite packing 108MP resolution imaging, 5G data speeds, and nippy fast charging.
Don't get us wrong, there are some telltales off the bat that OnePlus's latest entrant is a budget phone. It misses out on the OLED screen tech of some similarly priced competition like the Poco X4 Pro, and its specs echo those of 2022 phones like the Redmi Note 11 Pro.
The Nord CE 3 Lite also misses out on an ultra-wide camera, a staple, even at its price. So with its dated specs and pared-back camera, should OnePlus's latest Nord blip your radar, or is it dead on arrival?
OnePlus Nord CE 3 Lite 5G: design and Screen
If you like big phones and modest prices, then the CE 3 Lite checks those boxes. The big screen measures 6.72 inches, and the phone has a flat frame that adds heft in the hand.
While the back's plastic, it looks like glass from a distance, with a curve that rounds off into the matte frame, which is also plastic. We prefer its styling to competing phones like the Poco X5 Pro 5G, especially in its green color option, which looks striking.
The fact the OnePlus Nord CE 3 Lite includes a headphone jack is handy, and there's also a USB-C port at the base alongside one of two speakers for expansive sound from such an affordable phone.
On the right of the phone is a responsive fingerprint scanner which doubles up as a power button, and on the left is a SIM tray complete with a microSD card slot, and volume buttons.
Flip the phone around and OnePlus's dual-ring camera design looks confident set against the light-colored back panel, with the top ring housing the primary 108MP camera, and the macro camera and depth sensor in the lower ring.
Despite its hefty size, the Nord CE 3 Lite 5G isn't too heavy, weighing 195g. With its 20:9 aspect ratio and relatively chunky bezels above and below the screen, it is tall, though, so anyone who doesn't fancy stretching to reach the top of their phone screen might want to look elsewhere.
On paper, the worst thing about the Nord CE 3 Lite 5G could be the fact OnePlus opts for an LCD screen rather than an AMOLED panel found on much of the competition. Even at its budget price, handsets like the Redmi Note 12 which cost less pack AMOLED display tech, so it isn't easy to argue away.
Practically speaking, an LCD screen's blacks are less deep, and colors less vibrant. They are less likely to sport HDR credentials because their contrast ratio and brightness tend to fall short, especially at the budget end of the market.
While the Nord CE 3 Lite's expansive screen does look good, therefore, with its smooth, adaptive 120Hz refresh rate, and its crisp 2400 x 1080 resolution, it falls short of being best-in-class by some margin.
With a peak brightness of 680 nits, in most environments, you should be able to see what's on-screen easily, and in our testing in London (UK), even when the sun was out we didn't run into any viewability issues. Still, if you live somewhere exceptionally sunny, competing Redmi and Poco phones offer higher peak brightness and should be easier to see outdoors.
OnePlus Nord CE 3 Lite 5G: camera specs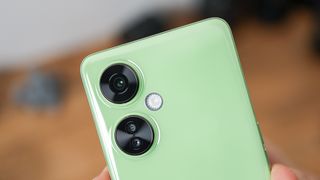 The 108MP sensor powering the Nord CE 3 Lite's main camera is a Samsung HM6, clocking in at 1/1.67" in size, and by default, capturing 12MP images with nine-in-one pixel combining (also known as pixel binning).
There's no OIS, which is unsurprising at the phone's price point, though OnePlus does highlight that EIS is present, and the phone also offers a 3x lossless zoom. This bypasses pixel binning to achieve this, making it lossless at 12MP, not 108MP.
The phone also packs a dedicated 2MP macro camera, which is fun for creative shots, especially on a sunny day when you can experiment with lens flare – see below. If you want quality results, though, it will let you down, especially when the lights drop.
Video is captured at up to Full HD resolution across both the front and rear cameras, which is lower than we'd expect at the price. In our tests, though, footage from the camera looks competitive, and you can get some striking shallow depth when filming close-up objects.
OnePlus Nord CE 3 Lite 5G: camera samples
OnePlus Nord CE 3 Lite 5G: additional features
Powered by a Qualcomm Snapdragon 695 5G chipset, the OnePlus Nord CE 3 Lite should run with similarly mediocre performance to the Poco X4 Pro, which packs the same internals. But we actually found the phone to be seriously smooth in our time with it.
Whether playing back Marvel Snap, powering through Twitter, or even playing Genshin Impact on low graphics settings, OnePlus has done great work optimizing the interface to eke out smooth results from the modest processor.
Running Android 13 with OnePlus's OxygenOS 13.1, the interface is clean and app support is great. There's also 8GB RAM inside, and up to 8GB virtual RAM (borrowed from the internal storage), and with up to 256GB storage and SD card support, you likely won't miss it.
The final piece to the confusing puzzle that is the CE 3 Lite is a large 5000mAh battery. It lasts for ages, charges quickly at 67W, and you get a fast charger in the box, so can hit the ground running without needing to buy any additional accessories.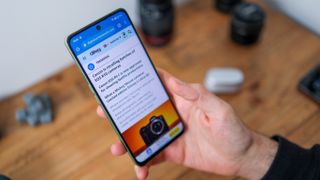 OnePlus Nord CE 3 Lite 5G early verdict
After four days of using the OnePlus Nord CE 3 Lite, it just shouldn't be as fun to use as it is. We know there are better value options elsewhere packing superior camera mixes and AMOLED screens with more punch and brightness.
OnePlus's pared-back photo processing and its software optimization really are the CE 3 Lite's saving graces, as is its fun, zingy styling in green.
We're not far off wrapping up our tests and turning this into a full review, so check back in the coming week to see if OnePlus's latest low-cost handset ends up being one of the best budget camera phones of 2023.