Hobolite has released a brand new range of attractively designed and feature-packed bi-color LED lights - the Hobolite Pro, the Avant, and the Mini. We were lucky enough to get hold of the Avant and Mini models to test and review prior to their launch.
LED (Light Emitting Diode) lights are an attractive alternative to the classic studio light that has a glass lamp as its light source. These old glass lamps (or bulbs) would occasionally blow and interrupt a shoot before being replaced - once the light's casing had cooled down enough to be handled safely!
Modern LED lights such as the Hobolite Avant and the Mini spring to life at the tap of a button. A twiddle of a button enables you to change the light intensity or adjust its color temperature to match other daylight or interior light sources - hence the term bi-colour light.
LED lights can also be picked up and re-positioned without worrying about a glass bulb blowing and showering the vicinity with glass fragments. LED lights can also be programmed with presets that provide a range of creative animated lighting effects. All these features make LEDS such as the Hobolite Avant and Mini an attractive tool for video makers and photographers alike.
Specifications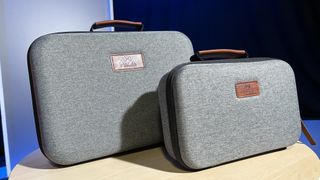 • Hobolite Avant
Lamp dimensions: 83.6x117.7x124.6MM
Weight: 1.25KG / 2.76LBS
Power: 100W
Dimming: 1-100%
Color temperature range: 2700K - 6500K
CRI Index: ≥96
TLCI Index: ≥96
Noise: 26Db@1M
Wireless method: Bluetooth
Wireless operating range: 20M/65.6FT
• Hobolite Mini
Lamp dimensions: 65x82.6x104.2MM
Weight: 430G / 0.95LBS
Power: 20W
Dimming: 1-100%
Color temperature range: 2700K - 6500K
CRI Index: ≥96
TLCI Index: ≥96
Noise: 26Db@1M
Wireless method: Bluetooth
Wireless operating range: 20M/65.6FT
Key features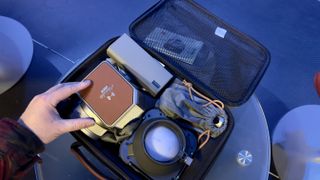 Both the Hobolite Avant and the Mini enable you to change lens accessories so that you can attach a supplied frosted dome to diffuse the LED light source, add barn doors to control the spread of light and also add coloured filters for more creative lighting scenarios. The filters instantly attach and detach magnetically so there's no need for time-wasting fiddling with catches.
Both the Avant and the Mini enable you to change colour temperature between a range of a warm indoor 2700K to a cooler daylight of 6500K. They also boast a set of preset lighting effects that mimic the flash gun of a photographer or the flicker of a TV set. These presets should make them attractive to drama producers. And a smart thermal response fan enables both lights to remain relatively cool.
The key difference between the Avant and the Mini are size and output. The Avant is a 100W light that's great for studio and location shooting while the Mini's 20W output will make it attractive for product shoots in a home studio (or you could use the Mini with its smaller footprint as a desktop key light to add some modelling to your face during VLOG recordings).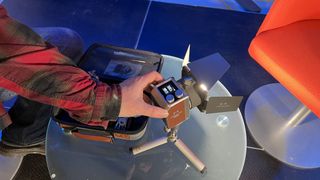 Build & handling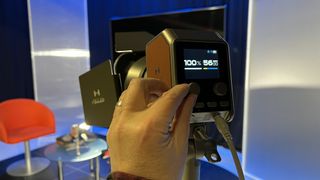 Both the Avant and the Mini are an effective combination of form and function. The curves and angles on their silver-grey bodies evoke a 1960s vibe. This retro look is reinforced by the brown faux leather panels on the sides of the lights, complete with a metallic Hobolite logo branded on the leather.
These lights wouldn't look out of place if Sean Connery's James Bond pulled Hobolite branded carry cases out of his car boot. Indeed the curves and grills on both the Hobolite Avant and the Mini complement the curves and grills on his Bond's silver Aston Martin DB5. I can imagine Bond using the Avant's Flame lighting preset to distract some henchmen while utilizing the internally powered Hobolite Mini to cast some light so that he could photograph secret documents in the bad guy's base.
On the rear of the larger Avant are two metal knurled control knobs that enable you to adjust the intensity and color temperature. You can see the results of the knob twiddling on the Avant's high-contrast LCD display. The Mini's two control knobs look similar but are made from plastic and are placed on the top of its casing. They also double up as buttons to access various set-up menus and effects preset on a smaller LCD display (also on the top).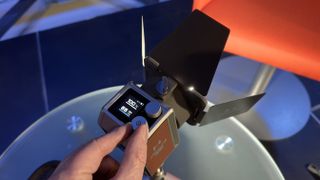 The Avant boasts a dedicated Effects button to access creative presets such as Lighting and Explosion. Another key difference between the two lights is that the larger and more expensive Avant is constructed from aviation-grade aluminum which gives it a satisfyingly hefty (but manageable) weight of 2.76 lbs (1.25 KG). The lighter cheaper Mini has the same general appearance as its sibling but like its control knobs the body is also constructed from plastic.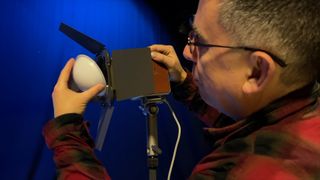 The Hobolite logo features prominently on many of the accessories that ship with the Avant such as a handy metal clamp that clips to the Hobolite CF Tripod light stand (sold separately). This branded clamp features a v-mount that you can clip the external power box to, ensuring that the mains cable doesn't pull the tripod and lamp over. You can also clip a supplied external 95WH V-mount DC battery to the clamp which enables you to use the light in locations that don't provide access to a wall power socket. The Hobolite Mini has an internal battery that you can charge up beforehand, so it too can shoot without access to an external power source.
Going back to the Hobolite CF Tripod light stand it comes in a branded grey carrying case (which matches the look of the cases for the Hobolites). The well-designed light stand is lightweight, with rubber grips that you can twist to extend the tripod to head height (and as you'd expect the stand itself features the Hobolite logo). Talking of optional accessories you can buy a Bowen's Mount Adaptor so you can attach additional accessories such as a branded Hobolite softbox.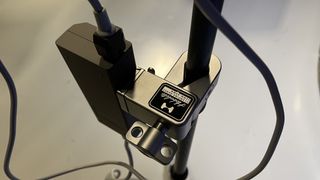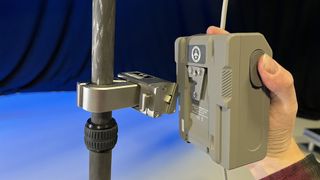 Performance
Both lights' branded grey carry cases have a comfortable padded handles. Both cases are very compact, so it is essential that you take a photo (or video) to learn where the contents were when you first open the case. Once we unpacked the Avant in particular it was a challenge to get all the accessories to fit back into their various compartments (I swear the cables must grow in length once uncoiled!)
The Avant's 3,734 LUX output (at a range of 1M) reduces to 230 LUX at 5 meters but this was still bright enough to illuminate our subject in our studio environment. You can hear the Avant and the Mini's cooling fan whir up to 26DB from within a range of 1M but we found that this wasn't noticeable in our recording - check out our supporting video to see and hear both lights in action.
If the fan sound is an issue then you can dig into both lights' set-up menu and turn the fan off, though this then limits the output to a less useful 20% intensity once a light heats up. And talking of heat, the Mini's plastic body cooled down quickly once their light was turned off, however, the Avant's aluminum body on the other hand stayed hot for several minutes, so it was the last item to be packed away when de-rigging my shoot.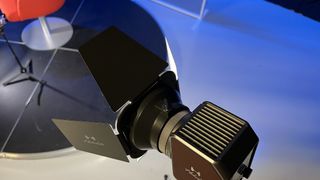 Verdict
As someone who was alive in the 1960s, I may be biased toward finding the vintage look of the Hobolite Avant and Mini as being attractive. Their classic design could make this Hobolite range a bit of a niche in the same way that vinyl could be considered a niche way to enjoy music.
Like vinyl, the Hobolites are relatively expensive. The Avant is similar in price to the comparable SmallRig RC COB 350D, though that light boasts a much stronger output of 149,000 LUX compared with the Avant's 3,734 LUX (at a range of 1M). However despite a lower output the Avant and Mini were still able to provide enough light in my studio test shoot.
The Avant worked perfectly with its slickly designed app, (unlike the recently reviewed SmallRig RC COB 350D), which makes it an invaluable tool if you need to control lighting while talking to the camera as I did when recording this review's supporting test video. All in all then the Hobolite lights could be considered desirable but luxury items.