The Canon MAXIFY GX6550 is from Canon's range of MegaTank printers, which feature large ink tanks that are refilled by bottles, rather than conventional cartridges. As usual for this type of printer, you need to pay more up-front but the running costs are very much lower. You're unlikely to see any savings if you only create prints occasionally but, for higher-volume printing, the 'total cost of ownership' over the lifetime of the printer can be considerable – saving you around 90%.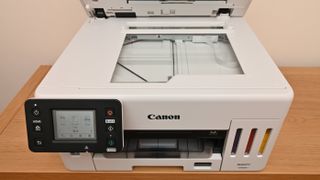 Sold as the GX6560 in Australia, the GX6550 one of Canon's 'MAXIFY' printers, it's aimed at the small office or home office, and should prove a good fit for hybrid workers who split their hours between home and office. Pricewise, it's less expensive than the bigger GX7050 but a little pricier than the GX4050, rather more so than the single-function GX5050 that lacks a scanner. Unlike the other two multi-function printers, the GX6550 doesn't feature a direct fax facility but, with the comparative ease of emails with attachments, the chances are you might not even remember the last time you sent or received a fax.
Specifications
eInks/type: 4x pigment, CMYK
Max print size: 8.5x14-inch/A4, letter, legal
Max print speed: 24 ipm mono, 15.5 ipm color
Max print resolution: 600x1200dpi
Input trays: 1 front, 1 rear
Scanner: 1200x1200dpi, ADF
Display screen: 2.7-inch color touchscreen
Interfaces: 2x USB, Wi-Fi, Ethernet
Dimensions (WxDxH): 399 x 410 x 254mm
Weight: 11.5kg

Key features
Geared for mono and color document printing, the GX6550 features four pigment-based inks for the usual mix of cyan, magenta, yellow and black, with no dye-based inks in the line-up. This makes for robust output on plain paper, with good resistance to smudging from drops of water and the use of highlighter or marker pens. The flipside is that photo printing on glossy paper is comparatively lackluster, as pigment ink isn't fully absorbed beneath the top glossy surface.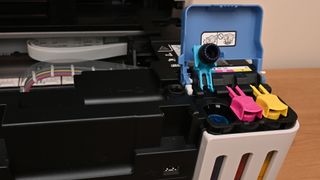 The ink tanks themselves, and their related refill bottles, have sufficient capacity for printing around 6,000 pages in mono, and 14,000 pages in color. Switch to 'Economy' printing mode and the page counts rise to 9,000 and 21,000 respectively. Taking the relatively high purchase price of the printer, you'll soon break even if you print in fairly large volumes. Let's not forget that the 'setup' cartridges usually supplied with conventional inkjet printers typically run out very quickly, and a replacement set of genuine cartridges can often cost as much or even more than the printer itself. That's another point in the MegaTank printer's favor.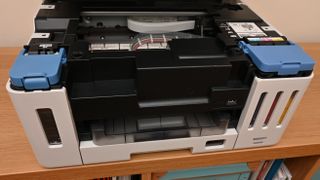 For high-resolution output, the GX6550 features 600x1200dpi print heads and scanning is similarly detailed, with a built-in 1200x1200dpi scanner. An unusual feature of the printer is that the scanner's 35-sheet ADF (Auto Document Feeder) is front-loading, rather than being positioned on the side. This enables the printer to squeeze into fairly tight spaces without the need to flip out a side-facing input tray for the scanner.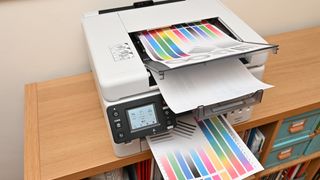 The same goes for the paper input cassette, which fits into the base of the printer, although there's a secondary tray at the rear for using thicker paper or specialist media, which requires more headroom if you need to use it.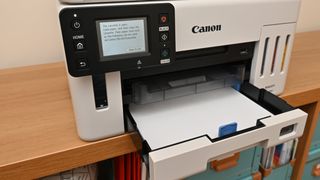 The GX6550 is well-connected, with USB, and Ethernet ports built-in, as well as Wi-Fi connectivity. There's also a USB slot for printing direct from memory sticks. For remote use, you can also scan and print direct to and from cloud-based services.
Build and handling
Typical of Canon MAXIFY printers, built quality feels solid and robust. From a handling perspective, standalone tasks for printing, copying and scanning are enhanced by a tilting 2.7-inch color touchscreen. You can also use this for maintenance tasks like print head alignment and nozzle checks. For wireless remote scanning and printing, the printer is compatible with the Canon PRINT app, AirPrint and Mopria.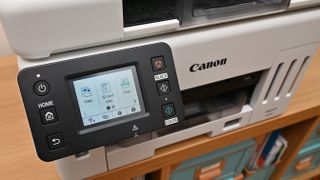 Another handling bonus is that the 35-sheet ADF enables duplex (double-sided) scanning and copying automatically. The main paper feed cassette can accommodate 250 sheets of plain paper, which is pretty generous, while the upright rear tray can hold a further 100 sheets of standard thickness paper.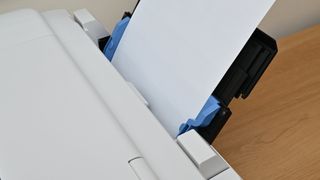 There can be a worry over refilling ink tanks with bottles of ink, with the potential for it to be a messy task. There's no cause for concern here, as the bottles of ink feature built-in valves which only open when the bottle is correctly inserted in the tank, and shut off automatically when the tank becomes full. Each tank and bottle is individually keyed, making it impossible to pour the wrong color of ink into any of the tanks.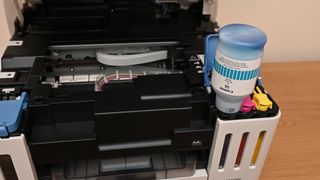 Performance
MAXIFY MegaTank printers are built with reasonably high print volumes in mind, so speed can be of the essence if you've got a big print job on your hands. The GX6550 obliges with fast print speeds of around 24ipm (impressions per minute) for mono and 15.5ipm for color pages. Auto duplex printing is supported and. for single-sided output, the first page print-out times are about 7 seconds for mono and 8 seconds for color. Naturally though, if the printer has been standing idle for a while and feels the need to run a mini cleaning cycle on power-up, the first page takes rather longer to print.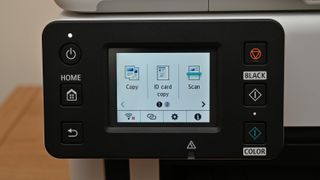 Print quality is very good for both mono and color documents, with accurate color rendition and plenty of fine detail, ideal if you need to be able to read 'the small print' in documents. Living up to its claims, the pigment-based inks are resistant to smudging and to the application of highlighter and marker pens.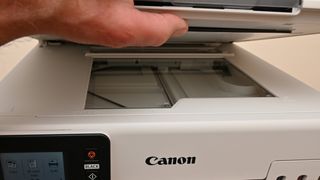 A speed boost for scanning ID cards and other small pages, in practical terms, is that the scanner has a neat design in which you don't need to fully open the cover to pop them in. All in all, performance is very good indeed, from the quality of output to the speed with which it's delivered.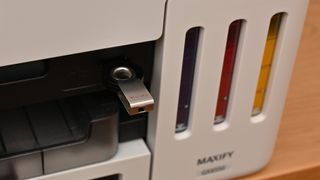 Verdict
Designed for the small or home office, and with hybrid workers in mind, this Canon printer runs on four pigment-based inks which are bottle-fed, claiming to reduce the total cost of ownership by 90%, compared with many popular inkjet and laser printers. It takes printing, scanning and copying in its stride, thanks to an intuitive touchscreen control panel. For the latter two tasks, it also features a 35-sheet ADF which, unusually, enables front-loading rather than from the side, potentially saving space and adding to its compact credentials. It's a fast and versatile printer that's easy to live with and cheap to run.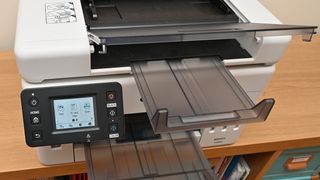 Read more: check out our guide to the best all-in-one printer or best photo printer available right now