The Benro SupaDupa Pro MSDPL46C is a high-end example of a camera accessory that's often poorly understood and certainly isn't glamorous. Monopods don't have the obvious appeal of a tripod, which will stand up on its own and offers a firm, unmoving support. Instead, they are a support 'aid' that you still have to hold on to.
But we all rave about image stabilizers, and monopods do the same job. They provide valuable extra stability that may let you use slower shutter speeds without camera shake. More than that, they can take the weight of a heavy camera-lens combination for sports or wildlife photography, and can even help you get sharp panning shots – especially this Benro, as we shall see.
Specifications
Material: carbon fiber
Max payload: 32 kg
Max height:158 cm
Folded length: 48.5 cm
Weight: 0.9 kg
Key features
The Benro SupaDupa Pro MSDPL46C is the most expensive and most advanced of three new SupaDupa monopods from Benro. The cheapest in the range is the the SupaDupa MSD36C, which is the portable and affordable option, the next one up is the SupaDupa MSC46C, which is taller and has a clever rotating foot for panning movements, and the SupaDupa Pro MSDPL46C reviewed here is the top model, with the same rotating foot but also a levelling head with its own pan mechanism and an Arca Swiss compatible camera plate.
The spinning foot sounds like a small thing to add in, but it's really useful for panning shots, since a regular fixed foot will quickly dig a hole in soft ground or 'drag' on rough surfaces as you turn to follow a moving subject.
The levelling head is a pretty unique feature in a monopod and not particularly common with tripods even. It offers a 20-degree movement in all directions so that you can get the camera level even if you can't get the monopod properly vertical.
That done, the panning movement in the head lets you execute a level pan even if the monopod itself is not straight, or when you need to grip the monopod itself and can't turn it on its foot.
The fourth clever feature in all four SupaDupa is a top section that's locked with a flip-catch rather than the twist locks used for the other sections. This makes it much quicker to adjust the height out in the field.
Design and performance
The SupaDupa Pro MSDPL46C is superbly made and all the components and controls have a proper air of quality. The rotating foot is very free-running but with no wobble or play – it works so well that very quickly you just take it for granted.
With all the leg sections extended and locked, there's no significant flex or twist at all, and Benro does quote a maximum payload of 32kg. However, the twist locks do need a slightly longer and firmer 'turn' than we're used to in order to get the sections locked tight. If you don't, the Benro will 'sink' if you put too much weight on it.
The flip-lock top section is a great idea for quick height adjustments – and with monopods more so than tripods, you really do want to get them close to eye level without lots of fuss.
The levelling adjustment works brilliantly too, though because monopods by their nature can be angled freely, so the argument for having it is less obvious – but it is definitely useful if you need to jam the foot of the monopod in the best spot in an uneven surface or you can't hold the monopod perfectly vertically for any reason. You can even leave it unlocked and use it as a way to quickly level the camera as you change position.
The pan axis in the head sounds like it might have a practical value, but in reality, the rotating foot moves far more freely – the pan movement in the head only comes into its own if you are gripping the monopod.
Verdict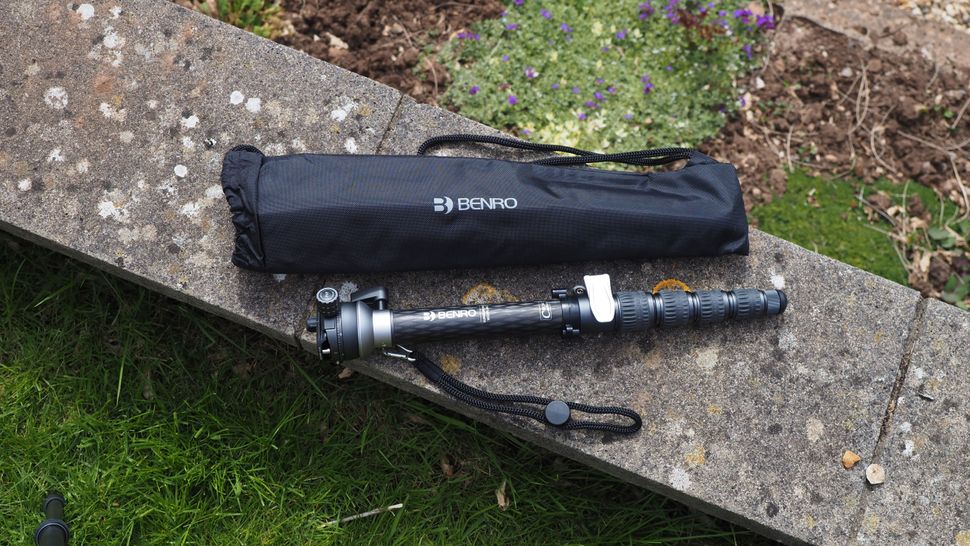 It's hard to fault the SupaDupa Pro's build quality, materials and design. It's expensive for a monopod, but you can see where the money has been spent.
What's a little less certain is how useful the advanced features in this tripod are going to be. A levelling head and a dedicated pan axis make perfect sense in a tripod, but not so much in a monopod, where you have such a constant degree of free movement anyway.
But then when you use it in real-life situations, you start to see the advantages. It's really effective when you can't get your monopod properly vertical – you might want to wedge the foot in a particular gap in some rocks, or perhaps the only stable base is under your own feet so you have to tilt it forward. You might start out thinking the SupaDupa Pro does things a monopod doesn't need to, and end up realising that in situations like these it can adapt in ways that other monopods can't.
Read more:
• Best monopods
• Best tripods
• Best camera gimbals
• Best travel tripods
• Best video tripods