The new Ring Indoor Cam (2nd Gen) includes a physical privacy cover that turns off the camera and audio. This "manual, removable privacy cover" is supplied with the camera, replacing the "privacy kit" offered as an extra for the previous model.
This upgrade to the original, which starts shipping at the end of this month, opens the opportunity of picking up the earlier Ring Indoor Cam for discount prices, and we've already seen some deals. In fact, the old camera and the privacy shield still add up to less than the new model!
Privacy is a hot-button topic in the security camera space, and many devices on our list of best indoor security cameras (not to mention webcams) offer some kind of option to block the lens. The fact original Ring Indoor Security Camera customers are asked to pay an extra $10 / £10 / AU$15 irked some users, for a shield that didn't block the mic.
The new Ring Indoor Security Camera 2nd Gen connects the shield to the microphone so the physical act of closing it (which is, of course, visually reassuring) also disables the microphone. That, of course, you'll still have to take on trust!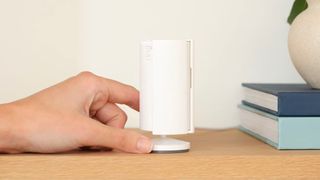 The 1080p camera also offers color night vision and Ring's Advanced Pre-Roll feature. This requires a subscription to Ring Protect Plus, and a cloud service, but can capture video a few moments before each activation. This offers a very complete view of events, making it quicker to react than some security products – a tech already seen on some of Ring's entries in the best doorbell cameras.
Like other Ring cameras, it integrates with the Ring app and with Alexa, so if you have an Alexa Show you can ask it to, "Show me the living room," for a live feed, for example.
The camera is expected to ship in the US in late May for about $60, or $75 with a Micro USB power cable, and other markets will no doubt follow. You can find them on Amazon or Ring's US site.
If you have an older Ring Indoor Cameras and you've only just heard about the privacy kit, the pricing is below.