Group photos aren't flawless. No matter how many you take, someone is always blinking or looking distracted. Even with a countdown, it's almost impossible to get everyone smiling and looking at the camera with both eyes open but the new Best Take feature on the latest Google Pixel 8 smartphones is setting out to change that.
Google's latest camera phone is undeniably impressive with a whole new list of features that makes taking and editing photos easier than ever. Powered by AI, the Google Pixel 8 Pro can now make a blurry photo sharp, remove objects, isolate sound in audio recordings and you can even create a flawless group shot. Google has basically made it impossible to take a bad photo and so easy to edit photos I can't help but feel part of the beauty of photography has been taken away.
• Check out the best budget camera phones - they may not have lots of AI tools but they can still take beautiful REAL photos
I get why Google's AI features are desirable - after all, who wouldn't want to make a photo perfect in just a few easy clicks? Google has given the user so much control thanks to AI that even if the photo taken isn't quite right it can be easily edited to make it perfect. While that might create a nice picture, you're creating something fake; a memory that never happened, and shouldn't photos document real events?
I went to a festival over the summer and on the last day, we gathered a group of 20+ people for a photo. Despite several attempts, not a single photo managed to capture everyone looking at the camera but I'd never dream of editing them otherwise. Some of the photos weren't the most flattering but they were real and the pictures taken reflect how everyone looked at the time - even if it wasn't their best.
Using AI to edit images has made it much easier for photos taken on mirrorless cameras and DSLRs too. With Adobe's generative fill tool, you can easily add objects such as clouds, or trees to a photo, or change existing features, such as the color of a building to make a photo more aesthetically pleasing. These exciting new tools are fun tools to experiment with and they allow you to be massively creative but people should know when the end product exists because of AI.
I think transparency is the key to anything AI generated - whether you're adding objects to an image, combining multiple images to create a flawless group photo or using one-click editing tools to remove an object, unless you 'fess up people will probably think it's the real deal. I'm guilty of using AI editing tools without saying as well, now that it's so easy I'll regularly expand a background or get rid of an unsightly road sign but when I share it on Instagram (or another platform). I don't think to say 'this image has been edited using AI tools' but I should if I want to advocate for this change.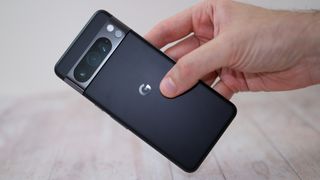 Google would argue that the final image generated from Best Take isn't entirely fake - the faces used to make the final photo were all real faces, taken from a selection of real photos but ultimately they've been combined to create something that wasn't real.
Most of us who use Instagram already share fake photos - after all, we apply filters to stories that smooth our skin and enhance certain features - but everyone knows you've used a filter because it displays it in the top left corner. As far as I'm aware, Google is doing very little to show people an image has been edited with Best Take (or the other AI features).
Perhaps it isn't so important to be transparent about photos taken on a camera phone when the majority of people are taking photos for personal use rather than professional use. You're not trying to compete for work or sell the images so does it even really matter if you're using AI? If it makes taking the perfect image easier (regardless of whether it's kind of fake) I guess it doesn't but for me, there'll always be something I love about perfectly imperfect group photos.