This deal from EE is one of the best that we have seen - as you not only get a mobile phone.... but get a Nintendo Switch thrown in to the mix. It has been running for a couple of weeks now, but we have been told that this deal ends tonight!
Now one of those would be a great gift for someone this Christmas - or a tremendoust treat for yourself. And if you don't want a Switch, then you can opt for a big flatscreen Tosh telly instead.
The essence of this deal is that you get a FREE Nintendo Switch or a FREE 43-inch Toshiba TV when you buy a Samsung Galaxy A80, A70 or A40!
You can't go wrong with any of these three camera phones. The Samsung Galaxy A80 packs a 48MP f/2 main camera, 128GB of storage and possible the coolest ever camera array, which spins hypnotically when you pop it up!
The Samsung Galaxy A70 also features 128GB of storage, along with a 16MP low light lens and ultra-wide camera, plus a 25MP rear camera for perfect selfie shooting. The Samsung Galaxy A40 boasts the same camera setup, but with 64GB of storage.
All three phones come on EE's Essential Plan (which means this is a UK-only deal), with 10GB of data, "the fastest 4G in the UK", unlimited minutes and texts, and EU roaming. This works out as £31/month for the A40, £39/month for the A70 and £49/month for the A80.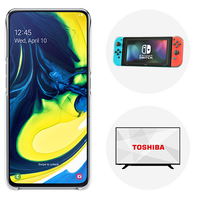 There are plenty more amazing offers to be had, whether you're looking for instax Black Friday deals on instant cameras and film, Canon Black Friday bargains on everything from point-and-shoot to pro cameras, or Black Friday mirrorless camera deals on all the latest bodies from enthusiast to expert.
And stay tuned to our main Black Friday camera deals page where we're collating details of all the best deals we have seen so far...
Black Friday deals:
Amazon Black Friday camera deals: our predictions for Black Friday 2019!
Best John Lewis Black Friday camera deals in 2019!
instax Black Friday deals – instant camera and instant film bargain bonanza!