The Canon Speedlite EL-1 flashgun has been designed for high-end professional use and is, in fact, the first Speedlite to carry the famous Canon's 'red ring' normally seen only on L-series lenses.
With an asking price of $1,100/£1249, the EL-1 is twice the price of Canon's previous top Speedlite, the 600EX II-RT, so it's likely only the most demanding professionals will find enough value in the EL-1 to make it worth the extra. It does, however, offer a range of features that target the very specific requirements of pro photographers.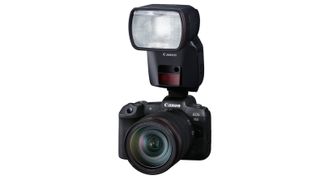 Canon Speedlite EL-1 key features and specs
The Speedlite EL-1 has a guide number (GN) of 60, which is not exceptional in dedicated camera flashguns, but is at the top end of what they can achieve. For professionals, however, it's not just about outright power, but endurance and dependability.
For a start, the EL-1 has a weather-resistant design that uses sealing similar to that on top Canon cameras like the EOS-1D X III. It also connects via dual-line electronic contacts (like the 600EX II-RT) for consistent and reliable firing.
Canon has paid special attention to the EL-1's battery life, recycle times and continuous operation performance. It's powered by a new lithium-ion LP-EL battery pack which offers approximately 335 flashes at full power. There is a battery level indicator to keep you informed about the remaining capacity, and this battery uses the same LC-E6/LC-E6E charger as many Canon cameras.
To stretch the capacity even further, there is a clever-sounding Continuous Shooting Priority (CSP) Mode, which lowers the flash value by one stop and raises the ISO by one stop to conserve power, extend shooting time and reduce the recycle time
The use of a lithium-ion battery brings benefits not just to capacity, but to the recycle times too, as we've seen with the much cheaper Hähnel Modus 600RT. Canon claims recycle times as short as 0.1-0.9sec, depending on the power setting.
Pro flashguns also need to be about to shoot for extended periods without overheating, and the Speedlite EL-1 has its own internal cooling system with a fan to allow up to 170 full power shots in quick succession without overheating.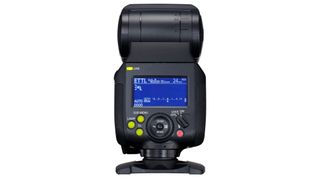 Who is the Speedlite EL-1 aimed at?
The EL-1 is a professional flash for photographers who cannot afford to miss the shot, so this could include wedding photographers, society 'red carpet' photographers, and anyone else who has to get shots quickly, reliably and in quick succession.
The EL-1 can be used on-camera, or off-camera in sophisticated setups of up to 15 separate Speedlites – Canon's radio wireless system now supports second-curtain flash sync.
For on-camera use, there's a 120-degree tilt movement so that you can direct the flash behind you to bounce lighting off a wall or other surface for a softer lighting effect. You also get bi-color LED modelling lamps for assessing both brightness and color temperature.
The EL-1 has a new Xenon tube for better durability, accuracy and consistency and offers manual power settings from full power down to 1/8192 power – these ultra-low settings could prove handy for ultra-close up macro work, say, or balancing low light portraits with ambient light. You can use Canon's E-TTL system for automatic flash control, but also a new Flash Exposure (FE) memory to store the last E-TTL flash shot settings then switch to manual and make minor adjustments as needed.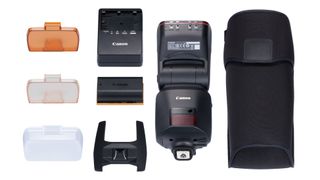 Canon Speedlite EL-1 price and availability
We are currently waiting for confirmation of availability and pricing, but resellers are offering the EL-1 for preorder at $1,099 / £1,249. It's the most expensive Speedlite we've ever seen but, as Canon says, it's for 'when you only get one chance'.
• Pre-order the Canon Speedlite EL-1 at B&H
• Pre-order the Canon Speedlite EL-1 at Adorama
• Pre-order the Canon Speedlite EL-1 at Wex Photo Video
Read more:
• Best Canon flashguns
• Best flashguns
• Best lighting kits
• Best LED panels