Now funding on Kickstarter, Aurga is an interesting-looking device that promises to allow users to achieve perfect images in seconds, with just a single tap on a smartphone.
Described as a DSLR assistant, Aurga slips into a DSLR camera's hotshoe and promises a host of useful functions for photographers of varying skill levels. Not only that, but its access to a continuously updated database of images should ensure that it's able to judge various photographic situations more and more accurately in order to provide optimum capture settings.
Let's take a closer look at what's on offer.
Aurga Features
Aurga is controlled via a smartphone app, which is available for both iOS and Android devices. It's claimed to be compatible with over 60 different DSLRs, although right now this selection is only across Canon and Nikon models.
Once you've booted up the app, you'll see a host of features available to explore. Its powerful AI system has six quick options for common shot types: Portrait, Landscape, Timelapse, Moving Object, Light Trails and Depth of Field.
It's also capable of capturing HDR images and, for the benefit of users who like to have a little more control, goes on to allow uses to manually determine their own presets.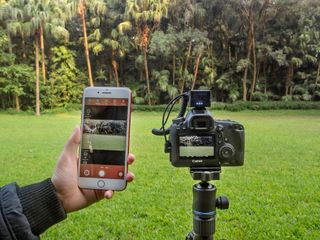 Users can see and shoot everything on the app screen, controlling a DSLR within a range of up to 100 feet (30 metres). As we may expect, the app is also capable of directly exporting videos and sharing images and videos to social media platforms.
The hardware itself supports a memory card of up to 256GB in size, while the built-in 2600mAh battery conveniently allows it to be used as a backup portable charger in emergencies.
The Aurga Kickstarter page describes the product as the "world's first smart DSLR assistant and cloud storage", which seems to be very carefully worded, given projects of a similar nature that preceded it.
Arsenal, for example, which is now claimed to be "the most funded camera gadget in Kickstarter history", is also an AI-powered intelligent camera assistant that sits inside a camera's hotshoe. It was successfully funded with a staggering $2,650,310 of pledges on Kickstarter alone, although it still doesn't appear to have seen the light of day just yet.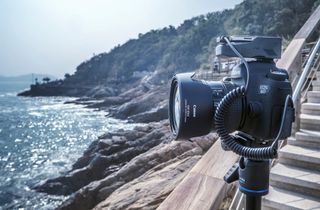 Pricing and availability
You can pledge to get your hands on an Aurga until March 3rd, when the crowdfunding campaign ends. You'll need to throw down at least $89 to be sure of getting one – head to the Kickstarter page for full details.