If you keep even half an eye on global mainstream news, you will have probably seen what has surely become the most famous piece of AI-generated imagery to date. 'PSEUDOMNESIA | The Electrician' was created or rather 'prompted' by German photo media artist Boris Eldagsen. The portrait (see it on his website) is, admittedly, a very beautiful image indeed, and the folks over at the Sony World Photography Awards 2023 obviously thought so too, because Boris's entry won the 2023 Creative category. Here's where things get really interesting – he declined to accept the award...
What's ensued is a rather messy situation with conflicting narratives from the World Photography Organisation and Boris himself (there's a detailed breakdown of events on his website and reports from numerous news outlets). But what matters is that an AI image, however knowingly or unknowingly, won a category in one of the most prestigious photography awards in the world.
• Check out the best Nikon camera and create real photos
Boris's reasoning for entering the image was to facilitate a discussion around AI imagery, and he's certainly achieved what he set out to do. So here's my two cents. Firstly, there's no place for an entirely AI-generated image in a photography competition, because it's not photography. A photograph is created when light exposes a sensor or a piece of film, if these elements are not at least partially involved in the creative process then the image simply isn't a photograph.
Things get complicated when you consider the use of AI-generated imagery alongside a photograph to form a composite. As far as I'm concerned, such images can only be judged on a case-by-case basis, and this is nothing new. Photography competitions have to deal with a variety of variables that may or may not breach rules or ethics, and many are very hard to prove/disprove. I've judged many competitions myself and for this reason, it's becoming an increasingly difficult job.
Unless governments really decide to crack down on AI-related regulation – need I remind you of the massive maelstrom that is social media – we're witnessing the tip of the AI iceberg. The creative industry is going to have to weather the AI tide, much like traditional painters and illustrators had to ride out the advent of photography.
As I said before: AI is changing the creative industry, but it won't kill photography. And yet, the line in the sand has to be made now. AI will become an art form in its own right – arguably it already has – but it is not photography.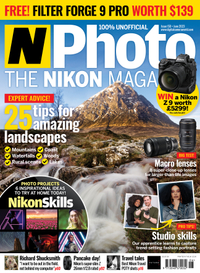 N-Photo: The Nikon Magazine is a monthly publication that's entirely dedicated to Nikon users. For the best news, reviews, projects and more, subscribe to N-Photo today!
If you enjoyed this article, you might be interested in reading about the best Nikon Z lenses for FX and DX cameras. If you're clinging to your DSLR you can also check out the best lenses for the Nikon D850, and it you're embracing the revolution then take a look at the best lenses for the Nikon Z50.