My approach to photography is quite minimal, as I am a firm believer in the saying "less is more". I don't like clutter in my everyday life and this translates into my photography, whether it's the composition, lighting or tonality.
I work mostly in black and white and am a total "monochromantic". Color is beautiful, and I would not be able to envision a colorless life, but the surreal nature of black and white, the stripping away of colorful distractions, leaves you with the essentials – and that, for me, is magical.
Although I do enjoy photographing landscapes and street, my principal pull has always been towards buildings, their interiors and structures. Depending on the story I want to convey, I sometimes include a silhouetted person in the scene – to demonstrate scale or illustrate how we interact with the structure.
Now we all agree that it's not the camera or the equipment that makes for a good picture, although a good camera and quality lenses definitely do help in creating quality images. I started with a Canon EOS 600D, a second-hand Tokina 12-24mm lens and an entry-level tripod. Speaking of tripods, I am married to mine but at the same time, I find it important to free yourself from it, enabling greater freedom in exploring different angles. What I usually do is get the tripod shots done and then wander around the building, camera in hand.
To get the detail in the shadows and avoid harsh contrasts between light and shadow, I usually take a couple of exposures and slightly increase my ISO. My post-production is all about layering and blending the different exposures, extracting the maximum from each exposure. The process begins in color, as good colors are essential for excellent black-and-white results. I am always watching out for detailed shadows, strong blacks, bright crisp whites and no clipping at either end of the spectrum.
Over time, I have been fortunate enough to upgrade my equipment, adapt to new tech and improve my post-production workflow, but one thing has never changed and that's the desire to get the perfect picture – I think it's what gets us photographers out of bed on those very early mornings.
Drawing inspiration from surrealist painters, Mario Tarantino is committed to creating images with a monochromatic aesthetic. His work has been recognized with multiple awards.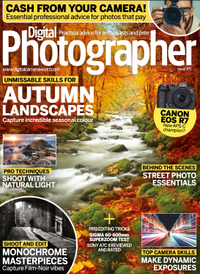 This article originally appeared in Digital Photographer, a monthly magazine, and the kitbag essential for pros, enthusiasts and amateurs alike!
Inside, you'll find practical guides, shooting tips and techniques from working photographers, plus all the latest industry news.
Take a look at the best cameras for black and white photography to really focus on mono imagery. Or try one of the best film cameras with some black-and 35mm film!