All photographers are looking for something unique, a landscape that hasn't been photographed by others ad nauseam, where new perspectives and creative angles are everywhere. There is a place in the US Southwest called Chaco Canyon. It's no secret that an ancient Native American city was based here. However, despite this remote area of New Mexico being protected since 1907 – and recognized as a UNESCO World Heritage Site since 1987 – it has yet to get the world's attention. As old as Cambodia's Angkor Wat and the moai of Rapa Nui's (Easter Island), here's everything you need to know about visiting and photographing Chaco Culture National Park…
Finding Chaco Canyon
Chaco Canyon cuts a lonely figure. It's located in northwestern New Mexico, three hours west of Albuquerque and Santa Fe and 90 minutes south of Farmington/Bloomfield/Aztec, in a remote canyon cut by the Chaco Wash. From the north it's accessed first down Highway 550 and then, just east of Nageezi, down the dirt roads 7900 and 7950. The latter is in terrible condition, rutted and ruined. It is possible to drive in any vehicle if you take it slow, but those in a high-clearance vehicle will feel comfortable. If you're driving early in the day close to dusk, watch out for elk, crossing the road, which they do at a moment's notice. Chaco Canyon can also be accessed from the south along similarly poor dirt roads.
Chaco Canyon: significance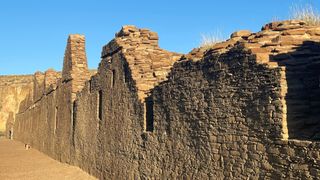 Wherever you travel in the Four Corners region of the US, where the states of Colorado, Utah, Arizona, and New Mexico meet, you'll come across the Ancestral Puebloans. This significant culture was very active between AD 900 and 1150 before mysteriously disappearing. Remains of their buildings can be seen across the region, from the cliff dwellings of Mesa Verde National Park and Navajo National Monument to ancient buildings in Hovenweep National Monument and Aztec Ruins National Monument. However, it was in Chaco Canyon that this culture found its apex, as evidenced by several 'great houses' complete with extensive plazas, kivas (large circular rooms, often underground), multi-story buildings and panels of petroglyphs.
Chaco Canyon: arrival and planning
It's home to nine 'great houses', but this precious canyon is no thoroughfare. If you access it from the north, you pass a big welcome sign, but you'll initially feel rather lost because immediately you pass the lesser visited Wijiji Trail and a small pullout. Soon after is the entrance to Gallo Campground and, soon after that, a fabulous view of Fajada Butte which you'll definitely be returning to. However, it's to the visitor center (7am through 5-9pm, depending on the season) that you should head and park up. Not only to pay your fee $25-per-vehicle fee for a seven-day pass but also to check out the fabulous solar eclipse petroglyph and to access the Una Vida trail.
However, the riches of the canyon are reserved for those who venture onto the Loop Drive, a circular one-way route of just nine miles that takes you to the head of the canyon ('downtown' Chaco) and back. It's here that you find the most arresting ruins, but some are easier to reach than others. No pets are allowed at the great houses, but they are on the hikes.
Chaco Canyon: visiting the 'great houses'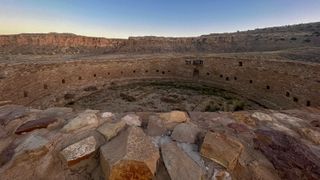 Halfway around the loop, at the top of the canyon, you can park your car close to any of three of the major houses and walk between five of them quite easily. For example, if you park your car close to Chetro Ketl, Pueblo del Arroyo, Casa Rinaconda (or even the pullout next to the minor sight Chacon Stairway) you can walk around all of those sights plus easily access Pueblo Bonito and Kin Kletso. The most visited great house by far is Pueblo Bonito followed by Casa Rinaconda, which has a fabulously large and ornate kiva, but don't miss the Petroglyph Trail between Pueblo Bonito and Chetro Ketl. The least visited locations include Hungo Pavi, which is on its own closer to the visitor center, and Wijiji down the Wijiji Trail (3 miles).
Reaching Pueblo Alto involves a scramble up to the top of the mesa and a 5.5-mile backcountry hike, though a mile or so in is a lovely aerial view of Pueblo Bonito). It's a 7.5-mile hike to Peñasco Blanco, the chief attraction of which is a pictograph thought to depict a supernova from 1054 AD.
Chaco Canyon: photography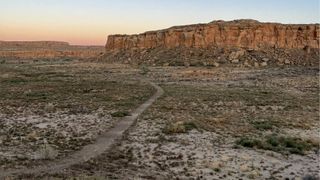 From kivas, plazas and petroglyphs to incredible architecture, sunsets, sunrises and starscapes, Chaco Canyon is a unique playground for photographers. The usual rules of shooting ruins apply, such as sticking to the 'golden hours' where possible to prevent harsh light. To that end, a polarising filter is helpful for reducing glare. A wide-angle lens and/or a tripod are imperative when inside rooms and houses, some of them gloomy (particularly at Pueblo Bonito), while a 200mm telephoto lens is helpful for isolating details – such as the fabulously diagonal windows – and petroglyphs.
Chaco Canyon: astrophotography
Chaco Canyon has deliciously dark skies. The gate to the Loop Road opens at 7am and shuts 30 minutes prior to closing, so you cannot visit any of the great houses at night. However, not only is Gallo campground a dark sky sight – with red light encouraged after dark – but a pullout opposite Fajada Butte is an excellent spot for astro-landscapes. So is the area around the visitor's center, which often holds astronomy sessions in a small dome that houses a 25-inch Dobsonian telescope.
Chaco Canyon: where to stay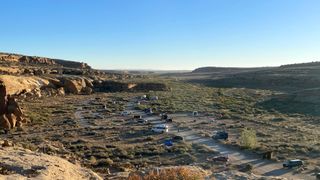 If you want to stay within the park boundaries, Gallo Campground ($20/night) is your only option, so you'll need to visit in an RV or a campervan or arrive with a tent. There are only 32 (albeit reasonably large) sites with zero privacy and, worse, eight were destroyed by a rockfall that also flattened some Ancestral Puebloan cliff dwellings. Since Chaco is becoming increasingly popular, book online as far ahead as you can, but bear in mind that the canyon sits at 6,200 feet (1,900 meters) in elevation, so can get cold all year. Alternatively, you can stay at the Horse-Thief Campground (dry-camping only) about 13 miles/30 minutes from Chaco, or grab a hotel/motel in Bloomfield (61 miles/90 minutes), Aztec (69 miles, 90 minutes) or Farmington (74 miles, 90 minutes) … though driving at night up and down the access roads close to Chaco is risky.
Check out guide to other great locations for photographers: the best places for photography around the world