Trouble streaming the above video? View/download it here
If you want to evoke the past in your photos then why not style them to look as if they were captured decades – or even centuries – ago? There are all sorts of tricks we can employ in Affinity Photo to do so.
We'll explore a host of vintage editing techniques here. First we'll use a texture in combination with a layer blending mode. This is an easy way to add faded areas, dirt and grime to our image, as we can transfer the messy bits from our texture onto our photo with ease. Once done, we'll use adjustment layers to remove the colour and add a tint, just like an old vintage photo. We can also use filter effects to mimic the imperfections that we'd often see in old photos, such as soft blurry corners and heavy, dark vignetting. Finally, we can add a vintage border to give the image the look and nostalgic charm of an old wet plate.
We've supplied a fabulous array of old borders amongst the project files for you to experiment with. They're based on the wet plate collodion technique used by photographers during the 19th century. The technique required on-the-spot processing of photos in a mobile darkroom, and resulted in a negative image on a glass plate. Over time, the chemicals on the glass would deteriorate and flake, and the surface might become covered in dust and grime. As such, the borders supplied come with two layers – one for the edges, another for the dusty centre area which can be blended with your own choice of photos without any complicated techniques.
Download the project file(s) to your Downloads folder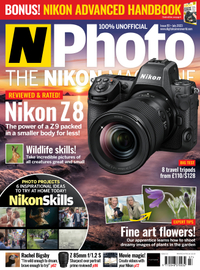 N-Photo: The Nikon Magazine is a monthly magazine that's written by Nikon enthusiasts for Nikon enthusiasts, you can be sure that all the content is 100% relevant to you! So for the best Nikon-focused news, reviews, projects and a whole lot more, subscribe to N-Photo today – with our unmissable sub deal!