The lockdown has made this a great spring to shoot the night sky... but everything comes into perfect alignment this week, to make this the perfect time to try astrophotography.
It all comes to a head this week as a New Moon on Thursday, 23 April brings the darkest night skies possible … just as a meteor shower peaks. With four visible planets and a super-slim crescent moon about to grace twilight, there are few better weeks this year – possibly ever – to have a go at astrophotography from home.
In the third part of this five part backyard astrophotography series we are looking forward to the photographing fireballs.
This could be your week to capture a few brilliant fiery streaks of a meteor shower. If we get clear skies, put aside the hour or two after midnight on early Tuesday, Wednesday and Thursday because that's when the Lyrids – the first meteor shower since January – strikes amid dark night skies.
Meteor showers are not uncommon, but this week's Lyrids peak very close to a New Moon. That's perfect timing, and some of the estimated 10-15 "shooting stars" (actually cosmic dust striking Earth's atmosphere) per hour can sometimes outshine even the brilliant planet Venus.
Conveniently, the best way to capture a shooting star involves exactly the same technique as creating a star-trail; lots of repeated 30-second long exposure photos.
Wait for a night with a clear sky. Any time after 10pm will do.


Put a wide-angle lens on your camera.


Set-up on a tripod facing roughly East.


Key-in these manual camera settings: focus on infinity, ISO 800, f/2.8 (or as low an 'f' number as your lens achieves), 30 seconds exposure time.

Take shot after shot for at least an hour, preferably two or three hours (if possible, use continuous shooting and an intervalometer to automate/shutter release cable on lock).

Drag and drop JPEGs into the StarStaX app.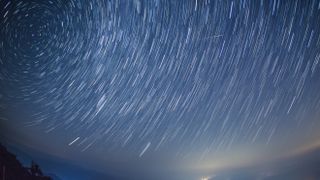 You can point the camera wherever you want since shooting stars can appear anywhere in the night sky, though the origin of the meteor shower is the constellation of Lyra, which will be rising in the east.
After shooting frames for a couple of hours, scan through them to see if you captured one … and then, regardless of whether you caught one or not, use all the images to make a star-trail!
• See other backyard astrophotography projects in this series
Read more
• The best lenses for astrophotography
• The best camera and gear for shooting the night sky
• Best light pollution filters
• The best telescopes for astrophotography