Camera video features tend to grab all the attention, but recording good audio is just as important and often a lot more difficult. Ideally, the microphone needs to be where the sound is coming from, so a cable-free wireless mic you can clip to your clothing is ideal, and so much better than an on-camera mic, however directional.
Simpler wireless mic kits consist of a pair of units – a mic/transmitter and a receiver. Sony has just announced one of these – the ECM-W3S. The 'S' stands for 'single' (we guess) and it's a junior product to the ECM-W3 kit which we're reviewing here.
The ECM-W3 kit has two mics, which is perfect for dual presenters, or a conversation between the subject and the camera operator. The audio from the two mics can be mixed into a single channel or kept as separate left/right audio channels.
But does it deserve to be considered among the best wireless mics or the best microphones all round, at least for Sony Alpha shooters?
Sony ECM-W3: Specifications
Swipe to scroll horizontally
| | |
| --- | --- |
| Wireless transmission | Bluetooth LE |
| Maximum range | 150m |
| Safety Track | Yes |
| Mic/transmitter size | 25.0 x 52.5 x 20.5mm, 17g |
| Receiver size | 32.0 x 29.0 x 50.0mm, 25g |
| Additional mic input | 3.5mm analog jack |
| Receiver output | USB, 3.5mm analog jack |
Sony ECM-W3: Key features
The Sony ECM-W3 is a perfect match for Sony mirrorless cameras with the MI digital interface built into the accessory port. With the receiver clipped in, there's no need to run a cable from the receiver to the camera's mic socket, which makes operating the camera simpler, especially flipping out the screen.
The microphone/transmitter units have spring-loaded clips for attaching them to clothing and their own digital signal processing built in, so from that point, the communication with the receiver and the recording of audio on the camera is all digital.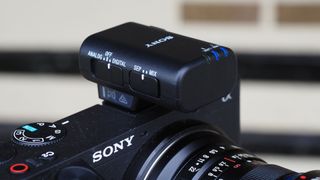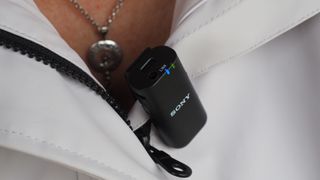 You can control the audio levels from the mics to a degree with a three-position attenuator switch, and there are also noise cut and low cut filters on the mics to control background noise. And if it's blowing a gale, you can clip on the wooly wind shields included in the kit. There's even a 3.5mm analog input on each mic in case you want to plug in a lav mic, though these aren't included.
The ECM-W3 kit isn't solely for Sony users. The receiver unit can be connected to smart devices and computers via its USB Type-C port, or to a regular camera using its 3.5mm analog output – these connections will require cables, of course.
Sony ECM-W3: Build and handling
The ECM-W3 kit is really easy to set up. You slide the receiver into your Sony's MI hotshoe, fix the mics/transmitter to your subjects' clothing, make sure all three units are powered up and away you go. The camera will show audio levels while recording, but there are no levels gauges on the mics. In our tests there were no issues with audio levels, so you can film yourself talking even if you can't see the levels. The receiver also has a button for recording an additional 'safety track' at 20dB lower, just in case. Power and Link lamps on both the mics and the receiver confirm that everything is switched on and working.
The included charge case is really useful because it both protects the mics and transmitter in transit and charges all three from a single USB Type-C port on the outside of the case.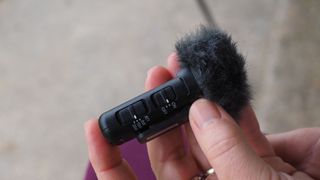 The clips on the mics are simple and effective and grip pretty well, and the supplied wind shields fit quickly and firmly using a dummy 3.5mm jack to help secure them in the mics' analog ports.
There's no room for these in the charge case, however, or the small adaptor for fitting the receiver to a tripod head or light stand, so you'll have to carry these separately.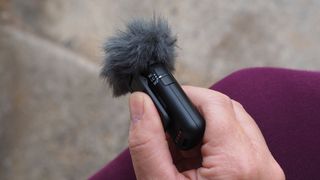 Sony ECM-W3: Performance
Sony promises superb clarity and low noise from the ECM-W3 kit, and we weren't disappointed. The audio quality is great, and on an admittedly fairly still outdoor shoot we didn't need the wind shields at all.
The kit uses Bluetooth LE for data transfer, which should extend battery life and reduce the risk of any wireless interference. But while Sony quotes a range of up to 150m with good line of sight, that line of sight caveat is important. If you forget and turn your back to walk away from the camera while you're still talking, you might start getting dropout rather sooner than that. This is all somewhat academic, since no-one deliberately presents to the camera at long range with their back turned, but if you're going to film at a distance, it's wise to make sure you're turned towards the camera when you speak.
Sony ECM-W3: Verdict
The Sony ECM-W3 is a great buy for Sony Alpha users with an MI-equipped camera. It cuts down on cable clutter, offers excellent audio quality and is quick and painless to set up. It is expensive, though, since you can get third-party two-mic wireless kits for a lot less money, and while you will have to run a cable from the receiver to the camera's mic socket, that's pretty much the only drawback.
If you're a dedicated Sony shooter, though, who likes to stay on-brand with system accessories, and don't mind paying a little extra for a premium mic set custom made for Sony Alpha cameras, the ECM-W3 kit is a fair buy. It's not cheap, but it is simple and effective, and it makes good quality audio capture simple in a huge range of conditions, from indoors to outdoors, which is a result in itself.
Read more: check out our top picks for the best microphone for vlogging and filmmaking, or the best lavalier microphone.