Nikon has put the money in where it counts on the Prostaff P3 binoculars. There are four different model versions: 8x30, 8x42, 10x30, and 10x42. We've reviewed the 8x42 versions here which sit roughly in the middle of the price ranges for all four models. Their bigger companions the P7s are, on average, about $50/£50 more expensive and come with a few more premium parts like colored badge markings and a lock-in dioptre which the P3s don't have.
Compared to its professional Monarch range the Prostaff P3 line-up is considerably more affordable. But don't be fooled. While Nikon has priced these as entry-level binoculars for the outdoor enthusiast and casual hobbyist birdwatcher or air show observer, they've put the money in where it counts. Namely, the optics.
They feel strong and durable with a rubberized armor that clads the binocular body. Eye relief is generous making them usable for spectacles wearers but there are a few areas where you can tell Nikon has skimped on quality in order to save money. We would definitely expect that on a pair of binoculars at this price range so we take it on the chin, but we highlight this to make you aware of what you can get if you put the money down.
Nikon Prostaff P3 8x42 Specifications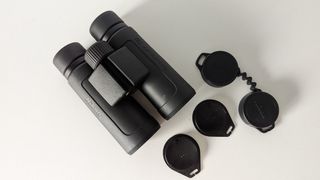 Design: Roof prism
Exit pupil: 3mm
Eye relief: 15.4mm
Weight: 465g
Dimensions: 125 x 130 x 52mm
Magnification: 10x and 8x
Objective lenses: 42mm and 30mm
Durability: Waterproof and fog proof
Nikon Prostaff P3 8x42 Key Features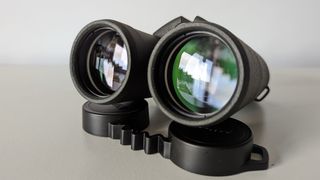 The stand-out highlight of the Prostaff P3 8x42s is its optics. Multilayer coatings on the lenses and a highly-reflective silver-alloy prism coating keep the views bright while the 42mm versions give us an excellent opportunity to maximize light input to keep observing even as the sun sets.
We're surprised by how premium some of the functions feel on these binoculars. The twisting adjustable eyecups provide 15.4mm of eye relief which makes them viable for glasses wearers, but it's in the twisting action that we get a confident clunk when moving between the three preset distances. The quality of which is almost indistinguishable from the Monarch HG line, so we were really pleased to see this vital adjustment machined to such high quality.
The objective lens caps do not attach to the end of the lenses like other binocular models, even competitor models in a similar price bracket, do have. We're presuming this is a manufacturing cost that Nikon would rather push into the build and optical quality of the binoculars.
They do have in-built attachment guides ready to attach to the neckstrap or carry bag, but it feels a little inelegant from a design perspective, though they do function as a little handle from which to pull them off.
They fit easily enough though and provide good friction when attached so there's no risk of them flying off during use. Fortunately, the binoculars are nitrogen-filled to prevent fogging and waterproof up to 1m for 10 minutes so there's no chance of getting caught out in the rain.
Nikon Prostaff P3 8x42 Build & Handling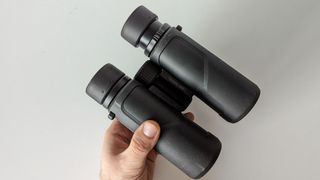 Constructed of a lightweight fiberglass-reinforced polycarbonate resin, the binoculars do not contain any metal in the body as far as we can tell, like more expensive models do. However, this keeps them super light, at 465g, and we can see them lasting a good amount of time if they're properly cared for.
The rubberized covering is good and provides ample grip. Around the thumb placement area though we can feel a little give and a little ripple of the thumb along the surface shows that the rubber isn't as neatly fitted to the body underneath as we would like. We've seen Nikon lenses with this issue before and, over time, the rubber pulls away from the lens barrel. We're not sure if this would happen here since this area has no moving parts like lenses do with focusing rings, but it's something to be aware of if you're planning to keep them for many years to come.
The dioptre ring, used for adjusting the right eyepiece to balance out differences in vision between the eyes, is firm and moves smoothly from left to right. We're pleased with the easy indented markings denoting whether the dioptre is adjusting negatively or positively and if we hadn't reviewed Nikon's more expensive lines of binoculars we would be happy. But the P7 and Monarch lines all have a clutch-like mechanism that pulls up and down to free the dioptre ring or lock it into place. This is lacking on the P3s but we wouldn't expect it on an entry-level binocular, anyway.
Nikon Prostaff P3 8x42 Performance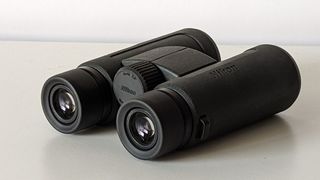 Views are clear and sharp through the Prostaff P3s with no major issues across the viewing circle. Thanks to the adjustable eyecups and accurate dioptre we can dial in focus without a problem and they are fun, sleek binoculars to take out for casual observing. There is a little chromatic aberration (color fringing) around contrasted edges in the form of purple and occasionally green outlines.
It's not something the average user would notice because they're aimed at beginner users, and for the price, we're surprised just how little aberration there really is. But if you're used to high-end binoculars or camera lens glass, then you will notice it from time to time looking into the sky. They have a 3mm exit pupil too, so it's important to make the most of that eye relief to avoid the vignetting around the edges when changing views.
Focusing is quick and easy and feels nice on the smooth but tensioned focusing wheel. It's easy to jump from extreme close-up to infinity in just three rolls with the finger, so precise fine-tuned adjustment takes a little finesse.
The hinges are smooth yet resistant enough to stay in place even when getting it out of the carry pouch that ships with it which is reassuring. However, we have noticed that the eyepiece lens caps are constructed of a rather rigid, unforgiving plastic that seems a little loose when fitted and easily pulls off accidentally.
Even rotating the binoculars upside down and giving them a little shake sees the caps drop off. They hold tension better when the binoculars are hinged together but by leaving them wide open the caps are loose which we see as a bit of an oversight.
Nikon Prostaff P3 8x42 Competitors
Of course, if the Prostaff P3s are too entry-level we would recommend taking a look at the P7 line which offers higher quality all-round with painted badges, superior coatings on the glass and a more professional feel overall. They also have the dioptre lock which fixes your dioptre preference in place once you've dialed it in.
The P7s are only a little more expensive than the P3s overall and we'd probably drop an extra £50 and get those instead of the P3s. But if your budget is limited and you want the best optical quality at the lowest price, stick with the Prostaff P3s.
However, if you've got some savings burning a hole in your pocket or you're a professional wildlife spotter, birdwatcher, or aviation or airshow nut, then getting only the best will do. That's where we'd recommend the Monarch line. Specifically, if you want the best of the best, the Monarch HGs, including the Nikon Monarch HG 10x42.
They're constructed of a magnesium-alloy body, have multilayer coatings on all glass parts (even the prisms), and every single accessory that ships with them feel high-end. The neckstrap in particular is soft and cushioning which we really like.
Nikon Prostaff P3 8x42 Verdict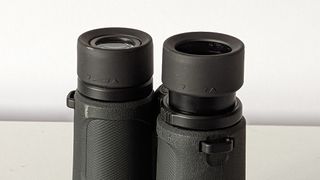 The Prostaff P3 binoculars are an entry-level viewing instrument that we're really impressed with. Nikon has saved on manufacturing costs where it counts, mainly in the accessories that these binoculars ship with, but has retained the high-quality optics that we'd expect to see in a Nikon product.
If you decide to grab these, even if they're not in a sale, we're confident you'll feel pleased with the results. But we'd probably swap out the neck strap and lens covers if we were going to upgrade these over time. Overall though, any beginner or enthusiast who wants to birdwatch, spot wildlife, or view vehicles and air shows will find them a fantastic wide-field observation instrument that should last for many years.