The way we now consume the latest blockbusters in our digital age has prompted many Hollywood directors to moan that their widescreen epics, often shot specifically for tower block-sized formats like IMAX, weren't intended for merely watching on tablets or mobile phones.
So here's a device that allows us to free such imagery from our small screens and enjoy it on a larger scale – and even perhaps give our own smartphone video clips a more cinematic destination. The budget-priced, family-targeted Kodak Flik HD10 Smart Projector can generate images from a film poster sized 40 inches, up to a whopping home cinema style 150 inches. Providing we've got a vacant wall, or portable projection screen large enough of course.
Specifications
Resolution: 1920x1080P
Aspect ratio: 16:9 widescreen
Contrast ratio: 2000:1
Brightness: 200 ANSI lumens
Projection size: From 40 to 150 inches
Power input: 110 – 240V
Dimensions: 5.6x5.8x7.4-inches
Weight: 1.5lbs
Key Features
If we're in the market for a portable projector then image resolution has got to be near the top of our checklist. With the Kodak Flik HD10 Smart Projector, we get a perfectly acceptable Full HD 1920x1080 rather than 4K or 8K, coupled with a standard 16:9 widescreen ratio. The projected screen size runs between the aforementioned 40 inches to a whopping 150 inches, again while maintaining full resolution. Accompanying sound is provided via dual five-watt speakers built in. While the default aspect ratio is 16:9, though there is a boxier 4:3 option if desired and projection space is tight.
The projector's Dalek-like lens is focused manually via a large and obvious ridged wheel atop the unit. While focus can be adjusted from a static position, the size of the projected image in whichever aspect ratio we've chosen cannot – it's simply a case of moving the entire unit closer to, or further away from, the surface we're projecting onto – and re-adjusting focus accordingly – to get a bigger or smaller screen size.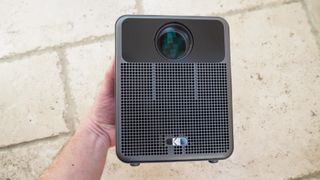 The projector itself is Android TV powered, theoretically allowing users to stream content from the likes of Netflix, YouTube, and Amazon Prime Video directly from the device itself – with each of these leading services having dedicated buttons on the remote handset. Both Android and iPhone users can also set up their phone's handset to be used as a remote via the Google TV app, if desired.
As a further alternative to using the Android TV interface directly on the projector, users can broadcast or screen mirror content on their phone, laptop or tablet, by having these connected to the same Wi-Fi network as the projector itself.
Available physical ports at the back of the Kodak Flik HD10 Smart Projector include those for mains power and HDMI, cables for which are provided out of the box, as well as USB and AUX/AV ports for further flexibility; such as the ability to connect a laptop or a gaming device, for example.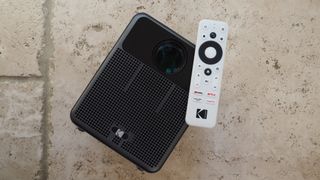 Build & Handling
The reassuringly chunky Kodak Flik HD10 Smart Projector is slightly smaller than a domestic car battery and, front lens aside, resembles a hi-fi or PC speaker, meaning it doesn't look out of place in a domestic or home office setting. It comes with a similarly chunky user manual in several languages out of the box, and, with our review sample, several mains adapters for various territories too, including thankfully a UK mains plug. We also get an HDMI cable and a remote control handset requiring two AAA batteries for power, which aren't provided. No biggie, but nice to know in advance to save hunting around the back of the drawer for spare cells.
Though plastic of construction, the build quality feels reasonably solid, with the device reassuringly having some weight to it. Though the size and dimensions don't make it super portable compared to other options on the market, it is nevertheless more portable than a full sized home cinema projector. For example the Kodak can be squeezed into a backpack and taken around to a friend's house for a movie night without too much stress. Looking at what's available elsewhere, it would have been a good idea if Kodak had included a carry handle on this model for those occasions when we do need to move it around, or nearer to or further away from the surface it's being projected onto.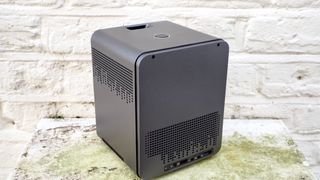 Performance
The first thing we noticed upon powering up the projector is that the internal fan is quite noisy for the size of the device, and that the front vent fairly quickly becomes warm. The second thing is that a fully darkened room or space is required for set up, as settings and modes are selected via the projected screen rather than on the unit itself, so attempting set up in daylight, which involves patiently typing in Wi-Fi access codes and email addresses, is a bit of a non-starter. Unlike a digital TV set, the set up of which this resembles, we had to remember to point the remote handset back at the projector rather than at the projected image, which although perfectly practical felt a little counterintuitive at first.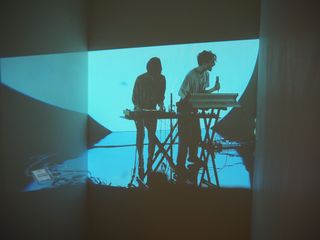 Once we'd worked our way through the set up procedure, achieved our reward of our image projected onto a nearby wall, and wanted to adjust our image size, we looked for a means to do so from our static position. Sadly, as noted in our introduction, control over screen size is basic; with the distance between the projector lens and the screen determining the projected screen size. So if we want a smaller projected image to fit our available space it's a case of literally picking the device up and moving it closer. Correspondingly, move the projector further away and our image becomes larger.
The operational fan noise remains a constant obviously. Though once we got into watching something, it became possible to mentally block it out, unless actively listening out for it. As with any Wi-Fi connected device, our signal occasionally dropped out in the middle of watching something, particularly if we chose to move the projector, but this is just as much the nature of the medium as a specific product criticism.
Verdict
At the time of writing we've heard an even more compact and portable Kodak Flik HD9 Smart Projector is due to follow on from this model in short order. For what we're getting here for the HD10 version, though, the price seems fair. While there's always the niggling thought that if we stretched our budget just a little further we might get something better still, the Kodak Flik HD10 Smart Projector is a fun solution for those on a budget, and perhaps best suited to growing families with a host of existing subscriptions to streaming services, whose small-screen output can now be enjoyed on a grander scale.
You might also like...
Go to the largest online retail site and there are a bunch of no-brand Bluetooth and Wi-Fi-equipped portable projectors vying for our money. Prices can vary wildly from the almost pocket money to the expensive, with some even coming bundled with a separate projection screen out of the box. The Kodak Flik HD10 Smart Projector sits somewhere in the middle of all of these, and has the advantage of its recognizable branding and an inherent degree of trust. We spotted quite a few similarly boxy lookalikes online, some of which sported carry handles, which as we've noted would have been an advantage here in terms of convenience and portability.
If this car battery-sized device looks a bit too bulky and boxy for your purposes, then also check out Kodak's even more portably palm-sized Luma projector range. This cigarette-case-sized series is available in a range of picture resolutions and at correspondingly increasing price points the better the level of specification offered.