We're all accustomed to seeing badly lit faces chatting via webcams, especially since the global pandemic locked us in front of the baleful glare emitted by our laptops and PCs. Mainstream TV still features experts being interviewed via webcam in gloomy bedrooms or offices, lit by the available light of unflattering overhead bulbs.
One way to elevate the production values of your video presentations is to add a couple of light sources to your home studio. Joby produces a wide range of LED lights, from ring lights such as the Beamo Ring Light 12'' to cube lights like the Joby Beamo.
Recently they unveiled the Beamo Studio Deluxe Lighting Kit which features a circular panel key light (which has more surface area than a ring light) and a smaller LED (which can act as a fill or background light).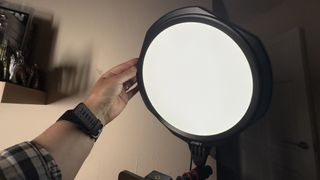 Joby Beamo Studio: Specifications
Swipe to scroll horizontally
| | |
| --- | --- |
| Product Contents | Key light with 180cm/5.9' cable, table stand, phone mount, flexible arm, background light & 120cm/3.9' USB power cable |
| Weight | 1.8 Kg |
| Brightness Lux@0.5M | Key Light: 650 ±10%, Background Light:90 (Red color) ±10% |
| Lumens | Key Light: 350 ±10% ; Background Light: 55 (Red color) ±10% |
| Power | USB Powered: 5V/2A Power Supply Required (Not Included) |
| Beam angle | 120 ° |
| Key Light Color Temperature | 3200K±10% ; 6500K±10% ; 5600K ±10% |
| Dimmable | 10 Steps |
| Material | Stainless steel, ABS Plastic, TPE |
Joby Beamo Studio: Key Features
By adding two lights to your home studio set-up you can make your face stand out from the background, giving it more prominence in the frame. The Beamo Studio Key Light's Soft-Lens diffusion surface creates a strong but soft light source that banishes harsh shadows from your face to create a more flattering complexion.
You can adjust the strength of the key light source by 10 increments of brightness and change its color temperature to complement other light sources (such as cool daylight at 5600K or warm artificial light at 3200K).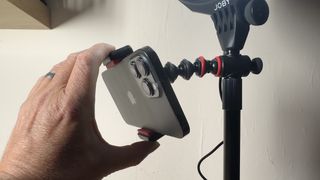 The supplied Beamo Studio Background Light enables you to add a splash of color to the side of your face (and with 12 colors to choose from you can change the mood of the shot with ease.) Two lights help create a less flat-looking face by adding 'modeling light' that gives you a more three-dimensional look.
There are also handy cold shoe slots on the rim of the key light (and on the phone mount) so you can add accessories such as a Joby Wavo Plus gun mic to boost the quality of your audio.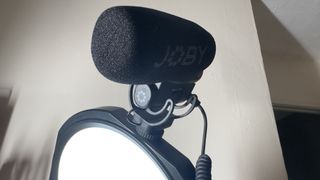 Joby Beamo Studio: Build & Handling
The metal table stand that ships with the Studio Deluxe Lighting Kit is nice and sturdy. The stand comes in two parts and is easy to assemble. There's even a diagram on the circular metal base of the table stand that tells you the best way to attach and position the key light at the top (to avoid any chance of it toppling over). You can adjust the height of the stand to raise the key light to the recommended height of 68-95cm/27-37'' so that it illuminates your face while you sit in an office chair by your desk.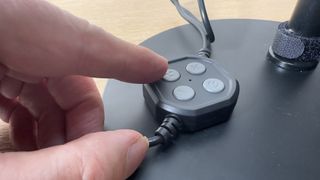 The key light can be tilted to fine-tune its effect on your face. As the key light is a circular panel you need to clip your smartphone to a supplied mount and place it below the key light (as opposed to placing it at the center of a ring light.) The smartphone mount attaches to the light stand via a flexible GorillaPod Arm so you can easily adjust your face's position in the frame. The flexible arm is strong and stiff so won't droop (even with a chunky iPhone 14 Pro Max attached to it!).
The Beamo Studio Key Light has a plastic build, as does the much smaller Beamo Studio Background Light. The background light also has an adjustable stand but this is much smaller and is also made of plastic (compared with the larger metal stand for the key light).
Joby Beamo Studio: Performance
To test the Studio Deluxe Lighting Kit I positioned the stand-mounted Beamo Studio Key Light on my home office desk. I clipped an iPhone 14 Pro Max into the supplied smartphone mount and tweaked the mount's flexible GorrillaPod Arm to position my face in the center of the frame. I used my 15" MacBook Air's QuickTime app to view and record the feed from my stand-mounted iPhone. I used the iPhone Camera app's Portrait mode to blur the background and hide the clutter in my home office from the viewer of my footage.
On firing up the Beamo Studio Key Light I had to squint against the glare but was easily able to use its control panel's buttons to drop the intensity of the light by 7 increments for a less blown out (and more comfortable) exposure. I tapped the color temperature button to choose the cooler 6500K color temperature that was similar to the daylight coming through my office window.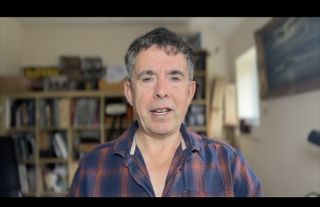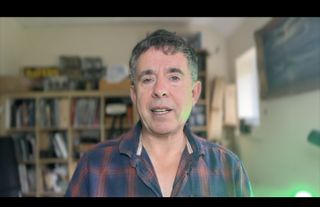 I placed the smaller Beamo Studio Background Light to the side and rear of my face to add a touch of color and help give my face a less flat and more three-dimensional look. Check out our test video to see the lighting set-up in action. The background light has a mini control panel that you can tap to reduce its intensity or cycle through its 12 different gel colors.
Joby Beamo Studio: Verdict
Joby's Studio Deluxe Lighting Kit provides an affordable entry-level way to elevate the production values of your video presentations. The diffuse output of the key light reduces the presence of wrinkles and adds a more engaging sparkle to your eyes. This face-on key light source can make your features look flat, so it's useful to add a splash of extra light and color to the side of your face using the kit's smaller background 'modeling' light.
Both lights need to be powered by plugging them into a USB source (such as on your PC), so the lack of portable power tethers you to your desktop or laptop (whereas many LEDs have chargeable internal batteries and can therefore be placed with more freedom).
The background light's 12 colors can change the mood of your shot, but it would have been useful if it could also match the color temperatures produced by the key light for greater lighting consistency. All in all though an effective entry-level 2-point lighting kit.
Read more: check out our top picks for the best photography lighting and the best lighting for YouTube.