As a tool for bringing the faraway that much closer you'll perhaps be considering the best monoculars over the obvious alternative of the best binoculars or spotting scopes, for the increased portability the former offers. And, well, in being roughly the size of a tube of Smarties, a Sherbert Fountain, or a Cuban cigar, the Hawke Endurance ED 8x25 monocular is certainly conveniently pocket-sized.
In fact, it's so diminutive that if we hadn't attached it to our wrist via the provided strap – a small carry pouch is also included in the box, which can be attached to a belt – then we might have misplaced it. It's broadly similar in that respect to the equally portable Leica Monovid 8x20 monocular, only the Hawke option is a whole lot more affordable. It's lightweight too at just 150g.
The more observant will have spotted the 'ED' reference in the model name here. This refers to the Extra-low Dispersion glass used in its construction, which purports to reduce color fringing.
The other obvious features to note are the 8x25 classification, which translates as an 8x magnification married to a 25mm objective lens. Yes, that's a fairly modest, albeit fairly standard, magnification, while the objective lens is again relatively small, suggesting on paper at least that this won't be the best option for observation once light levels begin to fall.
Still, the primary trade-off is the Hawke Endurance ED 8x25 monocular's portability, which is after all why most of us will be considering buying a monocular, not a binocular, in the first place. So, with the preamble out of the way, how does it handle?
Hawke Endurance ED 8x25 Specifications
Magnification: 8x
Objective lens diameter: 20mm
Field of view at 100m: 119 meters
Closest focusing distance: 5 meters
Eye relief: 13mm
Weight: 150g
Dimensions: 105mm x 30mm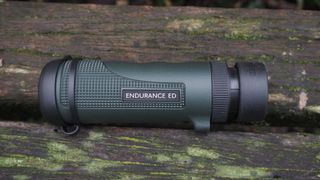 Hawke Endurance ED 8x25 Key Features
Small it may be, but the Hawke Endurance ED 8x25 monocular still manages to squeeze in features found on physically larger models, such as a twist-up eyecup with position stops, protective rubber caps at both ends, roughened surface details to provide a firm grip in the wet or the dry, plus nitrogen purged construction to avoid fogging. It's also waterproof with it, enabling handling in the great outdoors in a variety of inclement conditions – perhaps what the 'Endurance' in the monocular's name is hinting at.
The closest focusing distance of five meters is average, however, and what the manufacturer's ultra-compact 25mm lens models don't include is a thread for tripod mounting. In fairness, and given this monocular is smaller in size than the average chocolate bar, such inclusion would feel like overkill anyway.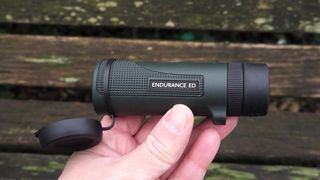 Hawke Endurance ED 8x25 Build & Handling
Yes, we can rest the eyecup of the Hawke Endurance ED 8x25 monocular against our eyelid or lens of our glasses to help achieve a steady hold, but without having to resort to that we still managed to achieve a level, judder-free image, suggesting its manufacturer has got the size/weight equation of this one pretty much spot on.
As we mentioned in our intro, although this device is compact, the Hawke Endurance ED 8x25 monocular manages to offer more than we might expect given its diminutive dimensions. For example, its eyecup can be satisfyingly extended – like a pirate pulling out an eyeglass – for use if not wearing glasses, or left in its regular retracted position for those who do require eyewear.
We found the focus ring that sits just forward of the eyepiece on this monocular a little stiff in operation, meaning that focusing is a slow process requiring deliberate movement. At least this prevents accidental adjustment and allows for a degree of precision on behalf of whoever's operating it.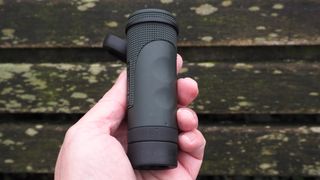 Hawke Endurance ED 8x25 Performance
The Hawke Endurance ED 8x25 monocular delivers commendably sharp results that were better than we were expecting for its size, or rather lack of, thanks in part due to its inclusion of top-tier BaK-4 prism glass in its optical construction, along with fully multi-coated lenses to improve light transmission while at the same time reducing ghosting and flare. Though it's easy to mislay the provided eyepiece cap, the one protecting the lens is tethered via a rubber strip, so that when in use it hangs down and doesn't affect our vision.
Speaking of which, the ridged surface of the provided focus wheel means it's easy enough to feel our way to achieving critical focus without having to take an eye away from the subject we're viewing. This is a roundabout way of concluding that the use of the Hawke Endurance ED 8x25 monocular is both intuitive and straightforward. So, if we feel that its size is a fit for both our hands, our pocket, and our intended use, then there is commendably little here to take issue with.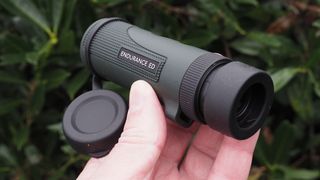 Hawke Endurance ED 8x25 Verdict
The Hawke Endurance ED 8x25 monocular is an ultra-compact, ultra-portable day-to-day pocket option for those who don't want the bulk of binoculars, or indeed a spotting scope, in order to magnify faraway subjects or objects. It's relatively affordable too, in comparison with class-leading but eye-wateringly priced alternatives from the likes of Leica.
Being mindful of the old adage that states the best tool for the job is the one we have with us, the size of this Hawke option means it's more likely we'll drop it into our top pocket for daily adventures than most, making it eminently suitable for daily usage when it comes to observing the faraway.