The Gitzo GT5563GS is a pretty unique tripod because of what it offers. This tripod is described as 'Giant' because of the extreme heights it can reach. With a maximum height when of 278cm, the Gitzo GT5563GS is literally taller than the tallest person in the world.
The Gitzo GT5563GS is part of the series 5 line of Gitzo 'Systematic' tripods and has six-section carbon fibre legs. This gives it a very wide range of height settings. The tripod does not come with a head as standard, but has a modular design that accommodates a wide range of accessories and tripod heads.
Specifications
Leg sections: 6
Leg Lock Type: Twist Lock
Leg Positions: 3 Positions
Maximum working height: 278cm
Minimum working height: 10cm
Materials: Carbon Fibre
Bubble Level: Yes
Folded Height: 73cm
Weight: 3.56kg
Max payload: 40kg
Key Features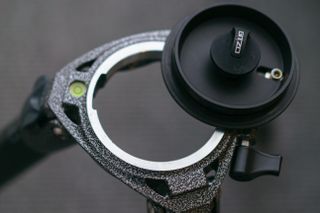 The Gitzo GT5563S is the flagship tripod among the Gitzo Systematic series and aims to deliver a great deal of flexibility when it comes perspective control. The GT5563GS does not come with a tripod head, however, or even a center column – these are sold separately. The tripod base plate is removable meaning that a wide range of tripod heads can be attached.
What's great about this tripod is that six section legs are made from carbon fibre. this helps keep the overall weight of the tripod down, without sacrificing its load capacity which is whopping 40kg. The tripod also offers a single screw-in accessory socket so you can attach additional grips and mounts for external monitors and lights.
One of the biggest features of this tripod is how well it is made. The build quality and overall construction are second to none. The materials and design are exceptional. The clips and lock mechanisms have a satisfying feel to them that reflects the price point. In essence, the build quality is so good that you can start to see why it's so expensive.
This level of construction obviously important because of how this tripod can be used. At its minimum working height of 10cm you can shoot extremely low to the ground. This offers some interesting perspectives for both indoor and outdoor shots. This working height can be achieved if you're shooting without a center column and if you widen the tripod leg angle.
On the opposite side to that, when all of the tripod legs are extended you can reach an impressive height of 278cm. This offers a towering perspective which is difficult, if not impossible with regular tripods.
The difference between the lowest working height and the highest is incredible and offers a lot of flexibility. This is not just a tripod to be used at extreme heights. You can use it comfortably at any height and its quality continues to shine.
Handling and performance
When using this tripod at normal heights, the quality of its construction and design are outstanding. It's not the lightest tripod on the market, but the build and construction mean that it's extremely rigid with very little to no compromise. If extreme stability is a requirement then this tripod does not disappoint.
Even when shooting at the lowest working height, the tripod remains extremely stable. The clip mechanisms make it really easy to adjust the angle of the legs and lower the tripod to the ground.
Even in windy conditions, the tripod remained perfectly stationary with very little no give. If you do need any additional stability, the tripod has a metal hook below the base plate to which you can add extra weight.
The issues generally arise when you need to shoot with this tripod at its maximum height. setting up the tripod and camera is quite the challenge with a number of risks being present when you're extending the legs out. Even the tallest people will find that attaching a camera to the tripod once it's fully extended is going to be difficult. Therefore, the tripod needs to have all required devices attached when you're raising the tripod to its maximum height. A great deal of care is required when attempting this. However this is not really the tripod's fault; this is simply an expected difficulty of shooting at these heights.
Another problem is that you probably won't be able reach the camera to compose correctly, fire the shutter or even adjust any of the settings. Some issues can be remedied with the use of tethered shooting or wireless connections. However, composing correctly is still a challenge.
Finally, the legs do have a good deal of flex in them when fully extended. This hasn't caused a lot of problems in the images we've taken with the tripod so far. Having said that, it could be an issue if you're shooting long exposures or if you're shooting in tougher weather conditions.
Verdict
This is probably one of the more exotic tripods on the market. Its price tag and niche features mean that it's not for everyone. When using the tripod at reasonable working heights, it's utterly brilliant. However, as you start extending the legs, the issues start mounting. It's probably a good idea to have a team with you while working with this tripod at extreme heights.
The Gitzo GT5563GS is a tripod capable of huge heights, but it does lose some of its stability when fully extended. However, as a regular tripod, it's exceptionally good. This is a top quality professional tripod for any kind of use, and the extra height could prove invaluable when you need it.
Read more:
Best tripods all round
Best travel tripods
Best video tripods
Best mini tripods
Best ball heads
Best pan and tilt heads