We've always found Chinese-made binoculars and monoculars from the US-based Bushnell to provide plenty of bang for our buck – their build quality and performance exceeding what we'd normally expect for the price being asked. This time around the Bushnell Legend Ultra HD 10x42 monocular adds a slightly futuristic look and accessories like an onboard belt grip for hands-free transportation; its no-nonsense ruggedness resembles something Sigourney Weaver would wield in the Alien movies or Arnie in the Terminator series.
Yes, it's a little bulkier than say, an 8x25 alternative monocular would be. But this one arguably gives us greater flexibility, in not only being able to observe subjects just that little bit further away but also allowing us to keep them in view better when tracking their movement, as well as continuing to get a sharp image through the eyepiece even when light levels aren't so great. That's how it appears in theory at least – so how does this unit handle it in practice?
Bushnell Legend Ultra HD 10x42 Specifications
Magnification: 10x
Objective lens diameter: 42mm
Field of view at 100m: 114 metres
Closest focusing distance: 6.6ft
Eye relief: 15.2 mm
Weight: 374.5g
Dimensions: 140mm in length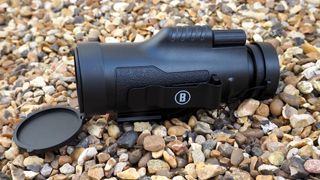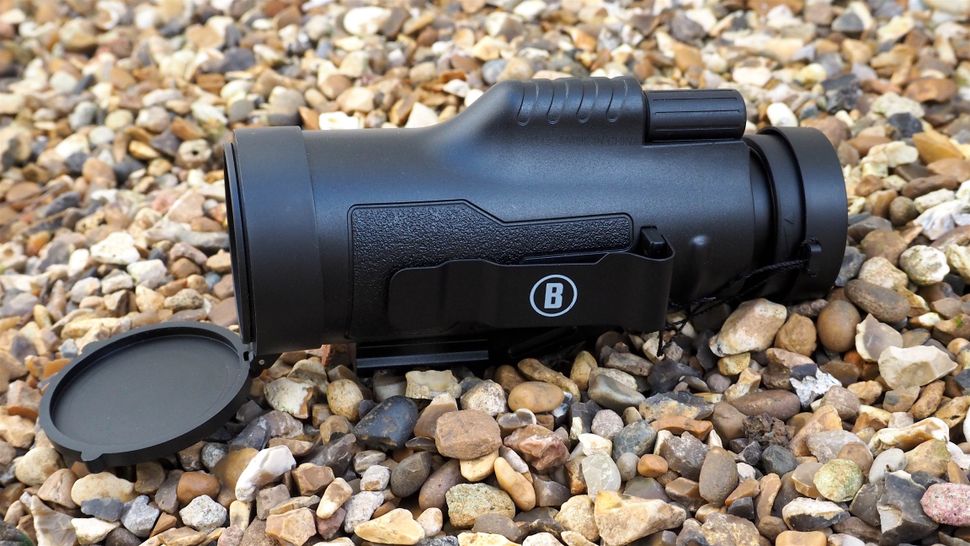 Bushnell Legend Ultra HD 10x42 Key Features
While the headline features of the roof prism system Bushnell Legend Ultra HD 10x42 monocular are very obviously that 10x magnification coupled with a 42mm objective lens, a step up from a more physically diminutive 8x25 alternative monocular, its maker has added a few more bells and whistles to the mix this time around.
As expected of a monocular in its class and price range, the Bushnell Legend Ultra HD 10x42 also provides us with Extra-low Dispersion or 'ED' glass, BAK-4 prisms, plus fully multi-coated optics in order to maximize possible light transmission, as well as avoid ghosting and flare; the upshot being a bright, clear and sharply defined view when we put our eye to the eyepiece and rotate the ridged focus wheel.
This has ensured the overall design, look and feel are a bit more rugged than most, as hinted at in our introduction. Attached to the base of the unit via two screws is a thread for tripod attachment, for example, and adjacent to this is a loop for attaching the strap provided out of the box, along with a useful lens cloth.
Designed for use in the great outdoors it's also waterproofed to IPX7 classification and fog-proofed/nitrogen purged with it, while the exterior of the monocular is claimed to have a water-repellent coating. Droplets bead up and scatter upon contact, its manufacturer insists.
Bushnell Legend Ultra HD 10x42 Build & Handling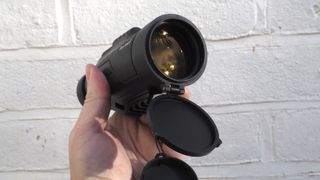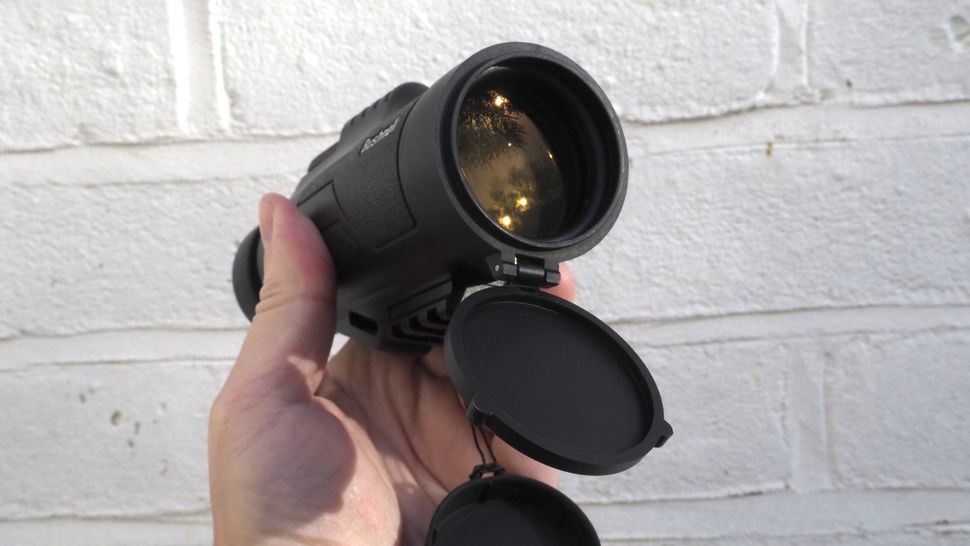 With its soft black rubberized exterior more readily suggesting a device for covert operations and surveillance rather than bird watching per se, the Bushnell Legend Ultra HD 10x42 monocular unusually features a front lens cap that is screwed into place so that, when opened and the monocular is in use, it hangs in position below the lens rather than being able to be removed completely.
We don't mind this, as it avoids said protective cap from being mislaid, but we can imagine the lever-like mechanism becoming worn over time with repeated opening and closing. The rear eyepiece cap by contrast is tethered via a simple thread, so this also conveniently hangs down out of the way when the monocular is in use. Focus is simply a matter of rotating the knurled knob that sits atop the device immediately above the eyepiece. The top-mounted location ensures it can be operated intuitively while our eyes remain fully focused on our intended subject. An adjustable twist-up eyecup is provided for the comfort of both spectacle wearers and those with perfect vision.
Unusually, on one side of the monocular Bushnell has included a belt clip, so, in theory, the product can be up and into our hands, light-saber fashion, as quickly as we need. Not everyone will feel this addition is crucial, clearly, and it does add to the width of the device too. It's bolted in place, so there's no option to remove the clip if it doesn't work for us, or we feel its presence is unnecessary, but it's a minor gripe.
Bushnell Legend Ultra HD 10x42 Performance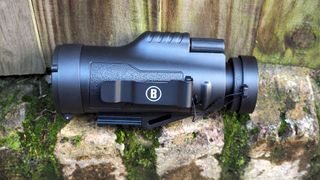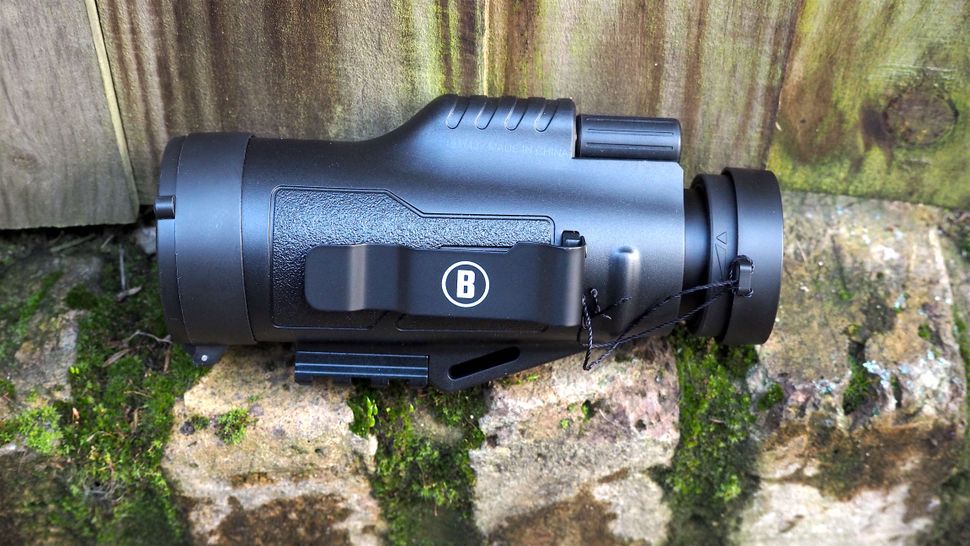 We often find focus knobs on monoculars to be unhelpfully stiff. Happily by contrast the one provided here on the Bushnell Legend Ultra HD 10x42 monocular offers just the right amount of give, to our mind, allowing for both swift and moreover accurate adjustments on the fly.
The view provided is sharp and clear, with only a very slight fall-off in focus towards the outer extremities of our frame, that's only really noticeable if we're distinctly looking for it. Fortunately, we didn't notice areas of purple fringing between high-contrast subjects – where the dark branches of a tree meet the sky for example, and the general performance is very good indeed.
Occasionally we found it tricky to hold the monocular as steady as we'd like at maximum magnification, but extending the twist-up eyecup and resting it against our eye socket, or lens of our glasses offers added stability. Operation feels fluid and intuitive and provided detail such as being able to make out the feathered markings of birds a few hundred feet away, which may be one reason why we're considering this option.
Bushnell Legend Ultra HD 10x42 Verdict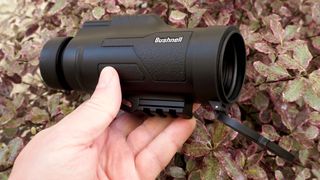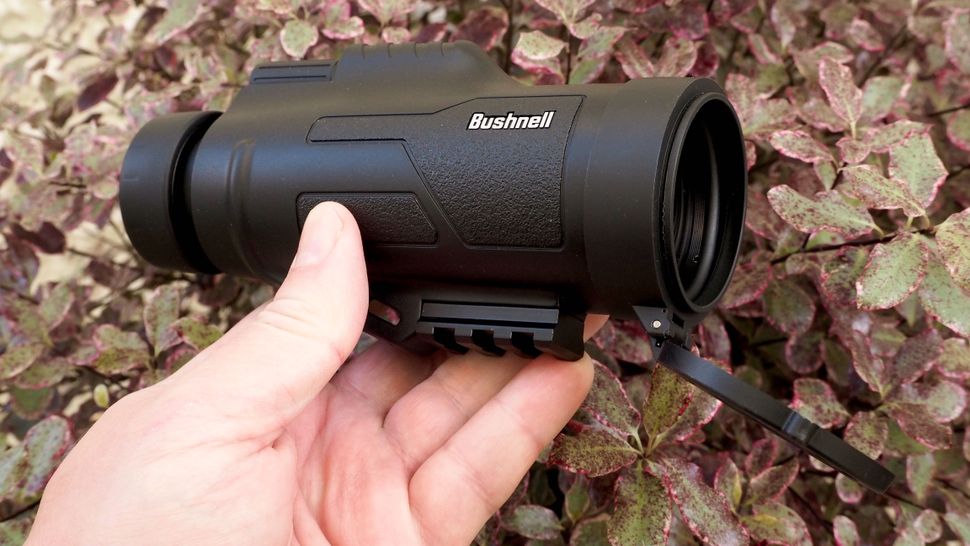 With a carry case, land yard, lens cloth, and lifetime guarantee included, it feels like Bushnell is doing as much as it can to provide peace of mind as necessary and protect our investment. The construction of the device itself is reassuringly sturdy and tank-like too, while not being prohibitively weighty; after all, we'll be choosing this monocular over, say, a pair of binoculars for the fact that they are generally a more portable alternative. While removing the bolted-on belt clip would have resulted in an even more svelte appearance to the Bushnell Legend Ultra HD 10x42 monocular, we do generally feel it's a product with very few compromises, and one with quite a few pluses.
If you are interested in finding out more about monoculars, you can read more in our guide about the best monoculars to suit your needs. If you like the style of monoculars but want something more powerful, you might be interested in the best spotting scopes. Or if you prefer to engage both eyes, check out our guide to the best binoculars.