Image stabilization on smartphones is really coming on, but the tech is still no match for a good gimbal. As well as enabling smooth pans, most of them – the new Benro 3XS Lite included – add face-tracking and object-tracking. That should make video easier, more creative, and much more professional-looking. An instant competitor to the new DJI Osmo Mobile 3, can the Benro 3XS Lite three-axis mobile gimbal – one of the smallest such devices around – compete against its pricier rival?
Benro 3XS Lite: design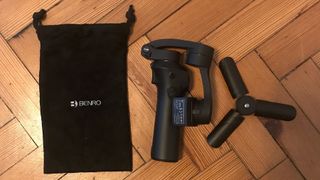 Measuring 170x100mm when fully extended, and weighing 469g with its tiny tripod attached, the Benro 3XS Lite is a cute-looking and incredible flexible gimbal. Arriving in a gorgeously soft velvety drawstring bag, it's able to take almost any smartphone, however large, up to a maximum of 290g, which is a 60g more than the DJI Osmo Mobile 3 can hack. The payload is not a huge advantage unless you're adding a separate microphone, but size does matter; the 7.2-inch, 233g Huawei Mate X 5G we tried was so big it fouled the arm and rendered the gimbal useless.
On its main handle are a few buttons; on/off, start/stop record, focus, a trigger for zooming in and out or adjusting focus (it's your call, and it can be set in the app), and a 3.5mm input for a microphone so you don't have to connect one to your smartphone. There are also a couple of buttons to move the gimbal up, down, left and right, and one for re-centering it. There's also a button that sends a phone tumbling through 180º to swap between landscape and portrait mode, the latter now an accepted format (and sometimes even a favored).
When you're done with a shoot, the Benro 3XS Lite's flexible hinge allows it to fold-up over itself to create a very compact size for easy storage in a camera bag, or even a jacket pocket.
The Benro 3XS Lite has enough battery power (2,000mAh) to work for 24 hours on one charge. It's recharged using a USB-C slot on the handle.
Benro 3XS Lite: app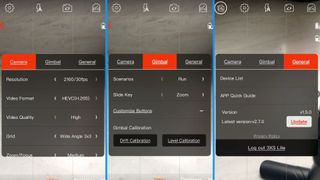 The Benro Gimbal companion app for iOS and Android is really simple. For video, iIt offers multi-shot panoramas, time-lapse, motion time-lapse, object track, face track, and slo-mo. For photos, night shot, wide angle, pano and multifocus. You can toggle the format of video from H.264 to HEVC (H.265), alter the resolution from 1080/60fps to 2160/30fps, choose a 3x3 or 'rule of thirds' grid, set the scenario to run or walk, and calibrate the gimbal itself, even customizing the buttons on the Benro 3XS Lite. There's also a manual mode so you can customize ISO, shutter speed, focus and whie balance. In our test the app took a while to save some video files, and froze-up a couple of times.
Benro 3XS Lite: performance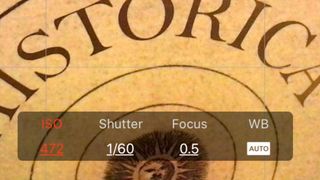 The Benro 3XS Lite gives you a ton of shooting modes, though it's the basic operation that impresses most. For example, there's a 'universal follow' mode that promises smooth video if you change the angle of view, direction and position, and a 'locked down' mode for a horizontal panning movement. Pans and dips through 360º all produce smooth video. Double-tapping to recenter is a bit of a pain, and in practice the toggle button between portrait and landscape is useful for returning the gimbal to a default position. We found that the rear camera/front camera toggle button is way too easy to touch during filming; it's right under the index finger.
What we did find a bit disappointing was face-tracking; it works reasonably well in bright light, but dim the lights and thingy go awry. It's also not too accurate if the subject moves around a lot very quickly, which is a shame.
Something else we didn't like either during our test was the Benro 3XS Lite's tripod. A spider-like foldout design, its three very flat fins are just too small on anything but flat surfaces. Its cheap-ness jars with the main product's reassuringly solid build quality.
Benro 3XS Lite: conclusion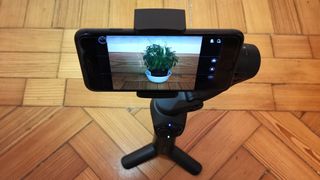 A good mobile gimbal should be easy to use, helping the user get more from a smartphone while adding some pro features that only a gimbal could. The Benro 3XS Lite does all that, with an app that's easy to use. It's not always successful with its face-tracking, the tripod is very poor and some of the buttons are oddly placed. However, the Benro 3XS Lite encourages creativity, and it's worth a look if you're a vlogger or a filmmaker after a good value gimbal for relatively simple video capture.
Read more:
The best gimbals for your iPhone, GoPro and camera
The best camera phone in 2019